Scotch whisky, or, as it's more commonly known, scotch, is just whisky made in Scotland (and in a manner specified by Scottish law, they'll have you know). Don't be fooled by its concentrated geographical region: the Scots ship around 100 million cases of their "water of life" overseas every year. As you might then expect, scotch comes in an astounding number of varieties… hence my scotch reviews.


So, Whisky / Whiskey for Beginners, you want to start drinking Whisky. It's a pretty versatile drink and caters to many tastes. It also makes you look cool and sophisticated, so what's not to love?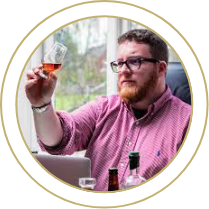 Hi, I'm Greg: I love whisky. And I'm a man on a mission: to share that passion with whiskey lovers everywhere.
So Scotch is just Scottish Whisky?
Essentially, yes! But there is more to Scotch than many people think. Scotland alone has well over one hundred working distilleries to choose from. That doesn't even include blends and the countless different age statements, finishes and flavour profiles that exist.
What is Single Malt Scotch whisky?
Single Malt Scotch Whisky is also a blend, but it is a blend of malt whisky produced in just one distillery so in effect the word 'single' means 'single place of origin' whereas Blended Scotch Whisky is a blend of grain and malt whisky from multiple distilleries.
What are the five whisky making regions of Scotland?
Definitely read up on the five regions of Scotland. Read article > These are Highlands & Islands, Lowlands, Speyside, Campbeltown and Islay. Each has a different flavour profile, from the light and floral offerings of Speyside to the intense peated qualities of the Islands, there is something in Scotland for everyone.
Does age matter?
When considering age, it is not always true that the older a Whisky the better it tastes, so don't be fooled by larger age statements.  Some 12-Year-Olds can be just as good, if not better than some 20-Year-Olds and price is usually a better indicator of quality.
What makes a Scotch a Scotch whisky?
Simple; it has to be distilled, matured and bottled in Scotland and conform to SWA regulations set by the Scotch Whisky Association.
How is Scotch matured?
Whisky is matured in oak barrels, and this is where most of the flavour comes from. The majority of the barrels used these days have been previously used to mature other liquids, such as Sherry or Bourbon. This will, of course, alter the taste, as the Whisky interacts with the molecules soaked up by the wood.  Sherried expressions tend to be sweeter, while Bourbon is characteristically smooth. Maturation takes place in warehouses. The traditional dunnage warehouses have stone walls and an earth floor which is believed to create perfect conditions for maturation. But there are also modern racked warehouses with concrete floor and steel walls where casks can be handled by forklifts. During maturation, the clear new spirit extracts flavouring and colouring substances from the cask that are both from the wood and the remains of the previous cask filling. Because the casks are not totally airtight some of the spirit evaporates during maturation. This is called the angels' share, depending on the climate and the location of the cask in the warehouse this loss is typically between 1% and 2% per year. The longer a Whisky is matured in the barrel will have an effect on the flavour as well, so consider maturation and finish alongside age.  This will give you some idea of how the flavours in the barrel have affected the liquid.
exclusively from GreatDrams
Here you'll find hundreds of articles, all giving you an idea of what to expect from some popular (and some not-so-popular) scotch expressions. There are individual scotch reviews, there are top ten lists, there are interviews with master distillers and there are posts written for nothing more than a bit of good fun.
If you need (or just want) to ease yourself in, here's a post on 5 Scotch Whiskies under £50. That's 5 scotch reviews for the price of 1. Otherwise dive in. There are some real treats to be had.