Sherry is sweet and spicy and brings a wonderful complexity to most Whiskies. The Sherry matured Whiskies included in this list are some of the best examples of just how well Sherry and Whisky can go together.
This is on of the most exquisite Sherry Matured Whiskies. It brings together all the sweetness and spice of sherry with a delicate smokiness. The nose begins with a fruit bowl of flavours, full of citrus fruits, apples, pears, apricots and raisins. It is brimming with sweet, ripe flavours that are bolstered with a lovely spiciness that warms and intrigues.
There is a delicate hint of smoky that continues into the palate. This wraps around all the flavours and ties them together. On the palate is more fruit and spices, this time with smooth honey note added into the mix. There are buckets of figs, dates, apricots, raisins, caramelised citrus peels and cinnamon, making this a well-rounded dram. It finishes with a mouthful of spicy oak wood and more dried fruits.
This is Glenfiddich's first Double Matured Malt, meaning it has been matured in oak casks and finished in sherry casks. It was created by the distillery's sixth Malt Master, Brian Kinsman. This is definitely a dram that is packed with flavour and layers. It is full bodied, from the nose onwards, and brings together wonderful sherry spices with deep oak sweetness.  The oak wood is earthy and rich, with lots of vanilla coming through.
The sherry on the nose is filled with cinnamon and dried fruits, going perfectly with the oak. This grows on the palate, where it takes on a warming nutmeg and Christmas cake flavour. It is moist and rich, with marzipan icing over it. The oak vanilla develops into sweet nuts such as almonds and pecans, with a lovely caramel finish to them. the finish is bold, recalling the cinnamon and nutmeg and one final handful of rich, dried fruits.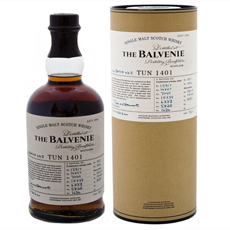 3. Balvenie Tun 1401 Batch 8
This expression has been created using a marrying tun and 9 American oak and 3 European oak casks. These flavours interact perfectly and this is truly a work of art for Balvenie's Master Distiller David Stewart. It opens with a nose full of honey and dried raisins and apricots.
The fruits come alive on the palate, where they are joined by sweet vanilla and cinnamon spice that comes directly from the oak. The sweetness of the vanilla is complemented by a tangy orange and lemon citrus that comes through. The honey of the nose comes through here as well and gives depth to oak. Together with the fruits, this makes the dram slightly reminiscent of an orchard. The finish brings this all together with a lovely linger of oak wood and cinnamon.
A'Bunadh means "the original" in Gaelic and this range has been created to commemorate Aberlour's founder James Fleming. It has been made using only traditional methods and is well known amongst Whisky enthusiasts.
This batch, 32, is Sherried to the extreme. It is the ultimate of Sherry Matured Whiskies. It begins with a nose of sweet dried fruits and Christmas spices. Joining these are sweet nuts, with caramelised pecans and pralines coming through. On the palate, the nuts and fruits come together in a wonderful Christmas cake combination. The spices give a nice warm kick throughout and add a lovely texture to the dram. there is also a distinct flavour of bitter dark chocolate and coffee, adding richness and depth. These go perfectly with the chewy raisins and figs. The finish is well rounded and deep, with a lasting note of chocolate and oak wood.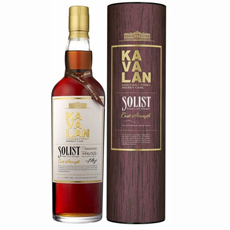 5. Kavalan Solist Sherry Cask
Hailing from Taiwan, this is an international dram with plenty of flavour. It has been matured in oloroso sherry casks and has the taste to prove it. The nose brims with sherry and oak, complemented by dried fruits and sweet nuts.
There are lots of layers here, with the sweetness making itself known first. Underneath this can be found lots of allspice and cinnamon. On the palate, the nuts and oak become thick caramel and chocolate, with a slightly earthy feel. The dried raisins and dates mix well with this and make for a chewy and full-bodied dram. the finish is slightly warming, with a final blast of spice but rounds off well with all the flavours coming together in harmony.