Bourbon and Sherry of course, impart great flavours, enhance the natural flavours of the wood and they are abundant. Yet, in recent years, many distilleries have been turning to new types of casks and expanding their cask horizons. This has lead to a revolution in Scotch Whiskies matured in Wine casks.
There has been an overall embrace of new and exciting casks that have once held liquids such as Champagne and Red Wine.
We've rounded up some alternative cask matured Scotches that you can really sink your teeth (or rather, your taste buds) into.
1. Deanston 9 Year Old Bordeaux Red Wine Cask Matured
Bottle cost: £54.95
An excellent release from Highland distillery, this 9 Year Old Bordeaux cask matured malt brims with flavour. It opens with caramel and spices, bringing in a warming note that feels like home. The palate is smooth and luxurious. Thick honey, dark chocolate and tangy grapes exude from the liquid. It finishes with a sweet dryness and lots of fruit. A unique Whisky with a really exciting flavour profile and a brilliant example of Scotch Whiskies matured in Wine casks.


2. Arran Grand Cru Champagne Cask Finish
Bottle cost: £69.89
What could be more elegant than Champagne? Why a Champagne cask matured Scotch of course! What better way to prove the quality of Scotch Whiskies matured in Wine casks? This is the epitome of luxury, bringing together two of alcohol's greatest achievements: Champagne and Scotch. The crispness of the wine is evident from the get go, with big notes on the nose. Oak wood comes through ever so slightly. The palate is rich and sweet, with vanilla and caramel competing against the sharpness of the Champagne. It finish with a flourish of floral notes and a hint of grape.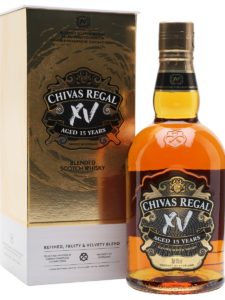 Bottle cost: £44.95
This is a remarkable malt that has been matured in Grande Champagne Cognac casks. Chivas already make luxurious malt, but the addition of the Cognac flavour only serves to enhance this. The nose is packed with fruits, from crisp apples and pears, to zesty oranges and pineapple. The tang bounces off the oak and vanilla note that appears on the palate alongside smooth caramel and honey. Treacle and fudge come through and add a lovely depth to the caramel notes. It finishes with oak wood and a hint of cinnamon spice.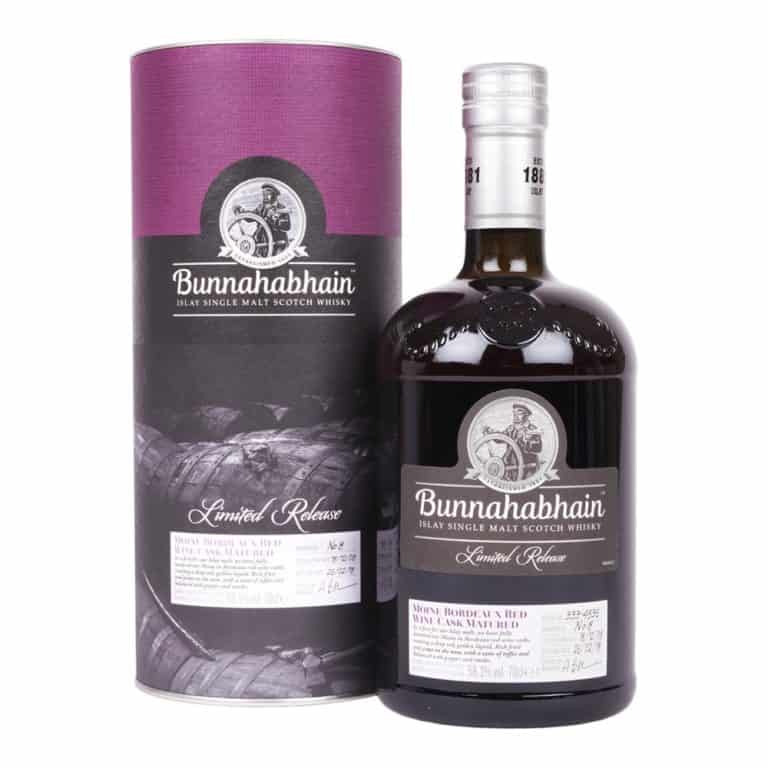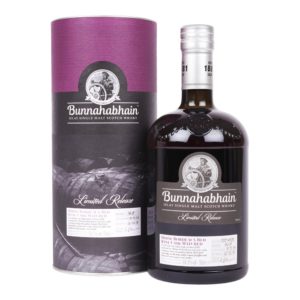 4. Bunnahabhain Moine Bordeaux Red Wine Cask Matured
Despite calling Islay its home, Bunnahabhain do not specialise in peated malt, but they have made an exception with their Moine range. This bottling in particular is exceptional in its flavour profile. The sweetness of the red wine is incredible against the dull smoke of the peat. Oak wood, vanilla and sweet nuts dazzle on the nose, while cinnamon spice, caramel and peat take over on the palate. Red grapes with a nice bite and the obvious notes of red wine come through. It is the perfect marrying of the two flavours.
5. The Glenlivet Captain's Reserve Selectively Finished in Cognac Casks
Bottle cost: £46.95
Choosing only the best Cognac casks, The Glenlivet have crafted a really excellent malt here. Their already amazing malt is bettered with the addition of sweet Cognac notes. The nose bursts with dried fruits, cinnamon spices and honey. It is rich and smooth, with an easy going feel and obvious quality. The palate is sweeter still and combines gentle dried fruit notes with caramel and chocolate. The finish brings in a little heat that complements the warmth of the spices perfectly.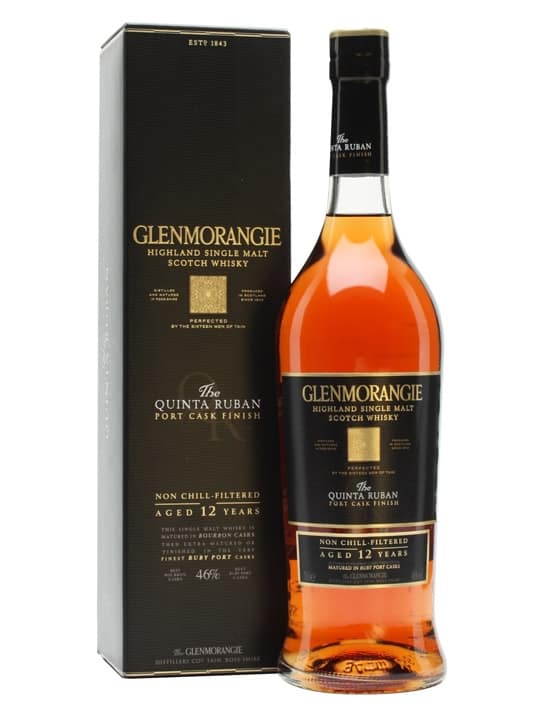 6. Glenmorangie Quinta Ruben
Bottle cost: £46.45
Described on their website as "the darkest and most intense Whisky in the extra-matured range", and it really does live up to it. The Ruby Port pipes have been sourced from wine estates in Portugal and breath life into the Glenmorangie malt. chocolate and citrus fruits lead on the nose, with bold notes of nutmeg and mint. There is a refreshing notes to the malt and the spice and earthiness of the Port really add a new dimension. The palate is wonderfully sweet, with rose petals and mandarins. More chocolate and oranges play out the finish.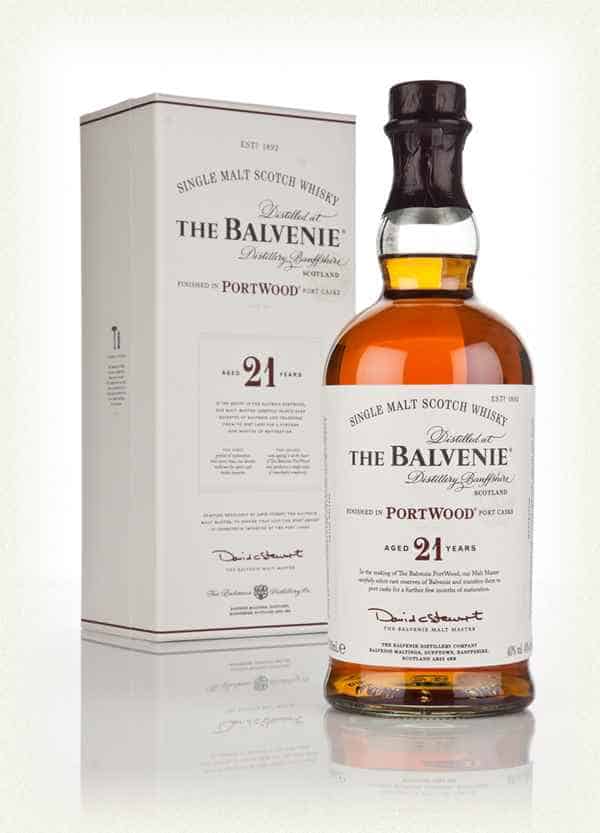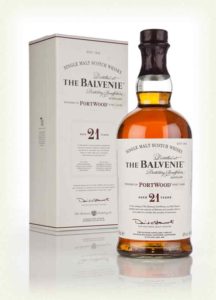 7. The Balvenie 21 Year Old Port Wood, £112.46
Bottle cost: £112.46
One of a range of Port Wood malts from The Balvenie, this 21 Year Old is exceptionally good quality. It has been matured in 30 Year Old Port pipes and the flavours of the malt perfectly work with the sweet, fruity notes of the Port. Peaches, apricots, grapes and melons come through on the nose, with a hint of charcoal and smoke. The palate is full of rich floral notes and thick, creamy honey. The sweetness and flavour is complex and elegant. Milk chocolate and dried fruits abound on the finish.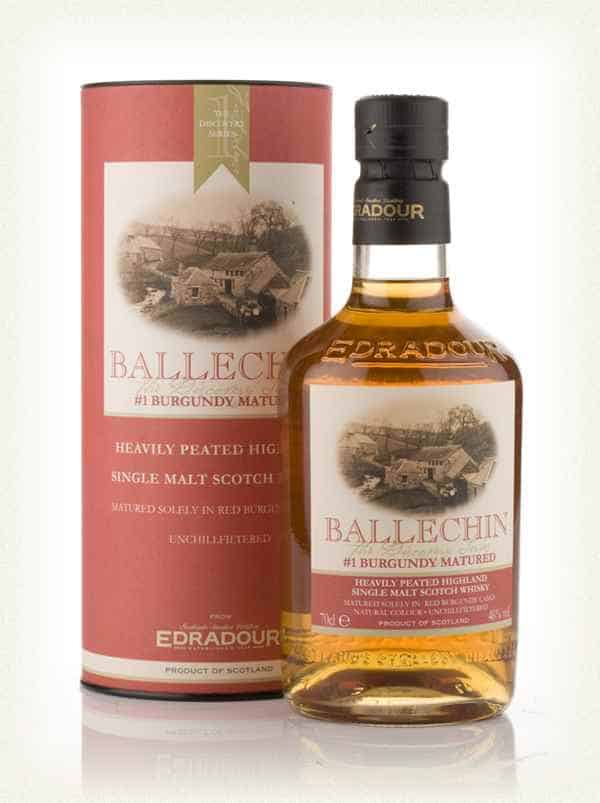 8. Edradour Ballechin Burgundy Cask Matured
This is a really intriguing malt from Edradour. Not only is it from their range of peated malts, but it has been matured in Burgundy casks. It's a unique Whisky with a lovely smokey note that ties in perfectly with the sweetness of the cask. The nose begins with earthy aromas of peat and sweet pineapple. More fruits come through on the palate, especially pears and oranges. There is a hint of spice and a gentle warming sweetness. It finishes with a bold flourish of grapes and orchard fruit.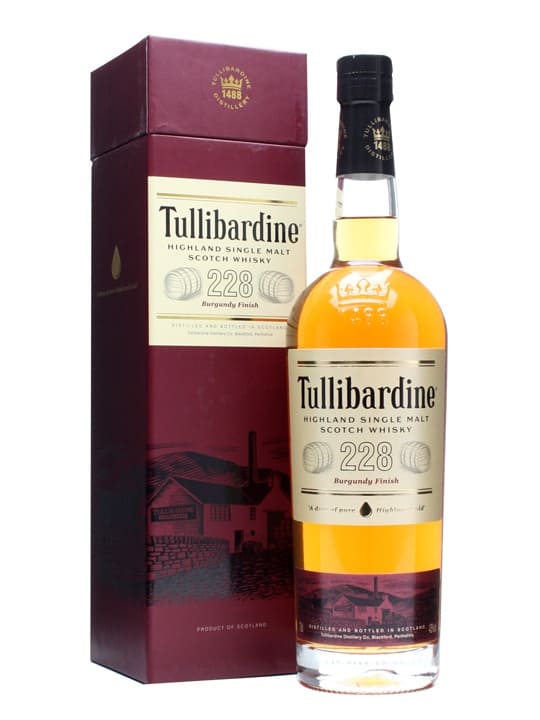 9. Tullibardine 228 Burgundy Finish
Bottle cost: £41.45
With Pinot Noir barriques coming all the way from Chateau de Chassagne Montrachet, this marriage of Highland malt and French Wine is exquisite. The Burgundy brings in a subtle darkness that intensifies the Whisky. It opens with a nose of dark berries and marzipan and dashes of vanilla essence. The palate brings in more floral notes and lots of sweet flavours like chocolate and caramel. it finishes on more berries, especially cherry and a hint of oak.
What are your thoughts? Leave a comment below and let's have a chat!