THE GREATDRAMS WHISKY and / or gin TASTING and virtual tasting EXPERIENCE
We love whisky, we love gin, and we love sharing those passions and spirits with people all round the UK and internationally through our tasting sessions (in person, when allowed) and our virtual tasting sessions that take place on Zoom. 
We do both public and private tastings, and can cater for groups up to 100 + without issue. 
So whether it is for yourselves to learn a bit more about whisky or to spend a great night with your friends, family, colleagues or clients… we can make it happen. 
"Thank you very much for putting on probably the most informative and enjoyable "virtual" social session that I have enjoyed during the lockdown, it was brilliant"
– Andrew, corporate tasting, 1st Feb 2022
Award-winning from our first dram, with one of our most recent award wins being in the most prestigious global whisky competition describing our whisky as being "amongst the finest products in the world", we will introduce whisky drinkers to their next favourite. GreatDrams is a family business bringing great quality, limited edition whiskies and whiskeys to the people, all at a fair price, and never compromising on flavour.
GreatDrams was launched with the aim to make great whisky more approachable & available. We are experts in finding incredible tasting rare casks of whisky.
With well over thirty awards under our belts, we have a proven track record for producing great tasting whiskies that are recognised and awarded by both consumer and industry judging panels… that sell out every single time as well, which tells us all we need to know.
"I've only done a couple "official" or "real" whiskey tastings, but this was by far, head and shoulders above anything I've ever done in the whiskey world. I loved the casual atmosphere, the enlightening conversation and of course, the phenomenal whiskey."
We have won over 40 awards for our whiskies and the business we have built... here are a selection...



With prices starting at just £35 per person, and packages that can be tailored to whatever you want to explore spirit wise, we really can make your next event one to remember.

FILL IN THE BELOW AND WE WILL GET BACK TO YOU ASAP TO BOOK YOU IN
I can't thank you enough for including me in this tasting. I've only done a couple "official" or "real" whiskey tastings, but this was by far, head and shoulders above anything I've ever done in the whiskey world. I loved the casual atmosphere, the enlightening conversation and of course, the phenomenal whiskey. Greg was a great addition who added more than whiskey facts, but real world experience. The entire program really was top notch. Needless to say, I was very disappointed I had to go. I could have done that for hours. It really felt like we were sitting around someone's basement BS'ing about whiskey.
"I've done my fair share of online events over the last year and would say that was one of the most laid back, relaxed, informative and enjoyable so far"
"The tutorial was very informative, the whiskies were fantastic, can't wait for the next one"
"Fantastic and insightful, Greg's enthusiasm and knowledge brought the event to life"
We did a virtual whisky tasting with Greg for my Dad's birthday and it was a great experience. The whiskies we tasted were all excellent and the five we had were even tailored to take my Dad's taste into account. The hour session was informative and interesting. It's opened our eyes to distilleries we may not have heard of or considered before, thanks Greg!
Dan, private whisky tasting
Virtual Whisky & Gin Tastings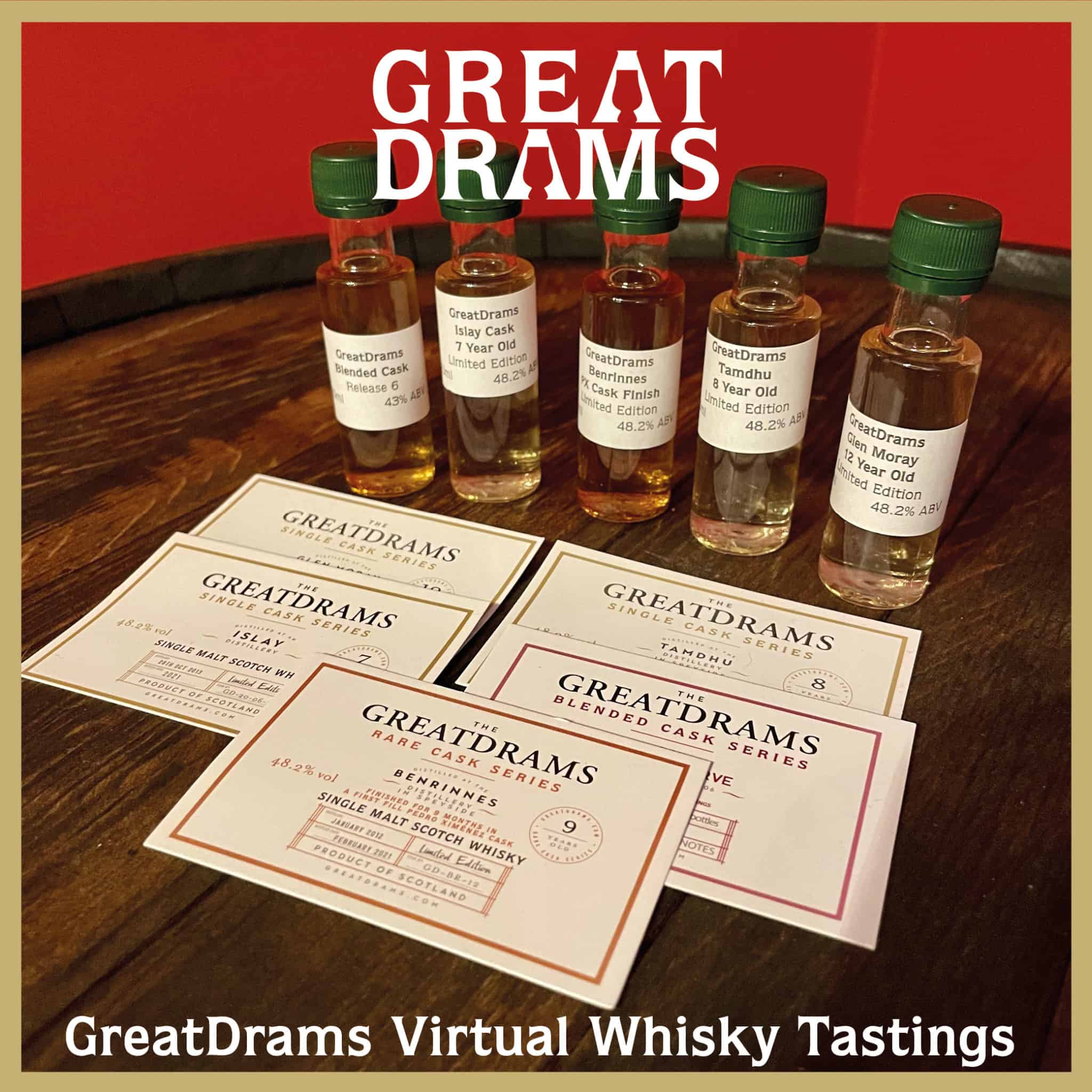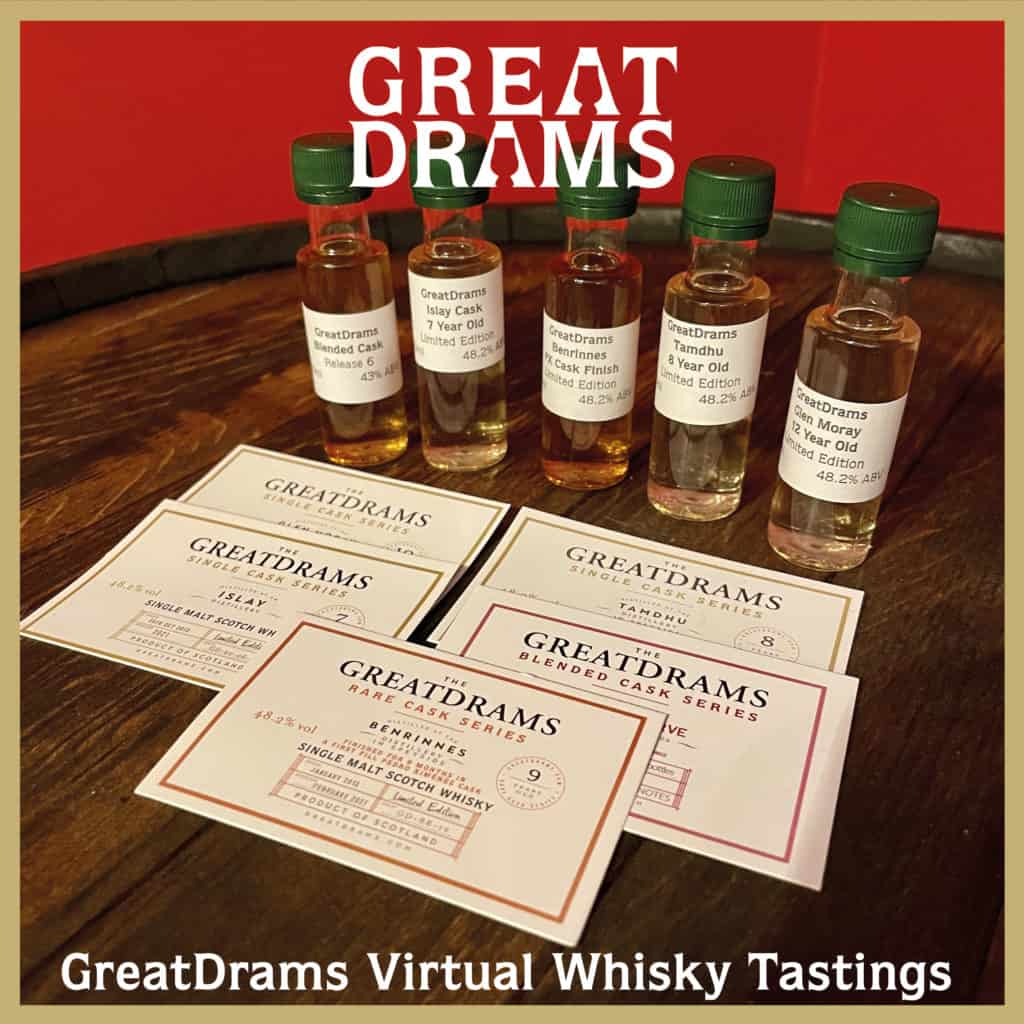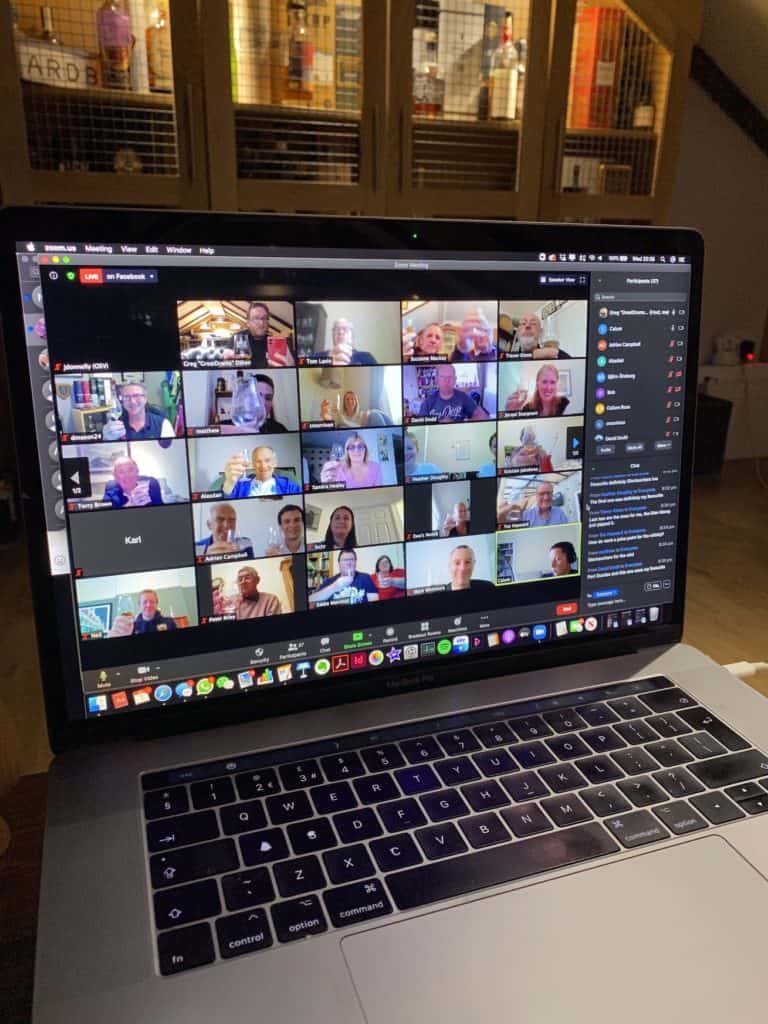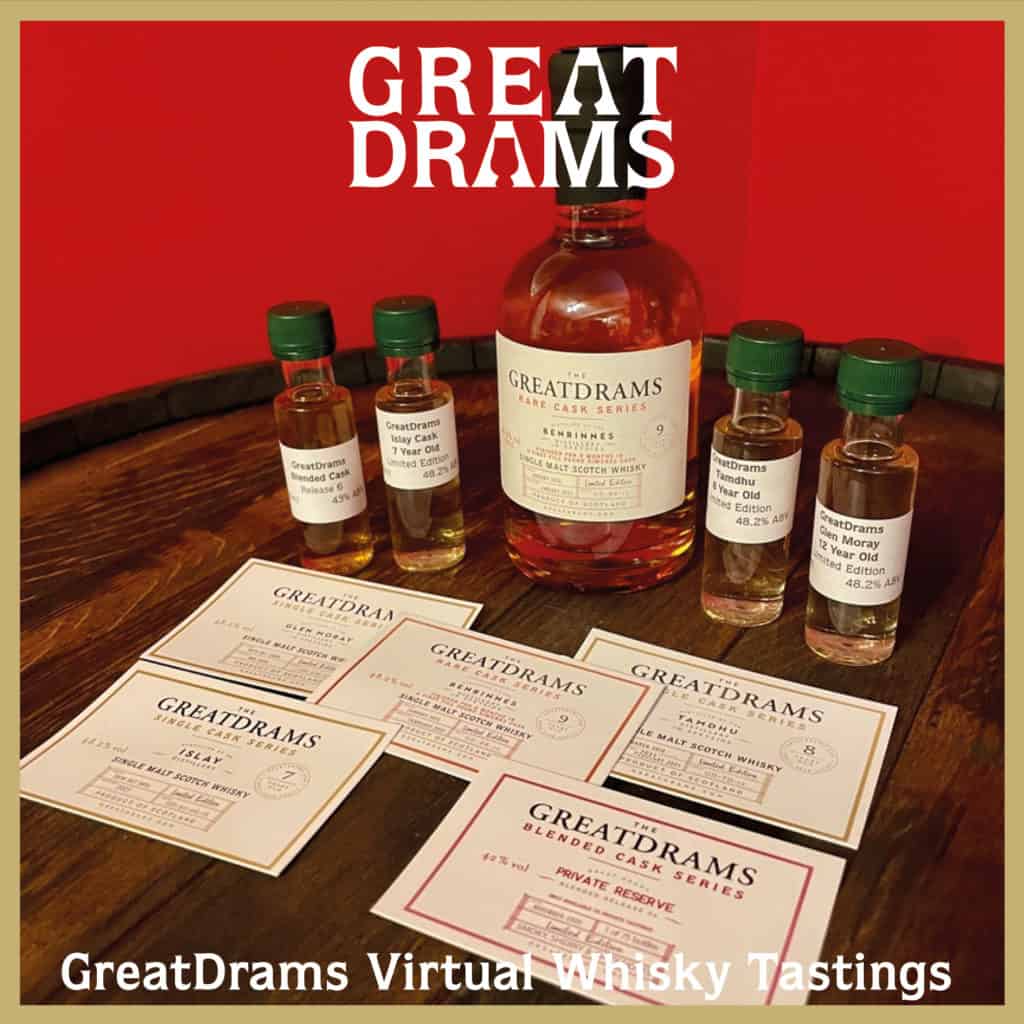 Since lockdown commenced in the UK, we have managed to alter how we deliver our whisky and gin tastings to be able to cater for more people in places in more engaging ways through private – and public – virtual whisky and gin tastings on Zoom.
These have turned into something we not only love doing but something that has managed to engage so many more people than we otherwise would be able to with traditional offline tastings – especially as through the comments function we are able to answer questions even if people are not comfortable asking them out loud meaning everyone can have their say on the conversation and have their burning whisky / gin questions answered as we go through.
Why not book a virtual whisky tasting or virtual gin tasting for:
Virtual company Christmas parties
Virtual birthday parties
Virtual company social events
Virtual team building
Virtual client engagement
Virtual corporate entertainment
Virtual stag or virtual hen parties
And any other reason for a great night in…
They are hosted in an informal way with everyone invited to ask questions, talk about their flavour notes and generally talk about whisky.
Typically, depending on the tasting and how talkative people are, the virtual tastings last between 60 and 90 minutes, and occasionally longer!
We can create packages to suit all needs
5 x 25ml whiskies, all limited edition and only available from us
4 x 25ml whiskies & 1 x 200ml bottle of one of our limited edition whiskies
4 x 25ml whiskies & 1 x 500ml bottle of one of our limited edition whiskies
* please note that package availability changes depending on stock levels
Then we have optional extras too; a Glencairn official whisky glass, pipettes, signed copies of my book The GreatDrams of Scotland for each participant.
For virtual gin tastings we typically use a variety of different gins, and rotate them around a lot so there's always something different (we find people end up booking more than one private gin tasting so we keep it interesting…) and the packs contain 4 x 25ml gins or 4 x 50ml gins and 2 x cans of tonic, these can also have official tasting glasses added too to enhance the experience.
Once the booking has been confirmed, we put together the packs for the individuals taking part and send them out recorded delivery as far ahead of the tasting as we can (to give the post service the best chance to get it there on time) and then the Zoom details are circulated to either the participants directly or to the organiser to forward on – whichever is preferred. Then we simply get on Zoom and have a great night in !
"Greg led an excellent and memorable virtual tasting for one of our key clients. Attendee feedback was exceptionally positive and we were very grateful for Greg's support, enthusiasm, and flexibility in the event's organisation. We hope to work with Greg again in the future and can wholeheartedly recommend his tastings."
Financial Public Relations Consultant, London, UK
"What a superb evening and, as he intimates you were a triumph! Thank you very much indeed. I know that everyone who attended the event loved it and felt that your pitch was perfect and the whole evening worked just perfectly. Simon is not alone in thinking that the quality of the product was great and the quantities were spot on – especially Andreas who ordered two boxes! I saw a bunch of Shipwrights' hanging off your every word and clearly enjoying themselves. Thank you again, everyone felt that you were a superb tutor and host and I know that Anne has enjoyed working with you too."
Master of the Shipwrights Guild
"A very quick email to thank you sincerely for hosting such an excellent evening last night for the Shipwrights. It really was a splendid occasion and the quality of whisky superb! I very much enjoyed the selection, my favorite being Blended Batch 03. The stories of Ronnie Red Socks were memorable and I have enjoyed reading all about him"
"This was such a great idea. The whole thing worked so well, right from ordering, receiving the drams, to the way Greg conducted the live tastings, to the quality of the whiskies. I've already signed up for the next one. Please continue to do this when the lockdown lifts!"
"Great tasting with a great host"
"Great 90mins spent with Greg online which was very insightful and had 5 amazing drams to boot ! Looking forward to the next one already"
Every whisky tasting is tailored specifically to your requirements; be it for ten people or fifty, the experience will be unique to you. There are no assumptions about whisky knowledge level, all your attendees need to bring is an open mind, enthusiasm and a willingness to try new things.

"A friendly and well-organised event"
Anthony, regular attendee
Whisky tastings are great for:
Corporate entertainment / team-building
Client entertainment
In home birthday celebrations
School alumni
Christmas parties
Product launches
Private bar / restaurant / cafe events
Stag / hen parties
and anything in between.
The aim for all GreatDrams whisky tasting events is for everyone to have a great time and enjoy themselves, hopefully they will also find new styles of whisky they like too.
Depending on what you are looking for, each person's participation typically includes:
"Thanks for the experience, everyone who came enjoyed it, you could tell by the questions they asked and how involved every single person was in each discussion"
"Greg was a fabulous host, and it's clear that he's really knowledgeable about whisk(e)y and has a great passion for it"
"Within five mins you had us all captivated, listening intently and enthralled with distillery and whisky stories"
"Your passion and knowledge was evident from the start"
"Your laid-back attitude was perfectly pitched and thoroughly enjoyable to listen to"
"Was a fun night and I got a lot of great feedback from all who came along"
"It was a great night and your knowledge and background information was extensive and very helpful. I did have a great evening and would love to join in again"