Located on the banks of the Cromarty Firth, overlooking the stunning Black Isle in Alness, Scotland, you will find The Dalmore Distillery.
Operated by Whyte & Mackay, and having been established in 1839, this is not your typical run-of-the-mill Scotch whisky distillery. The Dalmore Distillery has a rich and storied history behind it, the likes of which you'd find in a fantasy epic perhaps?
The Dalmore is responsible for some of the world's most prestigious and delicious whisky. It's adored by casual whisky drinkers and purists alike, and if you've never been lucky enough to sample it yourself, you're missing out in a big way.
Instantly recognisable thanks to the silver stag's head which sits prominently on the front of each bottle, The Dalmore produce premium whisky, often for premium prices. Their latest release, the first in their Cask Curation Series, is no exception.
A Royal Crest – The Story of The Stag
Before we look at the truly exceptional sherry edition in their Cask Curation Series, first allow us to look in more detail at the story behind that stunning silver stag's head you'll find adorning The Dalmore products.
Dating way back to the year 1263, while out hunting, King Alexander III of Scotland was charged by a raging stag. The king was defenceless, and it looked as if his time was up. Suddenly, out of nowhere, Colin of Kintail, the chieftain of Clan Mackenzie, appeared and slayed the beast, saving the king's life.
To show his gratitude, the king bestowed Colin of Kintail, and the Mackenzie Clan, with the prestigious 12-pointed silver stag crest, permitting them to use it as their family crest and display it upon their coat of arms.
Fast forward several centuries to 1867, and descendants of the Mackenzie Clan, Andrew and Charles, took charge of the Dalmore Distillery, founded in 1839, and decided to use the royal 12-pointed silver stag emblem as their branding. The rest, as they say, is history.
The Dalmore Cask Curation Series – Sherry Edition
We could sit here all day and look at the storied history of The Dalmore Distillery, and who knows, one day maybe we will. For today however, we're here to talk whisky. Specifically, whisky finished in sherry casks.
The Dalmore Distillery's first release in their new Cask Curation Series is a sherry-lover's dream come true. Produced in celebration of the distillery's partnerships with some of the globe's best producers, each of the whiskies in their collection consists of three aged-statement whiskies of premium quality, finished in the casks of their partners, before being presented in stunning hand-crafted travel cases with a stunning leather finish.
For the Sherry Edition, the whisky is in celebration of the relationship between The Dalmore and Gonzalez Byass, and the impact that sherry casks can have on this magical spirit.
Finished in sherry casks from the legendary Spanish Tio Pepe Gonzalez Byass winemakers, the two teams worked tireless to find the perfect balance of fruity flavours, wood, smoke, sherry, and whisky. The end result is three of the finest sherry cask-finished Scotch whiskies you could ever wish for.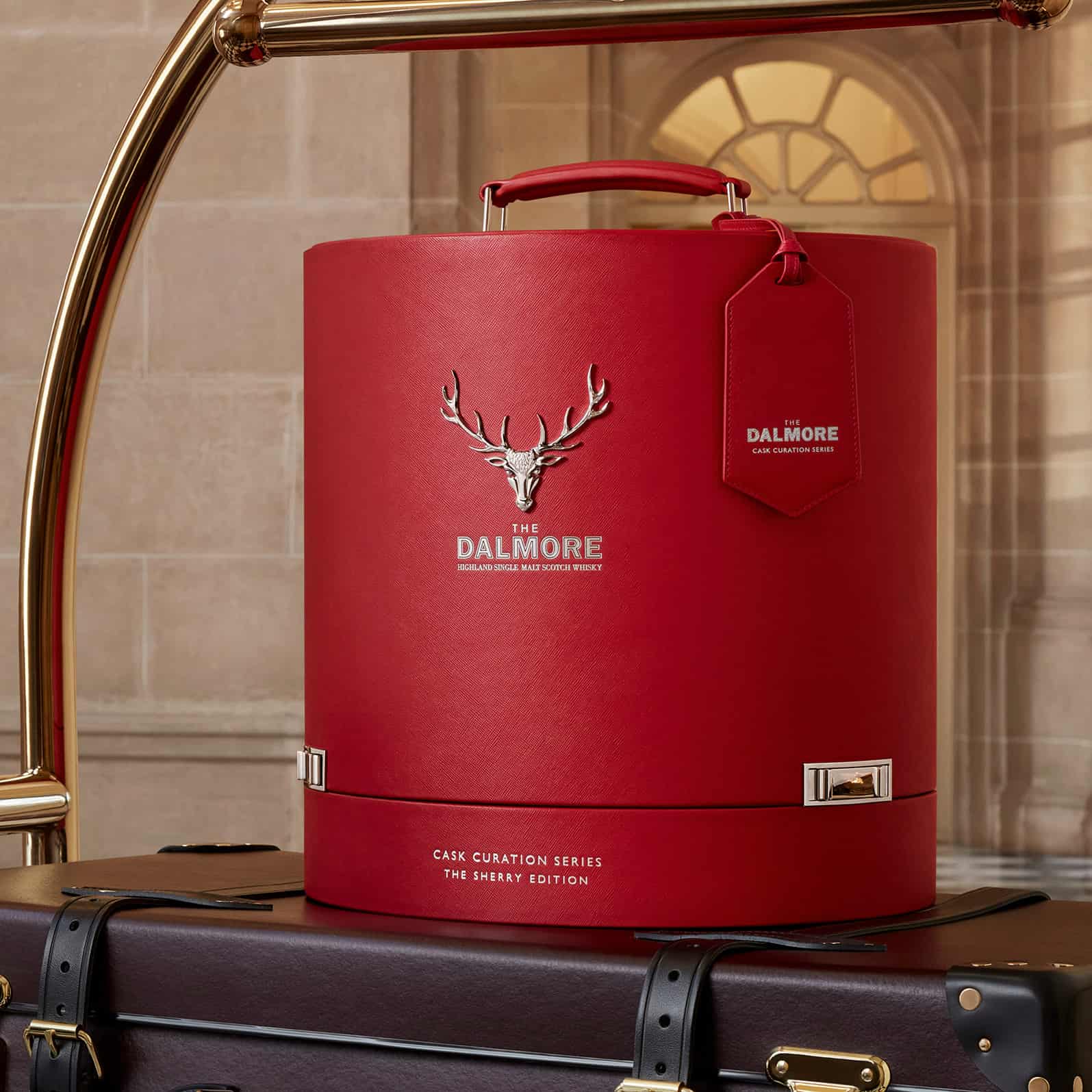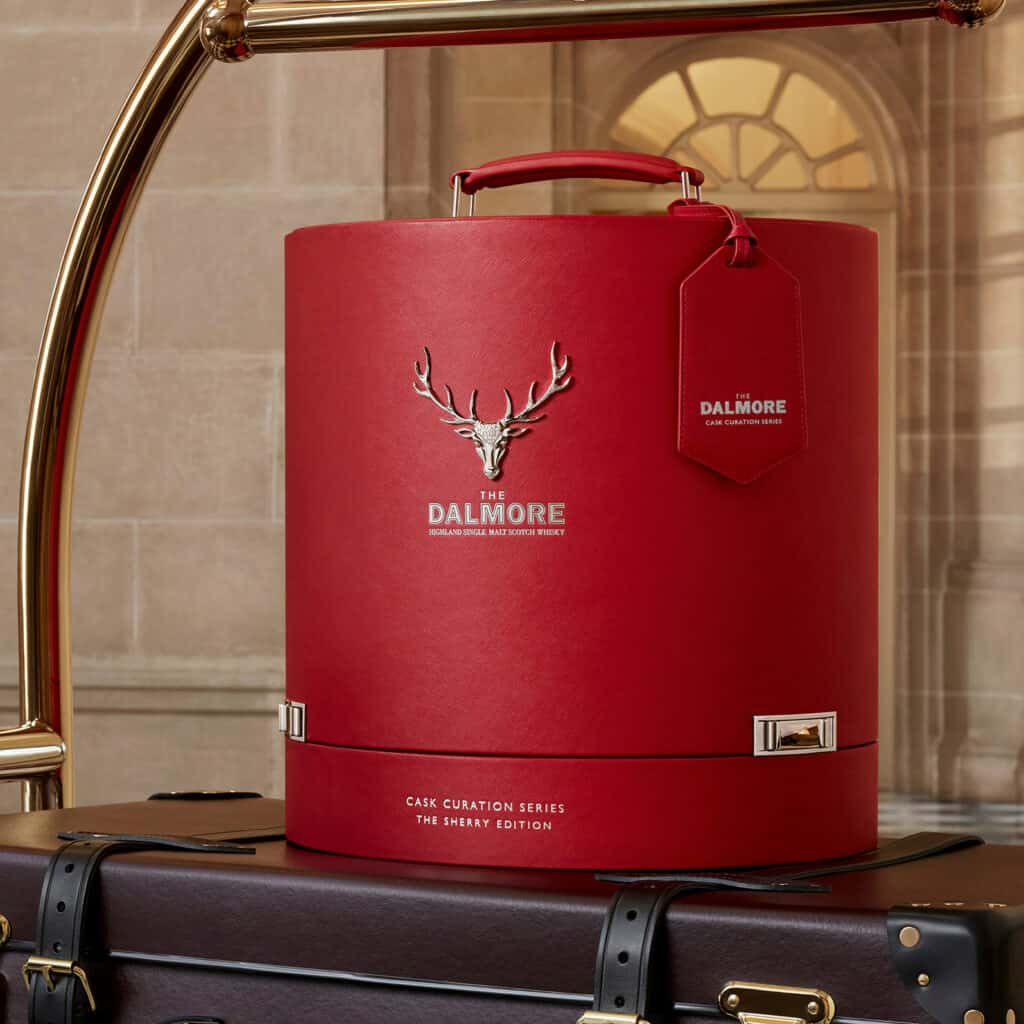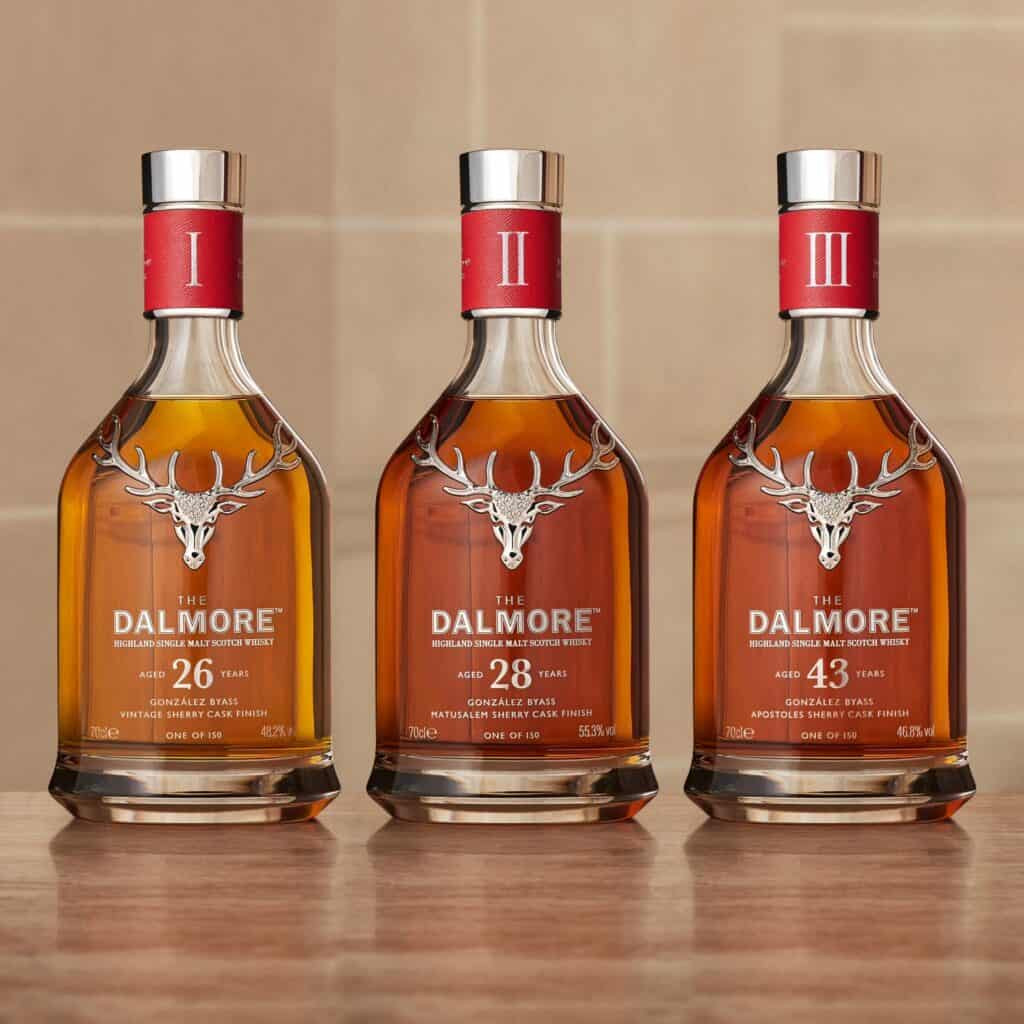 The Dalmore 26 Year Old
Up first, we have the youngest of this release.
Aged in Gonzalez Byass vintage sherry casks, this whisky, distilled in 1996, has everything you could want from a Highland single malt Scotch whisky.
At 48.2% ABV, this whisky has taken on a gorgeous amber bronze colour from the casks it has aged in for more than a quarter of a century.
On the nose you get ripe apricots, orange blossom honey, dark chocolate, and creamy Madagascan vanilla.
On the palate, a hint of vanilla is visible, though the overriding flavour is that of plump golden raisins, toasted almonds, glacier cherries, mandarin orange peel, and a touch of sticky toffee pudding.
The finish is incredibly smooth, leaving you with buttery brioche bread, vanilla custard, candied ginger, smooth drinking chocolate, and a whisper of roasted coffee beans.
The Dalmore 28 Year Old
Next up we have the Dalmore 28 Year Old, aged in Matusalem sherry casks.
Starting off in ex-bourbon casks in 1994, this whisky was then relocated into a 30-year-old Matusalem Oloroso sherry cask for added sweet, sticky, and spicy notes.
At 55.3% ABV, this whisky lets you know that it's here, and that it means business. The casks have also given it a gorgeous amber copper colour.
On the nose you should detect ripe dates, tea leaves, leathery prunes, overripe plums, liquorice, sweet tobacco, and orchard fruits. Inhale again, and vanilla should shine through.
On the palate you immediately get treacle sponge pudding and golden syrup, coupled with orange syrup, Christmas pudding, marzipan, booze-soaked raisins, salted caramel, and dark chocolate. Some palates should even pick up light notes of cedar wood with a touch of scorched oak.
The finish lingers, leaving you with notes of black forest gateaux, sea salted dark chocolate, cinnamon, black treacle and molasses, and a touch of candied orange peel and wood smoke. Make no mistake, this is an incredible dram.
The Dalmore 43 Year Old
Finally, we have the incredible 43-year-old Dalmore, aged in very rare Apostoles sherry casks.
Starting life in 1979, and spending decades in ex-bourbon casks before being rehomed in 30-year-old very rare Apostoles sherry casks and bottled at 43 years of age, if you enjoy aged whisky, you're going to love this expression.
Offering the perfect balance of sweet, spicy, and wood, this cask-strength whisky was bottled at 46.8% ABV, and has a gorgeous, caramelised honey colour you can't take your eyes off.
On the nose, you get fire-roasted sweet chestnuts, honeycomb, fresh orange zest, and brandy-soaked raisins with a hint of fresh almonds.
On the palate, creamy vanilla custard shines through, coupled with orange marmalade, dark chocolate, winter berries, roasted almond powder, a sprinkling of sea salt and a touch of toasted oak.
The finish is oily and smooth, giving hints of almond oil, apricot jam, warm buttered tea cakes, winter spices, caramelised pineapple, and dark chocolate.
If you're looking for unique, award-winning, limited-edition, and just downright delicious Scotch, you've come to the right place. Here at GreatDrams.com we offer a wide range of delicious whiskies, primarily Scotch, which cater for all palates, all preferences, all budgets, and ones which you won't find at your local supermarket.
Whether you're looking for a sweet and fruity tipple, a lightly smoked dram, a heavily peated whisky that really warms on the way down, or a blended Scotch, premium Scotch like those listed above, or anything else, we've got something for everybody.
Don't take our word for it, though, take a look around our site and see for yourself. You won't be disappointed.