Arran is a relatively young distillery but they are knocking out classics as good as their ancient competitors.
It's all happening on Arran
The Isle of Arran itself sits on the west coast of Scotland, huddled neatly between the mainland and the peninsula where Campbeltown is found. Nearby you find Islay and Jura, just over the peninsula, where some of Scotland's most well-known malts are made.
Arran is starting to challenge Islay for claim of hosting the most distilleries on an island. Currently Arran is home to two distilleries. They form a nice line on a map, with Isle of Arran in the north, at Lochranza and Lagg in the south. Lagg is the most recent distillery to call Arran its home, having only opened this year.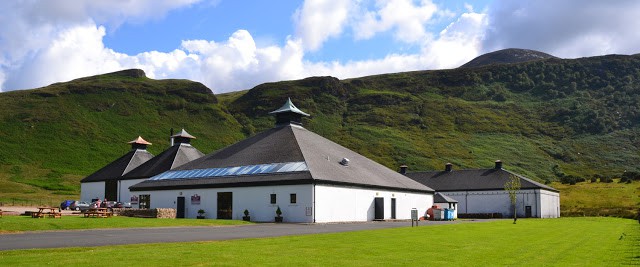 The distillery we're interested in today though, is the Isle of Arran, which has been around since 1996. Also known as the Lochranza distillery, the team here have been creating great malts in that time. they have recently undergone a revamp in their branding, and with this have breathed new life into their malts.
Their 10 year old is one of their best known and loved malts and this year saw them release a new expression. It's already won two awards this year, including a Gold medal at the World Whiskies Awards and a Gold medal at the International Wines & Spirits Competition.
Bottle cost: £37.99
For more information and to buy Isle of Arran 10 Year Old Single Malt Scotch Whisky 2019 Release click here
The nose opens with lots of sweet and spicy notes. Cinnamon and vanilla come together to give it a good start. It is warming and homely, with hints of oak wood and honey.
The palate is wonderfully smooth and the honey notes are vibrant here. More vanilla, oak and caramel comes through. It is rich with citrus notes and sweet nuts. Pecans, almonds and hazelnuts give it a lovely depth and complement the honey flavours perfectly. Orchard fruits add a nice sweetness.
The finish lingers on apples, vanilla and cinnamon, bringing it to a lovely, warming end.
This is an excellent update from Isle of Arran Distillery and they have stuck to their core flavour profile well. Let's hope this rebrand encourages more exciting malts like this!
What do you think of Isle of Arran malt? Let us know in the comments.