One of the world's most popular blended whiskies, Label 5 is a Scotch but is owned by French company, La Martiniquaise. The Scotch itself is made in Glen Moray, which was bought by La Martiniquaise in 2008 from The Glenmorangie Company.
It was only a year later that the brand became one of the top 10 selling blends across the world, with France being their biggest customer. France is the biggest consumer of whisky in the world, so it makes sense that when a French company invests in a Scotch brand, the brand would become very popular there.
The brand as an excellent range of malts, which includes the Classic Black, Gold Heritage, 12 Year Old and the Extra Rare 18 Year Old. This might seem small compared to some brands, but the expansion has allowed Label 5 to diversify without losing touch with their base. They know the whisky they make, and they do a good job of it.
Tasting notes for Label 5 Extra Rare 18 Year Old Blended Scotch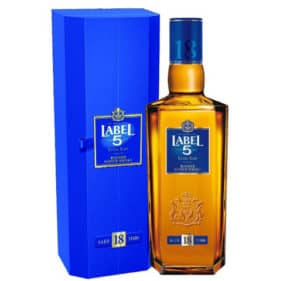 Matured in oak casks for 18 years, the Extra Rare 18 Year Old is an exceptional malt. It is packed with rich, elegant flavours and is a really high quality blend.
The nose begins with notes of oak wood and vanilla. The sweetness is well defined and complex. The blend has been matured for just long enough to allow the oaky flavours to develop but not overwhelm.
The palate is equally well done. It is full of a gentle smoke and charcoal warmth that goes really well with the oak notes. The vanilla melts in the mouth and becomes smooth caramel and honey, with a silky soft mouth feel to match. Hints of dried fruit, raisins, apricots and pastries also appear.
The finish ends on smoke and oak, with dashes of dried fruits and some vanilla to end.
This 18 Year Old really stands out as an exceptional blend. The smoothness of the mouth feel, with the sweet vanilla and oak makes for a well rounded and easy to enjoy blend.
Are you a fan of Label 5? Let us know in the comments!