Owned by Irish Distillers, the same company that manufactures Jameson, Redbreast is a traditional Pot Still Whiskey with lots of character.
The Redbreast brand, who now produce Redbreast 15 Year Old, dates back to 1912, when it was first produced under bond using Jameson product by W & A Gilbey. 
Popularity of Redbreast had waned over time and it was not largely produced when it was bought over by Irish Distillers.
Over time however the company raised their own profie and that of their flagship brands. This in turn allowed them to go back to creating Redbreast, and it was launched again in 1996, in the form of a 12 Year Old that remains part of their core range today, alongside the Redbreast 15 Year Old.
It is currently produced in Jameson's Midleton Distillery in Cork and has a number of bottlings in its range.
One of these is an excellent Redbreast 15 Year Old. This dram is packed with flavour and depth, just waiting for you to uncover layer after layer of different notes and tones.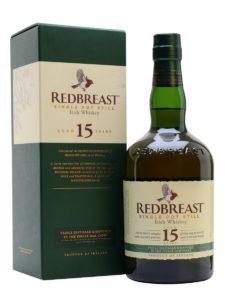 Tasting Notes for Redbreast 15 Year Old Single Pot Still Irish Whiskey
Bottle cost: £70.95
It opens with a nose of rich, sweet honey and apple blossom. There is a distinct tang to the floral notes that just melt as soon as you encounter them.
As it develops more citrus fruits appear, with lemon and lime taking over. These are tangy and thick, with lots of acidic notes to them.
The honey goes perfectly with a grassy note that also appears.
This becomes more apparent on the palate, where the honey and grass become earthier and deeper.
The honey makes this dram incredibly smooth and soft on the mouth feel.
There is also a lovely note of caramel to the palate, with a gentle subtlety to it. It is delicately drizzled over orchard fruits such as apples and pear and a lovely banana note in the background.
The finish is easy going and mellow. It is filled with sweet fruits and a orchard wood notes.
What are your thoughts? Leave a comment below and let's have a chat!