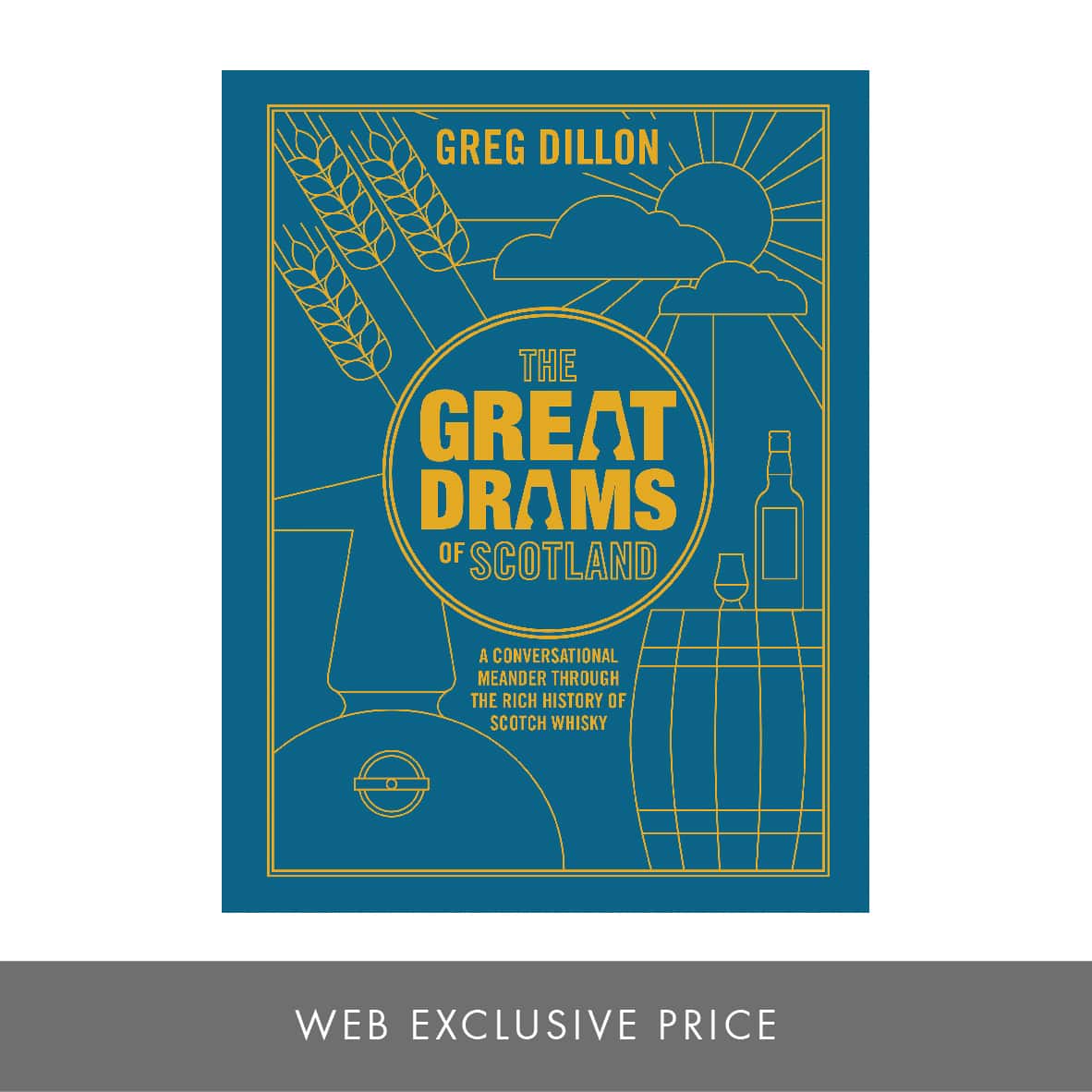 The GreatDrams of Scotland book
The GreatDrams of Scotland is a wonderful gift for any whisky enthusiast, old or new, I weave together anecdotes and historical accounts from the annals of over 40 different distilleries to form a casual, conversational book that brings the history of whisky to life.
All orders through GreatDrams will be signed
The art of storytelling is alive and well in the hands of Greg Dillon as he brings his take on well-chosen whisky tales from the past and present, separating the facts from the fiction. His love of whisky drips through every chapter, and is authentic, incisive and entertaining. Serve this book up with a generous measure of Scotch by your side
– Colin Dunn, Diageo Reserve Whisky Ambassador
This is The Great Drams of Scotland – an epic yet elegant journey through the rich history of Scotch. This book will take you to twenty-eight different distilleries and twenty-three brands, to discover the legend and the history, the fact and the fiction behind this spectacular spirit.
Written by a true whisky-lover, Brand consultant, award-winning writer and blogger, Greg Dillon invites the reader through tales dating as far back as the fifteenth century, right up to present day, chronicling brands that have contributed to the overall global success of Scotch whisky. Bursting with information, the book decodes labels and demystifies malts and blends, so you can tell your Aberlour from your Ardmore, your Kilchoman from your Kininvie.
So whether you enjoy it neat, mixed, shaken, stirred or over rocks, sit back, relax and immerse yourself into the wonderful world of whisky. With tasting notes and mats, interviews, amazing stories, hidden gems, the odd secret and a whisky pairing in each chapter, this book is bang up to date for whisky enthusiasts everywhere.
Why not enjoy with a bottle of Limited Edition Glentauchers 10 Year Old Single Cask Single Malt Whisky
bottled exclusively for GreatDrams.com?
Please note that we reuse packaging where viable and sustainable to do so – you may receive this product in a box that has been used before as for us that's the best form of recycling and forms part of our sustainability policy that can be viewed here: https://greatdrams.com/the-greatdrams-view-on-sustainability/ – if you specifically wish to have a brand new box for the bottle / bottles to be shipped in please state this in the order notes. 
You may also like…
Limited to: 200 bottles globally

Limited to: 200 bottles globally

Limited to: Only 96 bottles globally

Limited to: Only 96 bottles globally

Limited to: 200 bottles globally

Limited to: 200 bottles globally