Have you heard? Irish whiskey is on the rise with no fewer than 32 new or planned distilleries in the pipeline. While this may seem small considering that there are more than 100 located in Scotland, a country of almost the same size and population, it is a heartening sign when we consider that the number of Irish distilleries was in low single figures just a few years ago.
Ireland relies very much on exports in light of a significantly smaller internal market relative to production andIrish whiskey exports have seen over two decades of steady growth, albeit from a low base considering Irish whiskey was in terminal decline during the 1980's.
A simple example of the growth in Irish whiskey and the dominance of Midleton is that the number of Irish bottles sold worldwide has gone from 500,000 cases in 1996 to 6.4 million cases last year, with Midleton's various offerings representing 83% of those numbers.Irish whiskey owes a great debt to the Midleton distillery in particular. Despite the emergence of the likes of other Irish-based distilleries like Teelings and Walsh that are producing some sublime whiskies, Irish distillers and their Midleton hub are very much still the giants of the Irish whiskey market.
As part of their rapid expansion Midleton announced in 2015 that they would be releasing a brand new pot still variant every year for the next few years – lucky us! They have since surpassed this promise; the recent release of Redbreast Lustau Edition represents the fourth such new release in two years. As a massive Redbreast fan, I was certainly excited at the prospect of a new bottle to add to what I consider to be among Ireland's best ranges. From the 12 year old to the 21, each is an absolute gem of a bottle offering some of the best of what Ireland has to offer.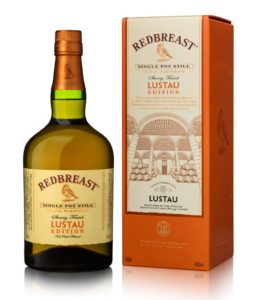 So what's the Lustau edition all about and why should you be excited?Redbreast Lustau is a Non – Age Statement single pot still initially aged in bourbon and sherry casks for a period between 9 and 12 years after which it spends a further year maturing in specially selected sherry butts at the bodegas Lustau.
The Bodegas Lustau is one of the most awarded sherry brands in the world, frequently scooping international awards and acclaim.This permanent edition to the Redbreast range is designed to showcase the quality of the casks used by Midleton. For anyone unfamiliar with the Redbreast range the influence of sherry casks is one of the defining characteristics and it's being used to full effect for the purpose of the new Lustau edition. For drinkers looking for a delicately balanced whiskey with a heavy sherry influence then look no further.
So let's get to the important stuff, how does it taste?
Nose: The usual dark fruits, figs and spices you'd expect from a Redbreast with some underlying noted of malty cereals and some liquorice.
Palate: Creamy with that beautiful chewiness you'd expect from a nice hearty potstill. Beautiful notes of tropical fruit and lingering undertones of cinnamon. Rich taste and instantly recognisable as a sherry finish but not overpowering.
Finish: Lingering spices, the influence of the sherry again here is subtle and well balanced. Quite a sustained finish that stays with you long after the whiskey has passed on.
In my own humble opinion Redbreast Lustau is an exceptional whiskey and a fantastic addition to an already exceptional range. It's bottled at 46% ABV and retails for around £55 a bottle.