Glenfiddich have long been one of the most popular malts around. With the release of the Glenfiddich Rare Collection 30 Year Old, they are proving why.
In recent years they have been bringing out innovative and exciting new malts to challenge how Whisky is made. Whisky distilling has been around for centuries. Distillers have made names for themselves in that time.
Whether they were dodging the taxman or coming up with news ways to be efficient and still create high quality malt, distillers have always pushed boundaries. So it makes sense that an industry built on challenging the norm would see some creativity come back around.
Glenfiddich are amongst many brands that are changing how things are done. This is especially relevant considering Glenfiddich's own long history in the industry.They have been around since 1887 when they were started by William Grant. The brand has weathered a lot of storms in that time, including several market crashes and two world wars.
And today they are still innovating and changing how they do things, which is probably why they have been so successful. These days the competition is especially high, considering how many brands are out there. The recent popularity boom in Scotch has also meant that older brands need to be edgier and fresher to bring in new audiences.
With this in mind, Glenfiddich have brought out a range of experimental Whiskies that sees the distillery pushing their malt into new territory. This range has included malt matured in IPA casks, in Icewine casks, in Latin Rum casks and Project XX, made from casks selected by Whisky experts.
There is a lot going on with this collection, and it is able to cater to new and old audiences alike. It plays on new opportunities to attract new drinkers with the chance of trying something exclusive, and connects with old audiences to try something new by a reliable brand.
As well as the Experimental range, Glenfiddich also hold their more traditional malts in high esteem. With their special editions , core range and rare and vintage collection, they always bring the best malt to their consumers.
These ranges don't do anything massively different, such as bringing in new ways of maturation or blending. But they exhibit why Glenfiddich is one of the best, and why they have been for years.
While they might not push the boat out in terms of innovation, they do in other ways. You'll find malts aged upwards of 25 years, even to 50 or more years. You'll also uncover vintages and casks that are no longer in production or haven't ben for years.
So while they might not be brand new ways of maturing, they are rare and precious.  Glenfiddich certainly honours this side of their history and releases new and exciting vintage and rare casks all the time.
Glenfiddich Rare Collection Cask No. 20050 30 Year Old Single Malt Scotch Whisky
One such malt is the Glenfiddich Rare Collection Cask No. 20050. This 30 Year Old Single Malt Scotch has been released to celebrate the 50th anniversary of the Glenfiddich visitor centre.
The distillery was one of the first to have a visitor centre, which opened in 1969. Now, 50 years later, they are celebrating that with the release of a 30 year old single malt.
It was first distilled in 1987 and has been matured exclusively in American oak hogsheads. Only 200 bottles have been produced, which are available online and from the visitor centre itself.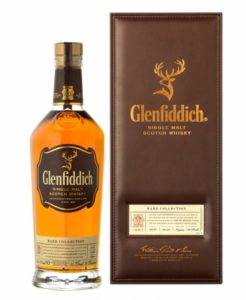 TASTING NOTES FOR GLENFIDDICH RARE COLLECTION CASK NO. 20050 30 YEAR OLD SINGLE MALT SCOTCH WHISKY
Bottle cost: £1,600
The nose begins with toasted white sugar and orchard fruits. peaches, apricots and apples come through with hints of cream and honey. There is a gentle warmth to it that really brings out the fruity flavours. Candy floss and toffee apples bring in more sweetness, with a nice, elegant edge.
The palate is big and bold, bringing in more fruit and a lovely note of chocolate. It is creamy and rich. Honey, nutmeg, baking powder and almonds create a wonderful mix of all different flavours. The mouth feel is smooth, with the honey lending a brilliantly soft texture. The grains can definitely be tasted, and add a nice delicate note.
The finish is full of white sugar, chocolate and apples. The flavours tie in brilliantly together.
This is a great malt that will feed your sweet tooth and your craving for Whisky at the same time. A fantastic addition to the Adnams line up.
What do you think of vintage Glenfiddich malts? Let us know in the comments!