One of Ireland's best whiskies has a new edition that you'll want to add to your collection immediately.
This is the third edition in Redbreast's Dream Cask series. The brand is known for being one of the best Irish whiskey producers around. Redbreast has been around for a long time and is a favourite of whiskey critics for it's quality. They are the perfect example of a good Single Pot Still Whiskey, a category of malt that is traditional to Ireland.
Pot Still whiskey is made in pot stills (obviously) from a mash bill of malted and unmalted barley (not so obviously). A pot still is a still that makes spirit in batches, in those gorgeous copper stills that whiskey is known for.
The Irish whiskey industry did not quite embrace the column still, which was a big part of the industry's downfall in the 19th and 20th century. Today, however, the industry is booming again and Single Pot Still whiskey is becoming massively popular.
Redbreast is a classic Irish whiskey dating back to 1903 when Jameson agreed to supply merchant Gilbeys Wine & Spirits with their own spirit from the Jameson Distillery in Dublin, Redbreast today is like a prize fighter, or a champion race horse, picking up awards the world over for the product's quality and taste.
Back then producers (distillers) would sell their spirit in bulk to 'bonders' and merchants who would fill the spirit into their own port and sherry casks left over from other trades to mature and create their own bespoke products with. These pure pot still whiskeys were marketed as liqueurs because they were so sweet. Liqueurs. Terrible, in my mind it conjures memories of liqueur judging panels where I feel like my teeth are coated in sugar for days after just sipping the things, and when consumers see liqueur they would say, "wow they have added sugar to this", but no, it was just an early days way of explaining the incredibly creamy mouthfeel Redbreast, and others, would have had.

Gilbey named his whiskey Redbreast as he was a passionate ornithologist, and word is that he released other whiskeys also named after birds such as Chaffinch and Yellow Hammer, but I have never seen these releases personally. Why name them after birds? Similar to Powers, which you would have read about in the History chapter at the beginning of the book, it was to appeal to consumers who could not read, but could describe what they could see… "I'll have a redbreast please".

The 12 Year Old is a true classic, as is the cask strength version of it which happened to be the first premium Irish whiskey I ever bought. The modern day Redbreast's composition is bourbon and first fill sherry butts that together deliver lots of dried fruits, vanilla notes from the American oak and the quintessential pot still spice, with a similar creamy mouthfeel to Green Spot, but no orchard fruit notes; lots of tannin, long finish owing to the European sherry oak and the sherry wine that was in the casks previously, and the spice from the stills. Redbreast 15 Year Old is a higher proof and is just a grown up version of the same, or least very similar recipe of the 12 Year Old with a slightly woodier character compared to the 12 Year Old.

A note to collectors out there, if you have Redbreast bottles from the 1980s, I have been gently advised by people in the know that they will not be the nicest whiskeys in the world as they are mostly what the industry refers to as "overaged", meaning they were left in wood for years and years, way too long, and even had thirty year old whiskey in there, but effectively tasted like you were chewing on a table. I'm yet to try one myself but do fancy giving it a go…

Redbreast has always been a well selling brand and their Dream Cask series of rare and exclusive whiskies is in massive demand. This bottling in particular is the first to be released with a ballot system to see who gets one. The ballot system was overwhelmed with thousands of people joining it to see who would get one of the coveted bottles.
The Ruby Port Wood edition has been matured for a minimum of 28 years in ex-bourbon casks, oloroso sherry casks and a Ruby Port cask.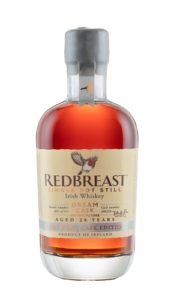 Tasting notes for Redbreast Ruby Port Dream Cask 2020 Edition Single Pot Still Irish Whiskey
The nose opens with notes of cinnamon, apples and nutmeg. It is sweet and spicy with rich mahogany wood in the background. Chewy dried fruits and moist vanilla cake add a lovely texture to the overall aroma.
The palate is full of flavour and richly complex. Honey, caramel, malted grains, oats and biscuits give it a really solid base. Floral notes and sharp summer fruits add a lovely sweetness. Mmore dried fruits come through with a hint of dark cherries and treacle.
The finish lingers on summer berries and caramel.
This is an exquisite whiskey with a really rich palate. We certainly hope you were one of the lucky ones to nab a bottle!
What are your thoughts on the Redbreast Dream Casks series? Start the conversation in the comments!