The Spot Whisky range has finally been made complete with the addition of Blue Spot to the historic line up.
The Spot range, which includes Green Spot, Red Spot, Yellow Spot and now Blue Spot, is a very popular Irish whiskey brand that all but disappeared in the late 1900s. Green Spot was the only expression to continue production. In 2012 and 2018 they brought back Yellow and Red respectively. Now, they have finally restored the range to its full glory by bringing back Blue Spot in 2020.
The range is made in Midleton and currently owned by Jameson but produced for Mitchell & Son Wine Merchants, who's founder Robert Mitchell started the brand seven generations ago. Back then Mitchell & Sons were a whisky bonding company.
Bonding whiskey was a big tradition in Ireland for a long time. It involved bonders buying casks of new make spirit or even matured whiskey and then blending to to create a whiskey they could sell under their own name. This was common for a long time but when Irish whiskey began to decline in the 1970s it became rarer. Today there are brands that are trying (and succeeding to revive the practice).
Mitchell & Sons were those types of bonders and they first created Green Spot and it's companions, Red, Yellow and Blue. Eventually it was unsustainable to keep creating the whole range so it was reduced to just Green Spot.
Now the line up has been completed with the re-introduction of Blue Spot, a Single Pot Still Irish Whiskey, matured in Madeira casks.
Jonathan Mitchell, Managing Director at Mitchell & Son, said of the release: "It's been a privilege to shed light on the history of whiskey bonding in Ireland and the role our family had to play in it as we relaunch Blue Spot. The inclusion of whiskey aged in Madeira casks adds flavours that would have been originally introduced into Irish whiskey by the Mitchell family. As the full Spot range comes back to life, we find ourselves bursting with pride for the role our family played in the creation of this treasured range of whiskeys."
Tasting notes for Blue Spot Single Pot Still Irish Whiskey
The nose begins with notes of exotic fruit. Pineapple, kiwi and lime come through to give it a lovey tang. There is also a lovey spicy note alongside orchard fruits and sweet nuts.
The palate is the perfect combination of oak wood, sweet nuts and vanilla. Cinnamon and peppery spice add a lovely warmth.
The finish is fruity and rich, with lots of heat.
The rest of the Spot range are also wonderful malts and each is matured in a different way.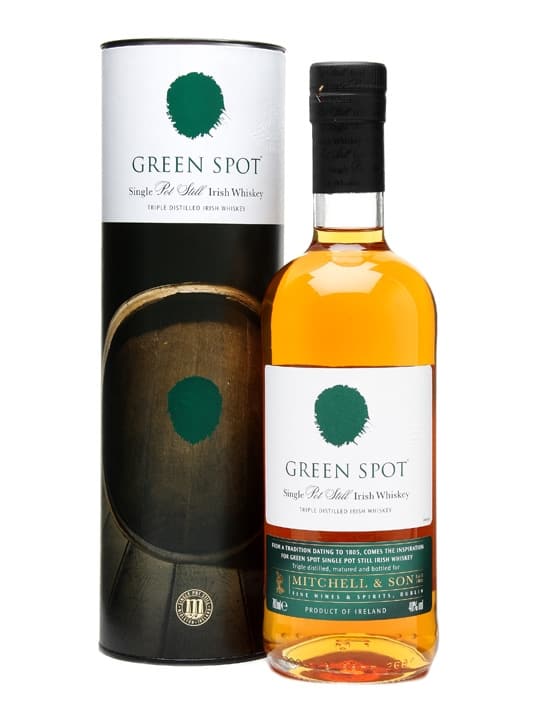 Tasting notes for Green Spot Single Pot Still Irish Whiskey
Bottle cost: £40.95
The flagship malt for the Spot Whiskies is Green Spot, which has endured the test of time. This whiskey is matured in ex-Bourbon and Sherry casks.
The nose begins with notes of malted grains, oak wood and apples. There is an earthy quality to it, with the warming aroma of toasted wood to compliment it.
The palate is full of spice. Oranges, cloves and cinnamon give it a well rounded body, with a lovely smooth texture. Orchard fruits and oak wood bring everything together.
The finish has a strong ending, with lots of malted barley and oak.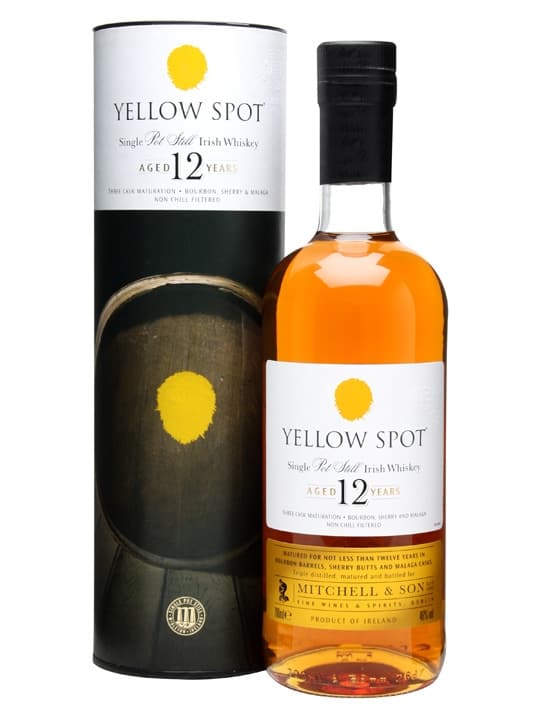 Tasting notes for Yellow Spot 12 Year Old Single Pot Still Irish Whiskey
Bottle cost: £71.95
Matured for 12 Years in a combination of ex-Bourbon, Sherry and Malaga wine casks, Yellow Spot is a complex and full of mellow, sweet flavours.
The nose begins with notes of fresh cut grass, cinnamon and cloves. The spices are well developed and add a comforting feeling to the aroma.
The palate is excellently smooth. Honey flows throughout, with apricots, peaches and caramel appearing too. There is a hint of coffee with toasted oak wood and a lovely red wine note as well. Honey really takes the lead here and adds a wonderful sweetness.
The finish is dry and had lots of malted grain, oak and red wine.
Tasting notes for Red Spot 15 Year Old Single Pot Still Irish Whiskey
Bottle cost: £87.38
Red Spot has been matured for 15 years in ex-Bourbon, sherry and Sicilian Marsala wine casks.
The nose opens with big notes of fruits and hazelnuts. It is wonderfully sweet and rich but with a delicate hint of mahogany and leather in the background.
The palate is spicy, bringing in notes of pepper and cinnamon. Oak wood, barley and a lovely mix of fruits makes up the bulk of the body. There is a note of dark cherries and almonds as well.
The finish rounds everything up with oak and cinnamon.
The Spot Whiskies range features some of the best whiskies in Ireland. They are each distinct and full of flavour. Now that Blue Spot has returned, the collection is finally complete!
Which of the Spot whiskies do you enjoy most? Let us know in the comments!