Two proud Irish traditions collaborate to produce an exceptional Irish Whiskey with a Californian twist
Irish Distillers today proudly unveils Green Spot Chateau Montelena, the first Single Pot Still Irish Whiskey to be finished in French oak Zinfandel wine casks. Matured until the combination of wine, whiskey and oak has reached the perfect balance, this new release is the second in the Wine Geese series of Green Spot Single Pot Still Irish Whiskeys that have been finished in unique wine casks.
Green Spot Chateau Montelena has been initially matured in American Bourbon and sherry casks and then finished for one year in casks previously filled with Zinfandel wine from the famed Chateau Montelena, Napa Valley. This rare cask finish contributes pomegranate, cranberry and maraschino cherry on the nose, a dry note to the silky mouthfeel and the finish combines classic long pot still spice flavours with a delicate wine influence, all in perfect harmony.
Green Spot Chateau Montelena also represents the coming together of two stories of Irish endeavour and enterprise. The Mitchells, who bottled and sold the original Green Spot under bond until 1968 and Jim Barrett, who restored the California-based Chateau Montelena to its former glory in 1972. Son of John Barrett, a Waterford man who emigrated to the USA after World War I, Jim Barrett followed in a long list of Wine Geese – Irish migrants that established leading wineries around the world. Today, the time-honoured traditions of Chateau Montelena are upheld by Jim's son, Bo Barrett.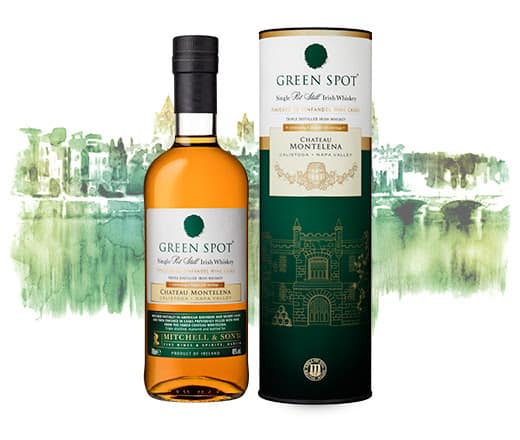 Crafted at the Midleton Distillery by Kevin O'Gorman, Head of Maturation and long-serving Head Blender, Billy Leighton, Green Spot Chateau Montelena is the second edition in the Wine Geese series following the launch of Green Spot Château Léoville Barton in 2015. Bottled at 46% ABV and without chill-filtration, Green Spot Chateau Montelena will be available in limited quantities each year in the USA, Canada and Ireland (including Ireland Travel Retail).
Kevin O'Gorman, Head of Maturation at Midleton Distillery, explains: "Green Spot Chateau Montelena is the celebration of three famous Irish institutions – Midleton Distillery, Mitchell and Son and Chateau Montelena – working in harmony to craft a new and innovative Irish whiskey that will appeal to whiskey and wine drinkers alike.

"Exploring the influence of these prized wine casks on Green Spot Single Pot Still Irish Whiskey was our inspiration. We found that the black-skinned Zinfandel grapes are full of ripe, spicy berry flavours, which imparts a distinctive and refined fruitiness to the wine and also the casks in which they matured. Working closely with Billy Leighton, we monitored the finishing process over the course of one year until we reached the perfect balance of flavours – the result is a rich pot still whiskey with classic Green Spot red apples, pears, vanilla and liquorice complemented by the dry and fruity Zinfandel wine."

Bo Barrett, Chief Executive Officer at Chateau Montelena added, "It has been a pleasure to work with Billy Leighton, Kevin O'Gorman and the whole production team at Midleton Distillery on this exciting project. We were brought together by a shared heritage and common respect for excellence in craft that has been wholly realised in Green Spot Chateau Montelena. I hope consumers will enjoy the Zinfandel twist to the classic Green Spot single pot still flavour."