They are completely unique, even down to the stills they use, which were handmade in the very welding shop that now houses them.
Balcones is not a brand that does things like everyone else. Every move they make is different and unique, and it certainly shows in their Whisky range.
Here we take a look at some of their expressions to show you exactly how good Balcones Whisky is.
Bottle cost: £41.63
Firstly, their Baby Blue Texas Corn Whisky is made with blue corn and has been roasted to perfection.
It opens with a sweet nose, full of vanilla and oak. There is a warming background with butter-covered popcorn that is lightly toasted.
It is creamy and smooth from the get go, with lots of white sugar flavours appearing.
The popcorn becomes slightly more caramelised on the palette and the toasted oak wood come through wonderfully.
The wood gives delicate warmth to the dram. This is compounded by a hint of dark coffee in the background to add a little depth.
The cereal notes of the corn can really be tasted at this stage and make for a well-rounded flavour profile.
It is all wrapped up in the finish with more cereals and a hint of warmth and cinnamon dusted toffe.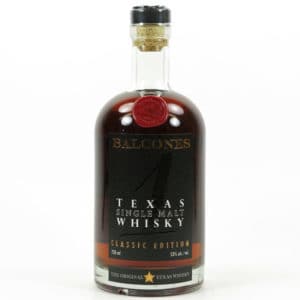 Bottle cost: £66.63
This is a dram that packs a punch. It has been distilled using traditional methods, before being aged in ex-Bourbon American oak barrels.
The nose is full of oats and bananas, with a thick maple syrup drizzled over it all. The sweetness is exquisite.
The oak of the barrels comes through in a rather nutty flavour, with caramelised pecans and hazelnuts coming through.
There is also a slight hint towards orange and lemon, with a sweetness that has a nice tangy bite to it.
The palette is equally packed with sweet oak flavours. The toasted wood comes through with lots of cereal tones and a nice juicy apple flavour to it.
Alongside the oranges and lemons this gives a lovely zesty flavour. This goes hand in hand with the duller, more subtle oat and cereal flavours. These act as a sounding board for the more sugary flavours to bounce off.
The caramel gives this dram a lovely smooth mouth feel that has a soft creaminess to it.
This continues into the finish, which is long and packed with cereals and toasted brown sugar.
Bottle cost: £62.46
True Blue 100 has been produced in the same barrels as Balcones's blue corn Whisky, however, this expression has been diluted to 100 proof.
This is a great Whisky to enjoy on its own as the lower strength makes it easier to sip.
The nose opens withlots of tropical fruits and spice. There is a healthy does of cinnamon and nutmeg, covering dried fruits like apricot and papaya.
There is a lovely tanginess that goes with the fruit to give it a nice body. underneath it all is a lovely warming caramel flavour that flows through the rest with ease.
On the palette the caramel becomes thicker and darker, with a slight chocolate hint to it.
This palette is definitely darker in flavour to the nose with a fruit cake appeal to it. The char from the barrels is ever more evident at this point as well, giving a lovely warmth to the dram.
The chocolate also goes hand in hand with a coffee note that appears towards the end of the dram that lends depth and a lovely bitterness to it.
The finish is long, with lots more brown sugar flavours all wrapped up in a final dash of dark coffee.
Bottle cost: £61.96
This is a dram that says exactly what it is on the tin. It has been hand crafted using a "secret process" by smoking it with Texas scrub oak. This imparts a fiercely smoky flavour on it that cannot help but be noticed above all the other flavours.
That is not to say it doesn't tie in perfectly. The nose is the perfect example of how harmonious this dram is.
It opens with aromas of charcoal and burnt popcorn that are deep and refined. There is a warming sweetness to it as well that brings in lots of caramel and oak tones.
There is a biscuity quality to this dram as well that adds a nice backdrop for the other flavours to play off. It is subtle yet brilliant, with complexity and refinement.
On the palette there is a lot more spice, with chillies and pepper coming through. These are joined by tangy oranges and limes and smooth cream.
The smoke becomes more like a BBQ at this point and the charcoal qualities really liven it up. The smoke is excellent on this dram; it is full of different flavours that interact with each other and the other notes in the palette.
The finish is smoky and dark, with more charcoal and a little oak for good measure.
Bottle cost: £84.96
This is the cask strength edition of True Blue 100 and just like its sibling, it is brimming with flavour.
The corn used to make the liquid comes through right on the nose. It is like walking through a field of maize.
Alongside this you find softer notes of butter and a slight honeyed aroma coming through.
These are warmed up with a lovely, spicy pepper note and a dusting of cinnamon.
The palette takes these and drips them over some wonderful dried fruit flavours such as apricots and raisins.
There is also a wonderfully dark coffee aroma that gives depth to the dram. It is slightly sweet, like a dash of maple syrup has been added.
The cinnamon is ever more present on the palette and gives a lovely warming feel as it goes down.
The finish is long, with lots of lingering spice and a final dash of caramel sweetness and coffee bitterness.
In summary, this is a fabulous range that shows the dexterity of not only Balcones Whiskey, but American Whiskey too – thanks to Balcones for sending the samples, truly appreciated. 
You can watch my YouTube review below: