Based in Waco, Texas, Balcones Distillery is charming and innovative. It is based in an old welding shop, where the very stills that make the spirit were made. The brand thrived in the boom of interest that the American Whisky industry saw in the mid 2000s and it is still building on that momentum.
The distillery is currently being expanded and has increased by four times the capacity that it used to make. They have won several awards over the past 10 years, including several Best in World medals. In fact most of their core bottlings have won at a major event and typically of the highest accolade.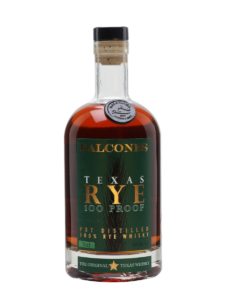 Bottle cost: £67.25
Their Texas Rye is an excellent example of their craftsmanship. It is made from 100% rye, with a mixture of different verities including Elbon, Chocolate, Crystal and Roasted. Balcones make some of the best rye whiskey around.
It was released this year, with Head Distiller Jared Himstedt saying, "We are so proud to finally be releasing our first ever Texas Rye expression this year to celebrate our first decade as a distillery. The final rye mash bill that we've landed on is primarily made up of Texas Grown Raw Elbon Rye but also utilizes three different specialty Ryes from Weyermann Specialty Malts."
The nose begins with pepper spice and lots of aromatic oak wood. There is a toasted heat from the wood that goes well with the pepper. The oak note is thick and sweet and has hints of vanilla in it as well. Marzipan and chocolate cake also appear.
The Balcones Rye 100 Proof American Whiskey palate is incredibly smooth and has a wonderful warmth to it. The heat is spicy and has a smoky, charred flavour to it. Pecans and hazelnuts give the overall feel a rich, deep flavour and help to bring out some of the sweeter, wooded notes of the oak. Caramel and smoke come together to give the wood lots of elegance.
The finish is slightly darker, with a hint of marzipan and charred oak. This is an exciting dram from an evolving distillery, this is not one to miss.
Balcones Texas Rye 100 launched at the Distillery in March and is available in the US now. It will be available in the UK from October 2018. The Cask Strength release will be available in very limited quantities only from the Distillery and select UK retailers.
You can watch my YouTube review below:
What are your thoughts? Leave a comment below and let's have a chat!