Despite having been built 1964, Loch Lomond was actually a distillery in 1814. That distillery has long since closed, but the modern day Loch Lomond is flourishing.
Based in the Highlands, is a brand that knows their roots and has a great Scottish feel to them.
Their history is one of both success and failure, having fallen silent in 1984. They were later re-opened in 1987 by Alexander Bulloch with the help of the Glen Catrine company.
Since then they have become a respected Whisky brand and were also the first distillery to produce both grain Whisky and malt.
They are still producing these today and have a great range of expressions, released under various brand names, including Loch Lomond and Inchmurrin.
Their Loch Lomond release titled Original is a fantastic example of what they can do with their malt.
The nose opens with herbs and floral flavours that are surrounded by a wonderfully subtle smoky aroma.
The peated is earthy, with lots of grass and heather notes coming out of it. It is deep yet not overwhelming.
Underneath the peat is a delicate sweetness of burnt caramel and toasted wood.
The palette has a more malted note to it, with lots of cereal grains coming through. There is a warmth to this malted flavour, partly added to from the smoke.
There is also a hint of sweet nuts such as hazelnuts that add a lovely smooth texture to the whole thing.
The finish is strong, with the sweetness coming through as thick, dark caramel and treacle. The grains of the malt go perfectly with this flavour.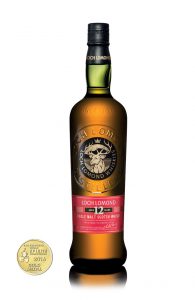 One of Loch Lomond's best malts is their 12 Year Old. This is a complex and light malt that is full of fruity flavours.
It has been matured in three different casks, including ex-Bourbon, refill casks and recharged casks.
The nose is brimming with apple and pear, giving it a lovely sharpness. This is complemented by the zesty citrus peel that also makes an appearance.
These flavours go perfectly together and are not subtle at all. They pop out, with lots of taste and invitation to try more.
On the palette the tang of the fruit is given a sounding board from a deep biscuity note that is rich with malt and grain flavours. This is the perfect offset to the sharpness of the fruit.
There is also a lovely hint of sweet white sugar coming through, with a slightly warming note to it. This ties in well with a subtle hint of peat smoke that wafts in towards the finish.
And on the finish itself, the peat smoke becomes fully realised, with lots of warmth and softness. It wraps itself around the other flavours and ties them together well.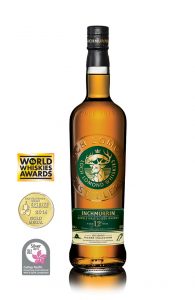 The Inchmurrin branch of the Loch Lomond brand is a celebration of the islands found in the actual loch itself.
The 12 Year Old is a particularly fine dram and is matured in the same three types of barrels as the Loch Lomond 12 Year Old, but with a different recipe.
It is bursting with earthy, floral flavours and opens with a nose of peach and pears that are juicy and sweet. There is a nice depth from a grassy undertone that is rich and thick with flavour.
This is a very natural tasting dram and the earthy tones continue on the palette. The grass is joined by heather and blossom, giving it a lovely floral taste.
There is also a sweet, warming caramel flavour that goes perfectly with the ripe peaches, pear and apricots that come through.
These have a sweetness like white sugar and are offset with a wonderfully tangy citrus note of lemons and orange.
The finish wraps these flavours all together, with a delicate warmth and final dose of grassy freshness