Combining two of the things that are distinctly American, this malt is a celebration of American spirits.
Based in the Greenpoint district of New York, the New York Distilling Company has been making great American spirits since 2011.
New York has a long history of distilling and was once a hub for the American spirits industry. Things changed with prohibition and for decades the city had no distilleries.
Today things have massively changed and there has been an influx of distilleries and New York Distilling Company are proud to be one of those.
Their website proudly announces their intentions to bring a "return to distilling in Brooklyn" and that's exactly what they're doing, and doing well.
It is headed by Tom Potter, Allen Katz and Bill Potter, three industry experts who all have different talents an knowledge of the spirits market.
They have created a brand that is deeply American and their passion is clear form their ell thought out branding and designs.
Ragtime Rye American Straight Whiskey Review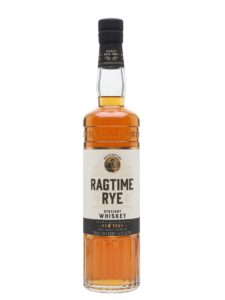 Bottle cost: £35.25
An ideal example of their abilities to make and market great Whiskey is their Ragtime Rye.
It brings together two uniquely American things: Ragtime music and Rye Whiskey.
Ragtime, for the uninitiated, is a type of music that was popular in America in the late 1800s/early 1900s. It is characterised by its syncopated rhythm and was an early precursor to jazz music.
Rye is a type of Whiskey that is characterised by its spicy and sweet flavour profile.
The New York Distilling Company brought these two ideas together because; "If the destiny of nations depends on cultural nourishment then ours may rest, in fulfilment, with Ragtime and Rye."
Ragtime Rye opens with a nose of peppery spice, with lots of summer berries. It is sweet and tart, with a lovely warming quality.
Nutmeg and cherries are joined by vanilla, oak and treacle, making this malt warm and sweet.
The palate is packed with crystalized orange peels, rum and raisin cake, vanilla and lots more dark berry notes.
It is well rounded and bold, with a smooth mouth feel that tastes exactly how luxury should feel.
Oak wood and nutmeg really play out here, with harmonies of sweet caramel, almonds and vanilla.
The finish lingers on spice and fruits. It is soft and delicious.
Ragtime Rye is an exquisite Whiskey that has lots of character. The flavours are well developed and rich.
If the New York Distilling Company are bringing distilling back to Brooklyn, we can be thankful they're this good at it, as Ragtime Rye American Straight Whiskey Review proves.
What are your thoughts? Leave a comment below and let's have a chat!