Penderyn Distillery is a quaint place, a lot smaller than I thought it would be, and that's definitely not meant in a bad way, the design of the distillery itself is incredible with unique stills and even a glass spirit safe.
Upon arriving at the distillery you instantly get a sense that Penderyn is not looking to produce a Scotch whisky in Wales but to create something truly unique within the whisky category. This is reflected throughout their distillery's design as well as their leadership that includes, amongst others two ex-steel workers, a musician / writer and an ex-cabinet maker.
This is a place like no other.
At fifteen years old, the distillery is growing into its surroundings nicely and has welcomed such luminaries as HRH Prince Charles, The Prince of Wales, Welsh rugby legend Gareth Edwards (who we spent time with at the Swansea game later that night and who has leant his epic try to a Penderyn limited edition whisky) and even Brendan Rodgers the now ex-Swansea and ex-Liverpool manager.
I was shown round by resident tour guide Ray, a retired chemist who has a passion for whisky and happens to be a Scottish chap taking tour groups round a Welsh distillery.
The new pot stills are almost cute, they were only installed in 2014 as part of a big expansion project that saw the bottling hall taken out of the main distillery site to make way for increased production capacity.
'But what had they been using for the first fourteen years?' I hear you cry… read on.
Bespoke and unique single pot stills specially commissioned and designed by a team led by engineer Dr David Faraday, a relative of the great Victorian scientist, Michael Faraday.
These stills contain six perforated condensing plates that the spirit filters through. Essentially the vapour pushes against the condensation and makes the spirit punchy whilst also separating the flavours and reducing impurities out to produce a newmake clocking in at a hefty 92.5% ABV; this is then reduced to 64.4% when filling casks.
To give a little context, traditional pot still newmake from Ireland and Scotland comes off the still at between 69% and 76% ABV. 
This is incredibly interesting for a few reasons but mostly because it shows and proves my point in the second paragraph that Penderyn is not looking to be an also-ran, they are looking to create something genuinely different to Scotland and Ireland.
Event the spirit safe is unique, made of glass and collecting 50 litres at a time… painstaking stuff for the stillmen and distillery workers ensuring none spills over!
Fortunately I got to try this newmake and thought it was wonderful, regular readers will know that I love the taste of newmake and believe it to give a true indication of the character of the distillery where it was made and this one was great. Warming but nowhere near as harsh as a 92.5% spirit had every right to be.
Another important thing to note about Penderyn is that they are all about finishes to their whisky.
Almost all their whisky starts life maturing in ex-bourbon casks from Buffalo Trace then transferred to ex-Laphroaig peated casks, madeira casks, sherry casks or port casks for finishing for between six months and a year before release.
Naturally I gave the casks a good ol' nose, all were interesting but the ex-Laphroaig jumped out at me for the intense smell of BBQ chicken / ribs, lovely.
Moving into the bar area, we sampled the core range which all had their own character, especially how punchy the bourbon influence is on their original Madeira release, the soft peat influences on their peated release were an interesting counter to the expected heavy peat influence and the Merlyn liqueur is definitely going to replace Baileys in our house this Christmas!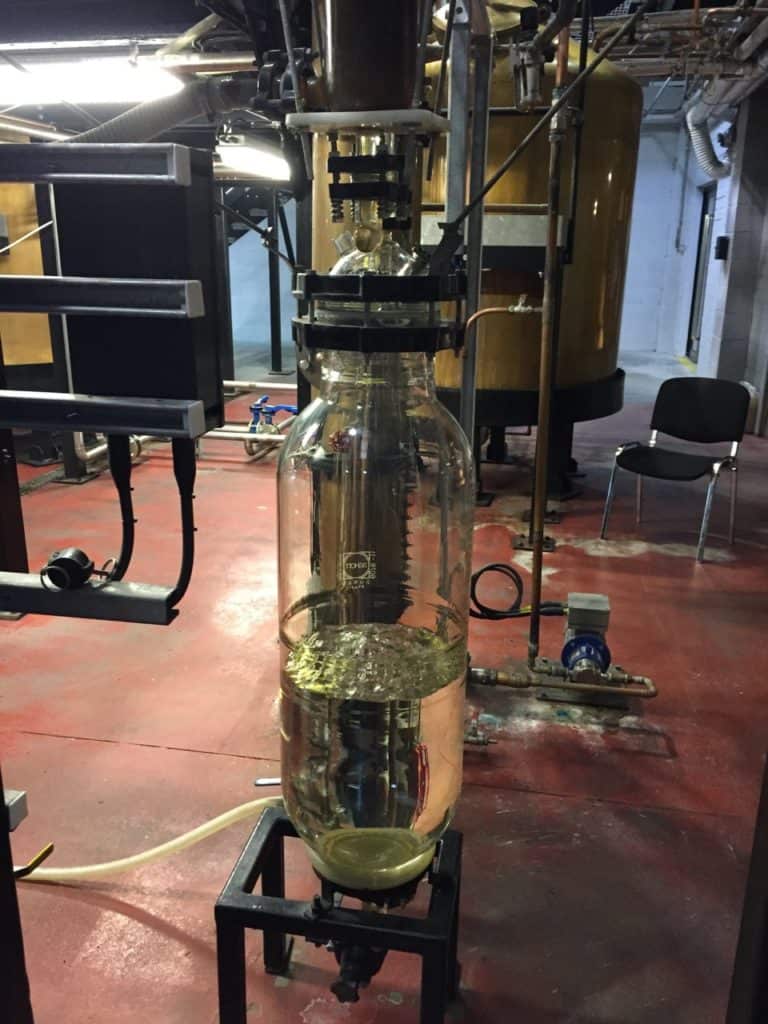 Rich Oak – Limited Edition – 50%
Heavy charred cask finish, intense oak influence, amazing.
Cask Strength Port Cask finish – 59%
Blush colour, lots of dark fruits, a true beauty.
There are many stories to tell about the distillery, the brand and the people but overall the best thing I can do here is urge you to take the trip to Penderyn and be prepared to learn many new things and see many new things.
Thanks to Jon, Stephen, Sian and the team for being such incredible hosts, I had an absolute blast.