Part of their Icons of Wales range, the Royal Warrant Single Malt is an excellent Welsh dram.
A celebration of the best things about Wales, (leeks and sheep not included), the Icons of Wales range is a brilliant series that commemorates some of the best events and people in Welsh history.
So far the series has included Red Flag, Independence, Dylan, That Try, Bryn Terfel, Royal Welsh Whisky and Rhiannon. You might not be aware of most of these, but the charming thing about Penderyn and this series is the desire to educate and celebrate at the same time.
The website is really informative about what these bottlings are commemorating and each bottle itself is unique. They each tell the story of their namesake and have excellent malt on the inside to boot.
This bottling, the sixth in the series, is dedicated to Royal Welsh Whisky, which was first made by the original Welsh whisky distillery, Frognach, which was near Bala. They were given the Royal Warrant by Queen Victoria to make Royal Welsh Whisky in 1895. Unfortunately, there was also a quite successful temperance movement within Wales at the time and it never really took off outside the country either. In 1903 they shut up shop.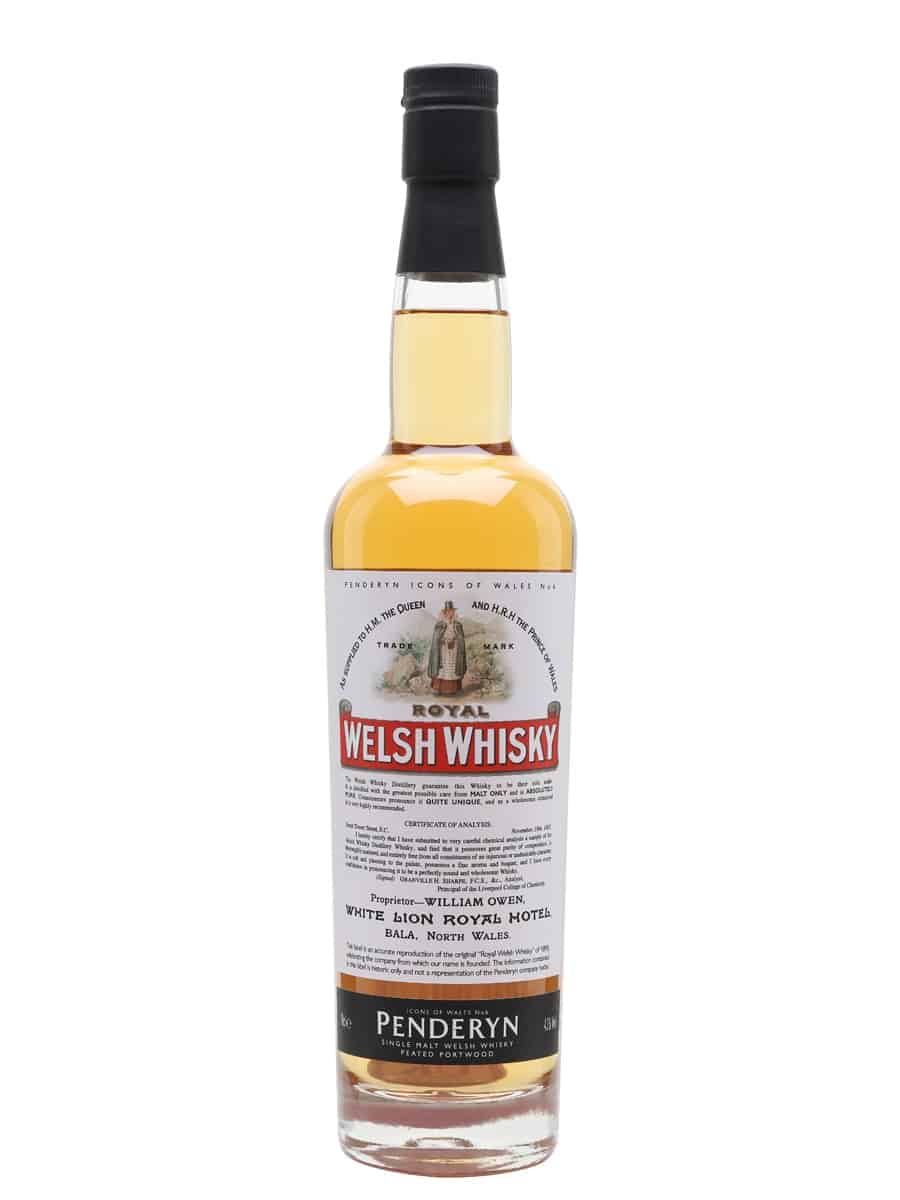 Royal Welsh Whisky Single Malt Welsh Whisky
Bottle cost: £48.95
This expression has been crafted in honour of that distillery and the Royal Welsh Whisky they made there. In keeping with the theme, the bottle does not come with a presentation box, as the original didn't either. The malt has been matured in Portwood casks and has a peated finish.
The nose begins with lots of sweet vanilla and caramel. There are hints of saltiness, summer berries and an unmistakable waft of smoke. The smoke is rich and dense, with a lovely earthy quality.
The palate is spicy, with notes of pepper and more smoke. It has a wonderful heat behind it. Malted grains, cinder toffee, caramel and fudge give it a brilliant sweetness.
It finishes on notes of vanilla and oak spice, including cinnamon, with a wonderful dash of caramel.
We can't say this is an replica of what they used to make at Frognach Distillery, but we can say we certainly glad this malt has been made to commemorate it. Well worth taking a look at.
What do you think of the Icons of Wales series? Tell us in the comments!