So here are our picks for those of you who want to really impress your other half on February 14th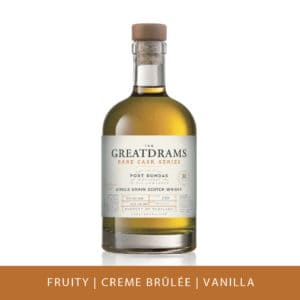 Bottle cost: £65
Drams like this, with its smooth palate laden with creme brûlée and vanilla notes, are far too rare to burden with heavy-handed words, as Chaucer might have said. Here you have a bottle of whisky from a now-silent distillery, which means there is not only no production there any more, but the whole site has now been torn down so no more Port Dundas whisky will ever be produced.
Bottle cost: £52
One of the core expressions in the Double Cask Range, this 12 Year Old is brilliant in quality and taste. It has been matured in casks that have been seasoned with Oloroso Sherry and imported from Jerez in Spain. It opens with a nose of sweet vanilla and oak wood. Sherry spice appears and adds a little bit of warmth that complements the oak perfectly. The flavours are very complex and drawn out, with the vanilla developing into caramel and fudge. The palate is equally rich and luxurious. More oak wood with hints of sherry and cinnamon, wrapped up with dried fruits and citrus.
3. Four Roses Small Batch Bourbon
Bottle cost: £31.75
The problem with buying bouquets is that they will eventually die. But with these Four Roses, you'll be able to keep Valentine's going forever, or at least until the bottle finishes. The perfect replacement for a dozen of reds, Four Roses Small Batch Bourbon is full of character. The flavour brims with honey, charred toast, flaky pastry and spicy cinnamon.
Bottle cost: £76.23
What else do you want more than some Harmony on Valentine's Day? Hibiki Harmony is an excellent Japanese whisky that is sure to unite you and your loved one. The flavour profile is gentle and delicate, with floral notes, honey, oak wood and hints of orange. Ideal for Valentine's Day.
5. Woodford Reserve Cherry Smoked Barley Bourbon
Bottle cost: £99.96
Part of the Woodford Reserve Master's Collection, this dram has been created with cherry smoked malted barley. The palate is full of cherry notes, with a lovely waft of smoke and caramel. the sweetness of the cherry goes perfectly with the charcoal notes in the smoke. This is a great Bourbon and one that is easily enjoyed with a partner.
6. Scotch Malt Whisky Society 7.146 Orange Velvet
Matured in refill Bourbon hogsheads, this dram is simply irresistible. Like the name suggests, it is smooth and mellow, with big, booming notes of orange and citrus. It is sweet and slightly spicy, warming up on the palate and bringing in caramel, oak and vanilla in the finish.
7. Compass Box The Double Single
Bottle cost: £127.68
This dram answers the question "how many drams make a blend" and that answer is two, making it perfect for every whisky loving couple on Valentine's! It's even great for the polyamourous among us. It is full of sweet vanilla and spicy cinnamon, with  hints of chocolate, salted caramel and citrus fruit.