One of the best Bourbons available, Four Roses brought out a special edition to celebrate their 130th Anniversary. This is a brilliant Four Roses Limited Edition.
A truly excellent Bourbon brand, Four Roses has been around since 1888, if you can't do the maths suggested by the 130-year anniversary edition.
They can be found on the legendary Whisky Row in Kentucky, the same place where they were first founded by Paul Jones.
The name has a rather sweet story behind it; Jones proposed to a woman and she replied saying that she would wear a corsage of roses if the answer were yes. To Jones delight she wore four roses in total, and the brand name was born. Thank goodness it was roses and not chrysanthemums.
The irony of this story is that Paul Jones never actually married, and there is some debate about whether Four Roses was actually started in Atlanta by a family with the name – you guessed it – Rose.
But the proposal is the story the brand promote on their website, and no one really knows the origins, so oh well – who says capitalism can't be romantic!
Foggy beginnings aside, today they are purveyors of very fine Kentucky Bourbon. They might not have a big reputation, but they are certainly well loved.
The 130th Anniversary Edition
This edition is an excellent Bourbon and we can only lament the fact that it is limited edition and only 13,140 bottles have been released.
The mash bill is actually a product of two different mashbills; one with 60% corn, 35% rye, and 5% malted barley and the other with 75% corn, 20% rye, and 5% malted barley.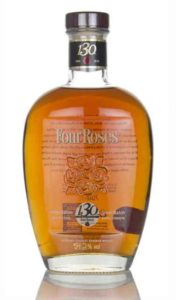 TASTING NOTES FOR FOUR ROSES 130TH ANNIVERSARY LIMITED EDITION SMALL BATCH BOURBON
Bottle cost: £104.12
The nose begins with lots of sweetness and fruit. It is really rich and has a wonderful zest.
Orchard fruit, with creamy honey and oak wood appear adding lots of depth. The sweetness is not overwhelming but gentle.
The palate is equally rich and complex. Pastry, fresh breads and sweet pies come out, with big notes of caramel and honey.
Crisp apples, pears and oranges give a lively tang to the flavour and round out the oak notes. Sweet nuts, with hints of marzipan and berries add a little extra depth.
A gentle smokiness appears towards the end and wraps everything together.
The finish is gentle and bold, with lasting notes of oak and vanilla.
Four Roses have certainly done themselves proud with this edition and it is a great reminder of what they have learnt in their 130 years.
Paul Jones would be proud, or whoever their founder might be!
Do you enjoy Four Roses? Tell us what you think in the comments!
What are your thoughts? Leave a comment below and let's have a chat!