Glengyle Distillery promotes itself as the "newest oldest distillery in Campbeltown". This is pretty accurate description once you know the background.
Glengyle was originally owned by William Mitchell, son of Archibald Mitchell, who started Springbank Distillery, also in Campbeltown.
Glengyle was hit hard by the economic downfall at the end of the 19th century and was forced into closure.  From there it fell into multiple hands over the years and eventually ended up right back in the hands of the Mitchell family.
This was in 2000 when it was bought by Hedley Wright, chairman of J&A Mitchell Co. and great-great nephew of William Mitchell himself.
From here it has gone from strength to strength, releasing fantastic malt as it went along.  It has a long range entitled Works in Progress and has created some brilliant expressions with various types of casks including Rum and Sherry.
Their most recent release, the Kilkerran 12 Year Old, they have acheieved magnificent results.  This is a sweet, smooth expression packed with flavour and lots of different aromas.
The nose begins with earthy notes of heather and honey, giving it a smooth base to begin with.  It has butterscotch and raisins and apricots from the get go, recalling the Sherry casks it has been matured in.
There is a slight hint of brine and seaside air that gives a nice tang to the sweetness.  This also mixes in well with the earthier notes and helps to bolster these flavours.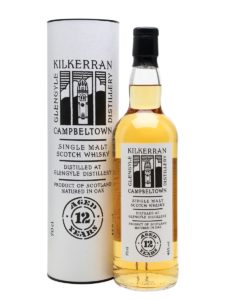 On the palate these notes come together in perfect harmony.  The dired fruits combine with the honey to create an indulgent dessert like aroma that will make you reach for more immediately.
The mouth feel is light and smooth, with a thick creaminess coming from the honey.
Again, the heather notes give this depth and refinement, adding another wonderful layer to an already sophisticated dram.
There is also a sweet and spicy flavour, with some peppered notes joining the mix.  These add a little bit of warmth and depth.
Finally, there are some citrus motes on the palate that go hand in hand with the duller, more subdued earthen tinges.  Lemon, lime and orange zest give a nice zing to the mouth and stand out again the sweeter notes.
These come through into the finish as well.  This is a long lasting finish, packed dull of lavour but with pepper and honey smoothness really standing out.
This is a very impressive malt for Glengyle to add to their family and should not be missed!