Just like every nomad before it, Nomad Whisky doesn't really have a home and has wondered the earth between Scotland and Spain looking for its rightful place.
It's tagline "Born in Scotland and Raised in Jerez" speaks for it, expressing its strange but wonderful origin story that resulted in an exciting and intriguing expression.
This dram is the brainchild of both Richard Paterson, Master Distiller for The Dalmore and wine distributor González Byass' Master Blender Antonio Flores.
The two have brought together Spanish Sherry and Pedro Ximénez barrels with a blend of over 30 single malt and grain Whiskies, all aged between 5 and 8 years old.
Paterson took care of the Whiskies, mainly sourcing them from all over Speyside, a region known for its sherried sweetness.
Nomad began its life in sherry butts and was matured for three years in the Highlands of Scotland, where the cold weather ensured the angel's didn't take too much of a share.
After their initial three years of maturing, they sherry casks were shipped off to Jerez, a city in the Andalusia region of Spain, where the angel's are a bit more unforgiving.
That's quite a journey for any three year old to make!
But the casks made it and were set to be finished for a year in Pedro Ximénez barrels.
This decision was made after Paterson and Flores had already experimented with both Oloroso and Fino casks.  They settled on Pedro Ximénez barrels for their interesting flavour profile.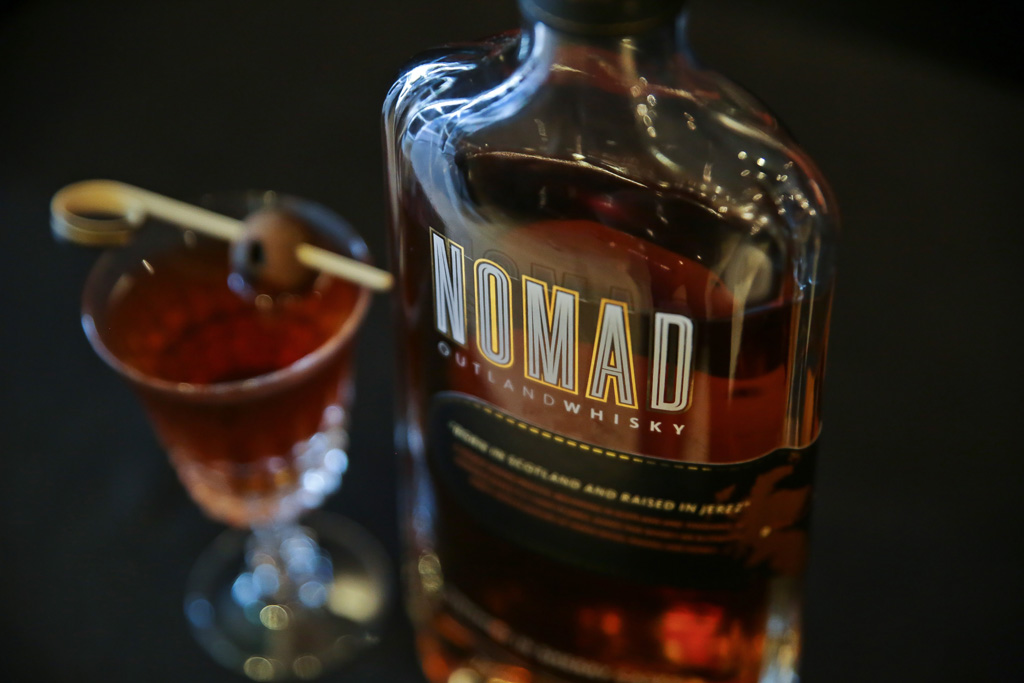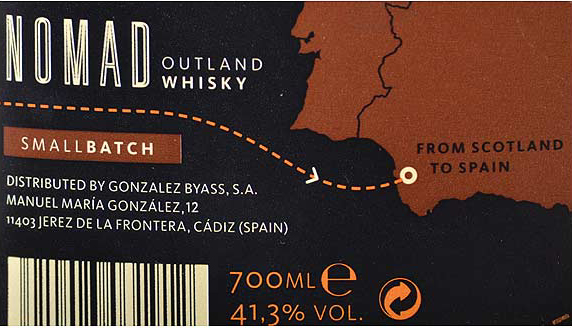 The resulting dram is a magnificent mix of dried fruits, sherry, oak and vanilla sweetness.
The nose introduces us to the casks, with plenty of raisins, apricots and dates filling the bouquet.
The flavours are intense and rich, like a fruit basket that is brimming with tastes that all intertwine and wrap around each other.
The richness is developed in the subtle oakyness that lies underneath them all, like the barrel has been flattened out and the Whisky is being served directly from it.
The sherry becomes more apparent as the dried fruits take on a slightly spicier note. It also has a subtle citrus tang to it.
This flavour is blown up on the palate, with lots more depth and richness to it.
The spices become more defined with cinnamon and nutmeg coming through and dusting the raisins and apricots.
The cinnamon combines well with the oak and gives a smooth and warming mouth feel.
It develops into a refined vanilla flavour, with a hint of honey.  This lends itself again to the mouth feel, which is thick and creamy.
The Pedro Ximénez barrels really make themselves known on the palate, with the richness of the sherry and fruits coming through a lens of oak.
The flavours tie in wonderfully together and it is obvious that Scotland and Spain should definitely create more drams together!
The finish is long and lasting.  It teases the taste buds right to the end, co you will no doubt be reaching for the bottle almost immediately!
Have you tried Nomad? What were your thoughts?