The 14 year old, the 18 year old and Phoenix tasted in my Tullamore D.E.W. Review.
Tullamore D.E.W. review first published on GreatDrams.com.
I was recently invited to attend the UK launch of three new Tullamore D.E.W. expressions; the 14 Year Old, 18 Year Old and Phoenix in the decadent and iconic Harrods store in Central London. Naturally, the event warranted to a full Tullamore D.E.W. review.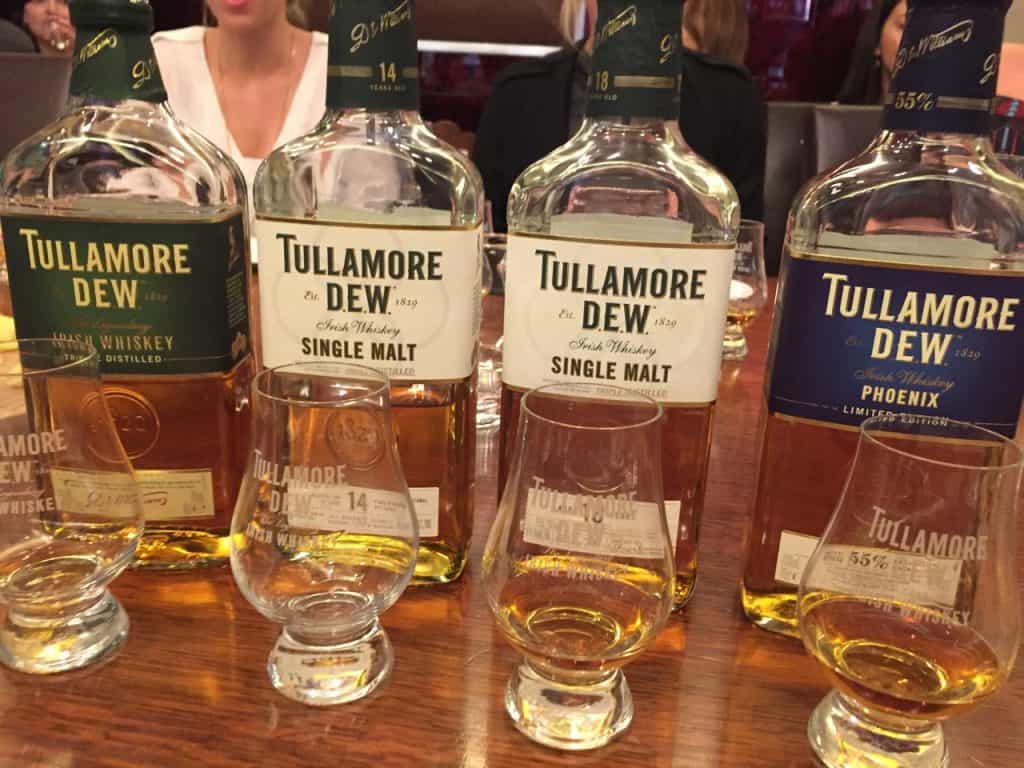 Tullamore D.E.W. itself, now owned by William Grant & Sons, is a fascinating brand with the inimitable John Quinn as their Brand Ambassador, and on the path towards filling out the range with new age statement Irish whiskies as well as NPD NAS whiskies.
The distillery itself was only opened a couple of years ago, with the first 'dew' from the stills on the 21st August 2013, what would have been Charlie Grant Gordon's birthday. We were told a couple of interesting facts about the distillery; 3,200 concrete pillars were used in the build, there is a fake hill at the distillery as by Irish law peat is not allowed to be removed from building sites but can be moved.
The Grant family looked at over 50 sites before settling on the Tullamore location as it delivered on their business promise and proposition of building brands based on longevity, provenance and brand stories. The William Grant & Sons chairman, Glenn Gordon typified the long-term view and big picture view that the WG&S business operates at all times when he was asked during the distillery build about which stones to use for the distillery facia, to which he asked:
"Which of Irish or York stone will look best in a hundred years?"
The mason responded "well one of them is double the price..."
To which Gordon fired back "that was not what I asked, I want to know which will still look good a century on from now".
Back to the tasting. We enjoyed welcome cocktails created by Charlie 'All About The Cocktail' McCarthy; one that was incredibly refreshing and one that was a twist on an Old Fashioned that included Guinness – nice!
Once seated in the Harrods Tasting Room, we were given an impassioned welcome from Kirsten Grant Meikle about the distillery, the Tullamore D.E.W. whiskey and the stories I mentioned above about how important the values of the Grant family are in every decision they make and how they are always looking decades, if not a century or more in advance when they approach big brand acquisition and building.
John then took us through his back story in the industry, a veteran of 42 years within whiskey, he is a, if not the font of knowledge on all things Irish whiskey. Then began the best part of this and indeed any Tullamore D.E.W. review: the tasting… 
Our tasting started with the Tullamore D.E.W. Original, their biggest seller by volume. This one went by in a flash as we essentially were warming up our palates before getting into the new releases but no Tullamore D.E.W. review would be complete without at least a passing mention.
The nose was sweet, lots of red apples, cloves, vanilla oak, orange peel and a feint hint of light char, the palate remained sweet with even more vanilla that gradually got thicker the more I chewed the whiskey. Very nice core expression from Tullamore D.E.W..
Incidentally, Tullamore D.E.W. is the second biggest Irish whiskey in the world – incredible.
Next we had Tullamore D.E.W. 14 Year Old at 41.3% ABV. 
The nose on this was incredible; juicy apples, lots of orchard fruits, still sweet but not as much as the Original, pineapple and tropical fruits made this a delight to spend time nosing.
The palate was nearly exactly the same as the nose for me, with the addition of orange notes; so so fresh.
This whiskey had been matured in bourbon casks and then split into different barrels to have the Tullamore D.E.W. four cask finish applied; some of the whiskey spent seven months in Olorosso sherry casks, some spent six months in Madeira casks, some spent five months in Port casks and some remained in bourbon casks.
The result is fantastic, a really knockout whiskey that demonstrates what Irish whisky can do.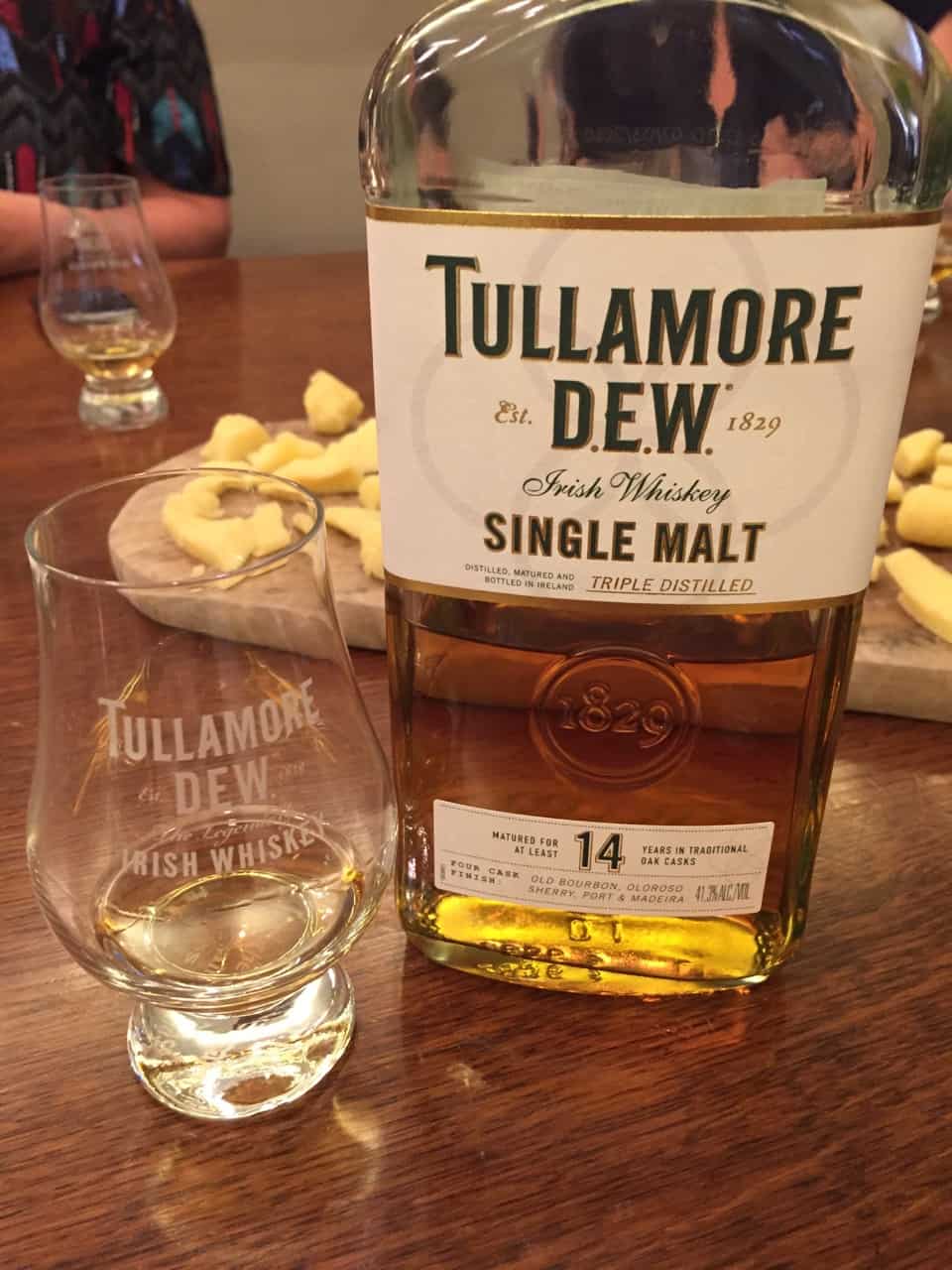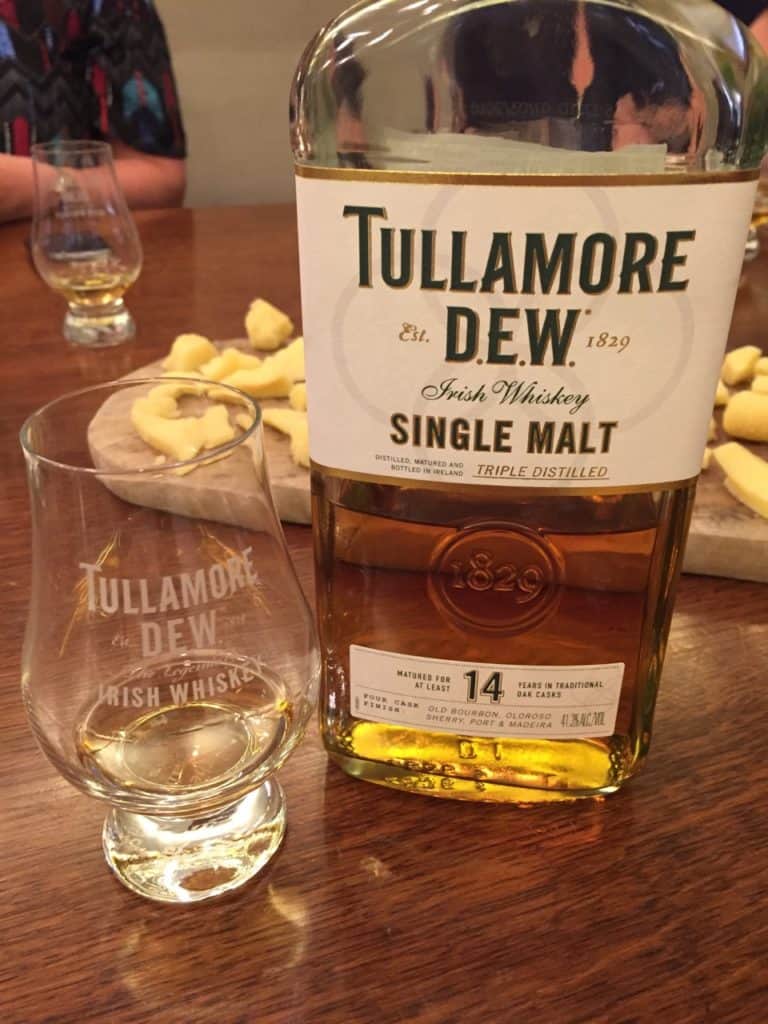 Our third dram was the Tullamore D.E.W. 18 Year Old single malt. 
This whiskey has the same percentage of cask finishes as the Tullamore D.E.W. 14 Year Old, but they have spent around ten to twelve months in their respective cask finishes instead of the five to seven months we saw with the 14 Year Old.
On the nose you instantly felt the maturity; malty notes, lots of oak, sweet but not overly so, some apples yet again and a tobacco note. A nose that faintly reminded me of a mature Auchentoshan I tried not too long ago. Lovely stuff.
The palate was all about exotic fruit, vanilla sweetness, buttery notes were present and hints of sherry wine rounding it off with a long finish. Really enjoyable, available exclusively at Harrods.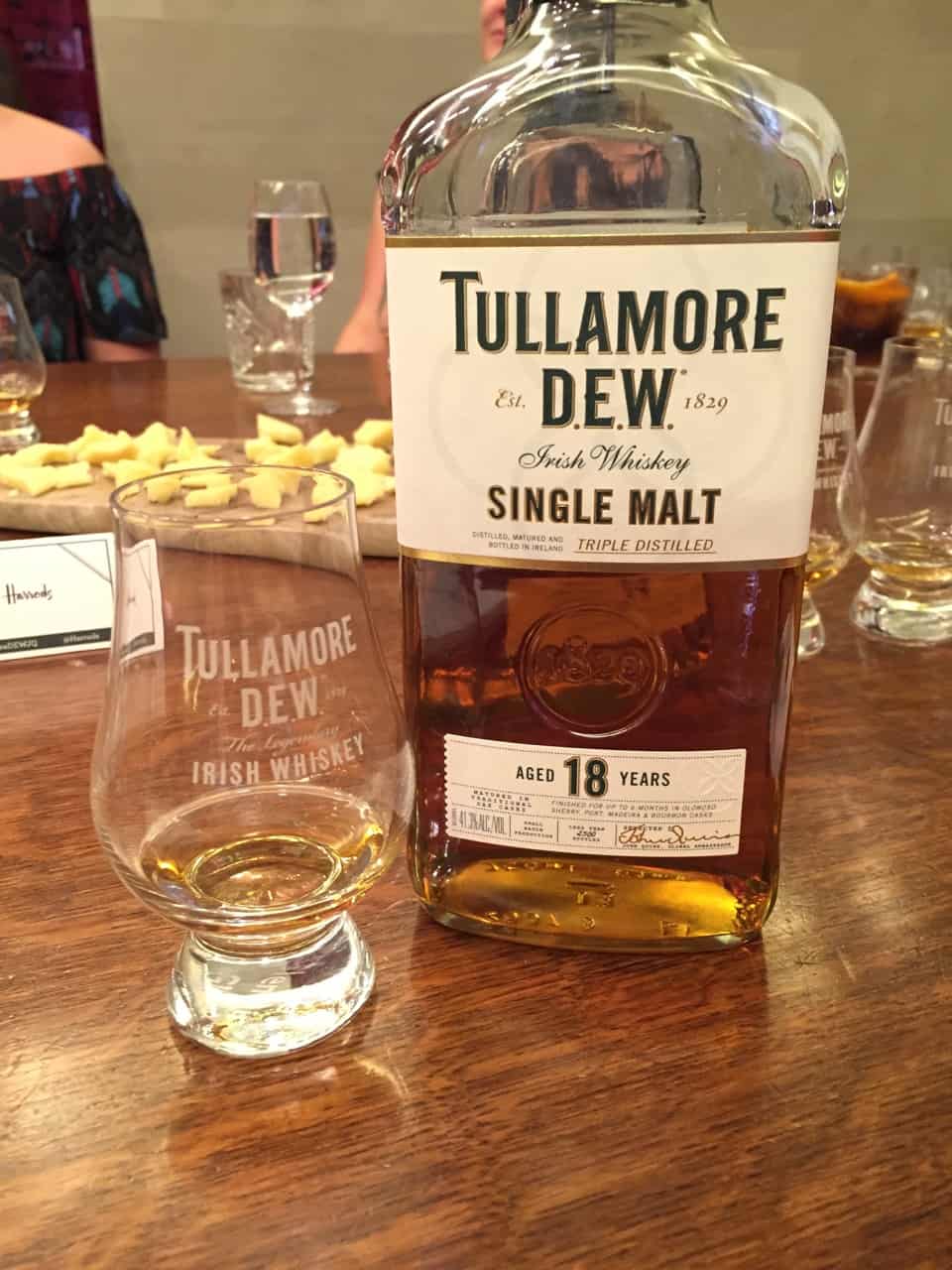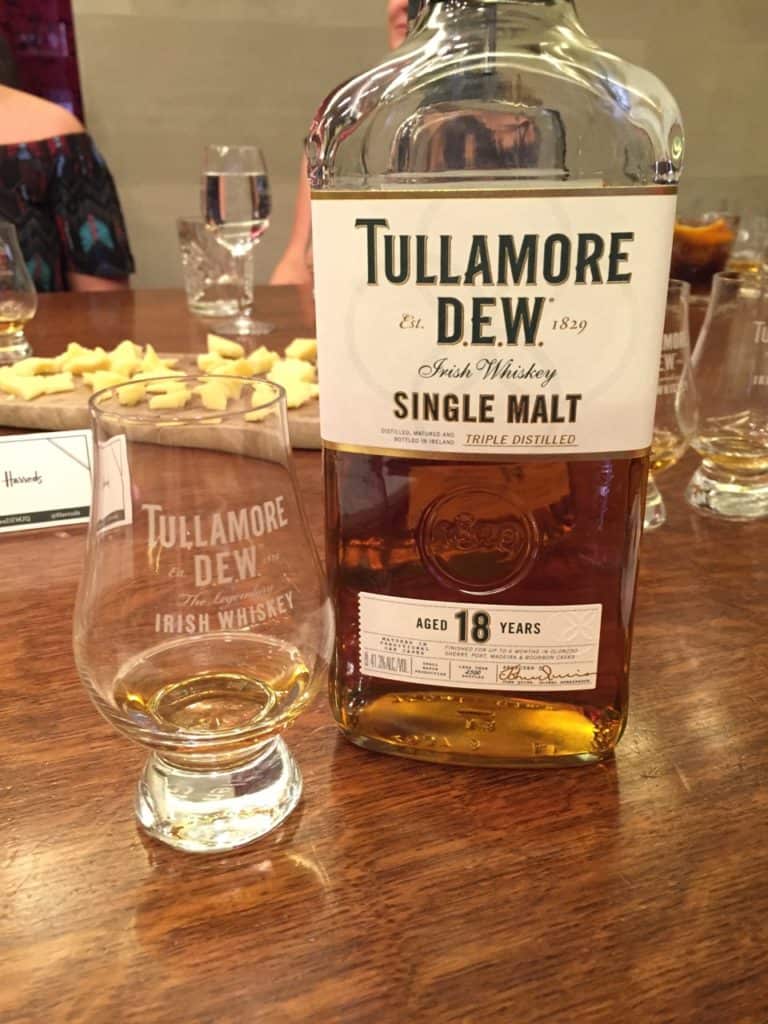 Finally we moved on to Tullamore DEW Phoenix.  This dram was created to commemorate the 1785 fire that destroyed the town and represents the community the rose up out of the ashes to make it great again.
The nose captures the heat of the fire with plenty of spice and warmth.  These flavours are joined by an earthy wooded note, almost like a damp log, with sweet vanilla and caramel to give it depth.
The wood also becomes slightly nuttier with peanuts and pecans jumping out.  These are perfectly complemented by the caramel notes.
On the palate the spices take hold and cinnamon and allspice give this dram a nice depth. These notes harmonise with the vanilla and toffee notes to create a refined yet full-bodied whiskey. The wood of the barrel plays an important part in all this and is obviously the root from which they all spring. The sweetness and spice really makes this dram by developing the thick, wooded notes.
This is essentially a beefed-up version of the Tullamore D.E.W. Original, very nice.
All in all a fantastic launch with great whiskies that I implore you to explore and enjoy; they are not limited edition (bar the Phoenix) but they are special in their own right and if you have not tried Tullamore D.E.W. before, fear not, you will not be disappointed. 
Thank you very much to William Grant & Sons for inviting me along to the launch. 
Apologies to Dave Worthington for photo-jacking one of his shots 🙂