Father's Day, June 17th 2018. A day to celebrate fathers all around the world and their contribution to families, their children and future generations, no matter what that contribution and involvement might be.
We get asked every year about what the best Fathers Day gifts are for those who want to show their appreciation through fantastic matured spirit and all that goes with it, so, honouring our annual tradition in rounding up the great whisky gifts out there, below are our top ten whisky gifts for Father's Day 2018.  
Gifts from GreatDrams.com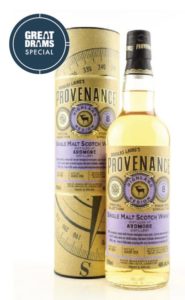 OUR EXCLUSIVE SINGLE CASK ARDMORE SINGLE MALT WHISKY, 46% ABV
Bottle cost: £50
Now I may sound biased, but the reviews of our first single cask bottling have been astounding, even to us with both the trade and whisky drinkers just like you and your father enjoying it by the case load.
With a soft smokiness, this limited edition whisky is all about honey and tropical fruit notes with gentle hints of spies on the palate and finish.
THE GREATDRAMS OF SCOTLAND ULTIMATE GIFT SET, £110
No gift list would be complete without inclusion of my first book, The GreatDrams of Scotland, which was published at the end of 2017. The book itself is an informal, conversational look at the Scotch whisky industry, what makes it special, the brands that built it and the whisky brands of the future too.
The GreatDrams of Scotland Ultimate Gift Set contains a signed copy of my book, a bottle of our exclusive Ardmore single cask bottling, a GreatDrams Glencairn glass and a limited edition 6-dram tasting set from The Dram Team created to celebrate my book's launch.
Only two left.
3. The GreatDrams of Scotland Book & Dram Gift Set, £23
A great gift for any whisky lover in your life, this gift set includes a signed copy go my The GreatDrams of Scotland and a miniature of our exclusive Ardmore single cask. A perfect pairing. Available here
1. BENROMACH 15 YEAR OLD​
Bottle cost: £43.19
A superb single malt Scotch whisky from Speyside, really is a classic and I love the old school flavour profile the team at Benromach have created here. One definitely not to be missed, especially if you're big into your Speysiders.
2. Singleton of Dufftown Malt Masters Selection
Bottle cost: £28.38
A very new release, only out at the end of April / beginning of May 2018, this is a lovely whisky described as 'smooth and delicate' packaged in a striking bottle that stands tall and proud whilst being strangely thin!
Bottle cost: £45.95
This is one of the nicest Ardbegs I have had the pleasure of trying in a couple of years, really well integrated classic Ardbeg with a sweet, fruity side that really does some work to explain in one sip how much depth you can get from peated whiskies. Nicely done Brendan and Dr. Bill!
Bottle cost: £42.92
A true favourite of GreatDrams, this whisky is packed with flavour and is so smooth, yet fantastically complex. Every moment spent with this whisky reveals more and more flavour.
Bottle cost: £24.58
A content partner of GreatDrams, this Irish whiskey is a solid dram with lots of depth and a hell of a lot of promise both for the existing product, and the future with lots of plans afoot for what they will be producing when their distillery in Dublin hits full production in March 2019.
3. Ballantine's 21 Year Old
A fantastic blended Scotch, a true classic and one that I've only had the opportunity to try recently, and man I'm glad I did; superb with tonnes of flavour and a great soft smoky undertone combined with all other flavour categories from spicy to slightly floral and fruity, all wrapped into one mega complex dram.
Something a little different
A blend your own whisky session with Chivas in Manchester
What? The chance to blend your own whisky? Surely not? Well yes GreatDrammers, yes. In their words:
What: A one hour long Art of Blending Session where you create a 200 ml bottle of your own whisky.
Where: The Blend, hosted by Chivas Regal at 13 Quay Street, Manchester M3 3HN.
When: Sessions run Wednesday – Sunday – check the calendar on their website for availability.
Cost: £15, including a complimentary Chivas Cocktail (Booking fee included).
Tickets available here
What are your thoughts? Leave a comment below and let's have a chat!