So a little about me, then the whisky! I began drinking whisky properly in the early months of 2007, and I recall it well.
I worked in Helensburgh and there was and still is a little whisky shop on the sea front. After chatting with the owner for some time, I purchased what I regard as the best whisky I have tasted thus far! It was a 1982 Dallas Dhu from Gordon and Macphail and it set me back what I considered a steep price of £75 (little did I know that this would never sell for such a cheap price again!).
I took it straight home and tried it immediately; it tickled my palate and sparked my interest in the complexities and pleasure of whisky, I have never looked back! Soon after, I began to taste the whisky's from all the isles and regions, settling on Speyside as my personal favorite. I like the whisky's from this region and rate them for their clean and often smooth taste (though I always enjoy a bottle of Jura 'Superstition' from time to time too!).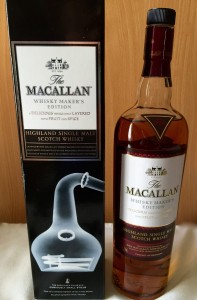 So in short; I've had my fair share of whisky's but I'd never consider myself an expert, more a straight talking whisky fan!
On that note, lets get to the point…the Macallan Whisky Makers Edition.
I was drawn to this whisky whilst browsing through the vast selection available at Edinburgh Airport. It looked personal somehow and although it didn't have the grandest bottle, it seemed to jump off the shelf at me and scare my wallet! As I am sure I do not need to highlight to you good people, Macallan is one of the most well-known distilleries in the world, renowned for some of the finest and most expensive 'drams' on the market, and for good reason; they are excellent!
This particular single malt was made by the head distiller Bob Dalgarno and is set at 42.8%, the same volume as some of the original greats. It is evident it was made with beautiful simplicity and originality in mind.
It should be noted that it was made for the duty free market and this probably has something to do with the simplicity so as not to overload pallets of the masses. Do not despair though; it is worth every penny of the £89 I paid for it!
Nose – There is a hint of oak and smoothness, toffee and raisins, with a light hint of oak.
Taste – Initially there is a warm, dry, almost gin-like taste, which develops into a lightly smoky and fruity beginning.
End – This has a big strong end to it that really has a kick, which develops soon after the smooth beginning. A light smoked oak taste lingers.
In conclusion, I think that Bob Dargarno has done a splendid job of creating a clean tasting whisky with a nice and surprising end to it. In terms of how I rate it…a strong 7/10 is where it sits for me personally.
In terms of appreciation, I think it would suite a true whisky fan with ease however; I don't think it would deter the beginner either.
Nice one Macallan!