Made in partnership with the Chicago Rabbinical Council, these three releases are thought to be the first proper Kosher whisky.
First time for everything
The whiskey industry is always innovating, and with these three new releases, Buffalo Trace is leading the way in innovative inclusivity. Due to the prohibition of leavened grains for Jewish people at Passover, even owning  bottle of whiskey at this time can go against some religious beliefs. With the introduction of kosher whiskey, Jewish people can continue to enjoy Bourbon even during Passover.
William Golding, CEO of Sazerac, which owns Buffalo Trace, is Jewish himself and worked with the CRC to ensure that the barrels were treated in the right way according to kosher rules. This meant also selling them to a non-Jewish executive member of Buffalo Trace, Distillery President Mark Brown.
Brown said; "This is a milestone in the spirits industry to produce a truly Kosher whiskey. We know Kosher products are very important to the Jewish community as well as a broader audience, we are fully committed to ensuring that the entire chain of custody remains Kosher so the purchaser has 100% confidence this is a Kosher whiskey."
Rabbi Sholem Fishbane, kashrus administrator Chicago Rabbinical Council, said: "We're excited that our partnership which we began ten years ago has come to fruition. Our members have shown great interest in the prospect of being able to enjoy a Kosher whiskey. We are very happy Buffalo Trace has taken the steps to make sure this happens."
Three different Bourbon were created; a Rye, Wheat and Straight Rye.
The nose opens with ntoes of vanilla and oak wood. It is wonderfully sweet and easy going.
The palate brings in more caramel notes and a warming spice as well. Fruit flavours of apples and pears come out, with a hint of cinnamon.
The finish is heavy on vanilla and caramel.
The nose is fruity from the get go, with lots of summer berries. Malted grains also come through.
The palate is rich and crisp with lots of caramel and oak wood. It has a lovely sweetness that is warming and soft.
The finish is full of oak wood and wheat notes.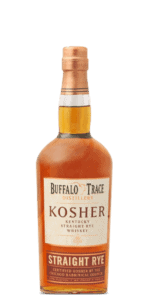 The nose begins with citrus fruits and spicy rye notes.
The palate brings in more orange and lemon hints and is very spicy. There are distinctive rye notes, with cloves and cinnamon and a lovely hint of caramel.
The finish is spicy and warming.
These releases are a real step forward for Buffalo Trace and are very exciting additions to the whiskey market as a whole. Let's hope lots more distilleries follow suit!