Dewar's Double Double Series is a new range of blended whiskies that have been aged 4-times for ultimate smoothness.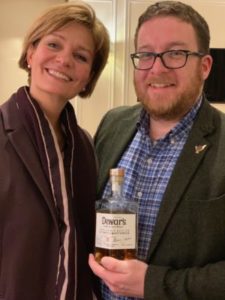 Exciting times ahoy for whisky nerds around the world. Dewar's has developed a unit four-stage ageing process to create, what they describe, as "ultimate smoothness" in their whisky. This is the Dewar's Double Double.
In their words:
"This unique 'double double' 4-stage ageing process allows the Single Grain and Single Malt in the whisky blend to fuse multiple times in their individual oak casks before being aged together. They are then meticulously processed in a selection of sherry casks for the perfect finish"
Here's a handy video that explains how this four-stage ageing process works:
So what is the Dewar's Double Double Series all about then?
Brilliantly, the range, available in Singapore travel retail exclusively at present – which is non-chill filtered and all been bottled at their respective natural colours – is comprised of some seriously well-aged whiskies. Starting at 21 Year Old before graduating to a 27 Year Old with the Dewar's Double Double Series 32 Year Old.
Each in the series has been finished in a different type of sherry cask;
The Dewar's Double Double Series 21 Year Old has been finished in Oloroso sherry casks. The Dewar's Double Double Series 27 Year Old has been finished in Palo Cortado sherry casks. Dewar's Double Double Series 32 Year Old has been finished in Pedro Ximenez sherry casks.
MY TASTING NOTES FOR THE DEWAR'S DOUBLE DOUBLE SERIES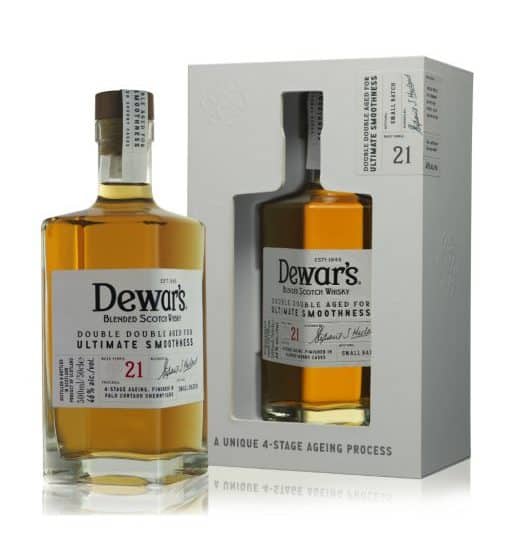 Dewar's Double Double Series 21 Year Old
Finish: Oloroso sherry casks
I'm always a fan of an Oloroso matured and / or finished whisky. These casks typically do wonders for the spirit. If well balanced, can create something truly memorable, and this does not disappoint, not one bit.
Nose
When sitting with this dram, I was picking up a smooth spicy note with a nice amount of Oloroso sherry influence, an element of sweetness along with Muscovado sugar.
Palate
Definitely a nice smooth spicy note present that develops in the mouth. Over a couple of minutes a fruity note softens and brings balance to the whisky. There's a pronounced peach note, a waxy mouthfeel and a now-beautiful warming spice. Ooomph.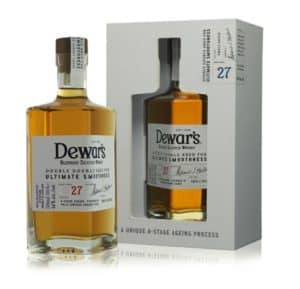 Dewar's Double Double Series 27 Year Old
Finish: Palo Cortado sherry casks
Palo Cortado can be a weird mofo, you don't see it often and when you do it always raises both eyebrows and smiles. I've only tried a handful of Palo Cortado matured / finished whiskies, this one was pleasantly smooth, fruity… but still a tad weird!
Nose
On the nose, I was immediately getting the dusty smell of old libraries, maybe a soapy note there too, stone fruit beautifully brings character along with an unexpected toffee and vanilla note. There is a muted smoke note there too which is superbly pleasant.
Palate
For me this one was fruity, smoky, lemony and totally unexpected… not like any whisky I've ever tried I don't think. Still really easy drinking, and I definitely enjoyed it, just a different animal. It grows on you too, so may seem a little odd at first, very briefly, then that citrus note sings superbly, as does a subtle honey note too and a note of those white and pink marshmallows I remember enjoying (too many of) as a kid.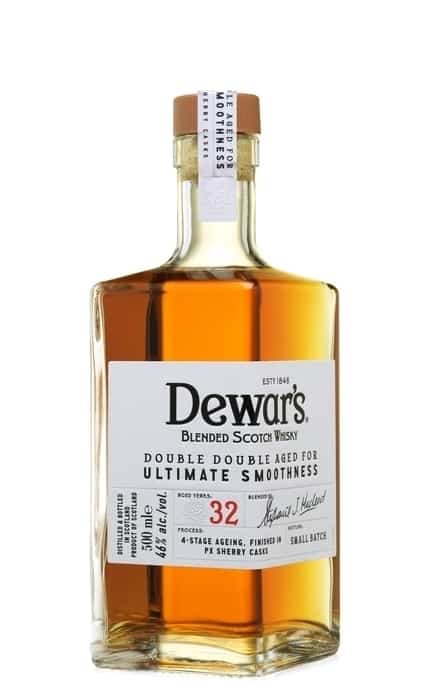 Dewar's Double Double Series 32 Year Old
Finish: Pedro Ximenez sherry casks
Nose
This is easy; its beautiful. Fcuking hell that's an indulgent, immersive nose you just want to spend a hell of a lot of time with.
Palate
The palate was very PX, proper 80s style Speyside smoke and character present too, a lovely smooth sweetness, a lovely spice notes too and so many layers. A great finish just rounds it out. This is a near-perfect whisky, one I am hoping to spend a lot more time with before it sells out, without doubt my favourite of the three.
All in all a wonderful range, the four-stage ageing process has definitely delivered three wonderfully smooth whiskies, that's without doubt. Each different, each with its own character, and each packed with flavour that compliments one another whilst setting out its own personality too. Seriously good stuff.
Transparency: I attended the launch of the range, and the bottles were sent to me for review and photography, but, as always, my views, opinions and commentary remains 100% my own.