A new addition to the distillery's Classic Range, Benromach Cask Strength Batch 1 Vintage 2008 is an excellent release from the Speyside brand.
Benromach promote themselves as the "Classic Speysider", despite having a flavour profile that is slightly different to most other Speyside malts.
As well as a light character, Benromach malts also tend to have a hint of smoke, which is not common in the region.
Speyside is known for its Sherried malts, with fruit and spices taking the lead.
At Benromach, they like to honour the Speyside malts that have gone before. Their malts include a hint of smoke because that's what Speyside malts would have tasted like back in the day when there were no machines to dry barley.
They are a very traditional distillery and still do everything by hand to this day.
Benromach Cask Strength Batch 1 Vintage 2008 Single Malt Scotch Whisky Review
The newest addition to the Benromach Classic Range is the Cask Strength Vintage 2008 Batch 1.
It has been matured in first fill Sherry and Bourbon casks, giving it a really interesting flavour profile.
Distillery Manager at Benromach, Keith Cruickshank, said: "By offering the opportunity to own and enjoy batch releases, we are able to further showcase the expertise of our distilling team while determining the right time to bottle each batch to take full advantage of the remarkable single malt whiskies we produce.
"We believe this expression will allow Benromach drinkers to understand more about the provenance of the whisky they are drinking.
"Every whisky we release has been carefully handcrafted by our close-knit team of distillers. While retaining the overall flavours that Benromachconsumers have enjoyed in Benromach 100° Proof, the new Cask Strength Vintage release will differ subtly in both strength and flavour profile, reflecting the specific casks chosen from the vintage year."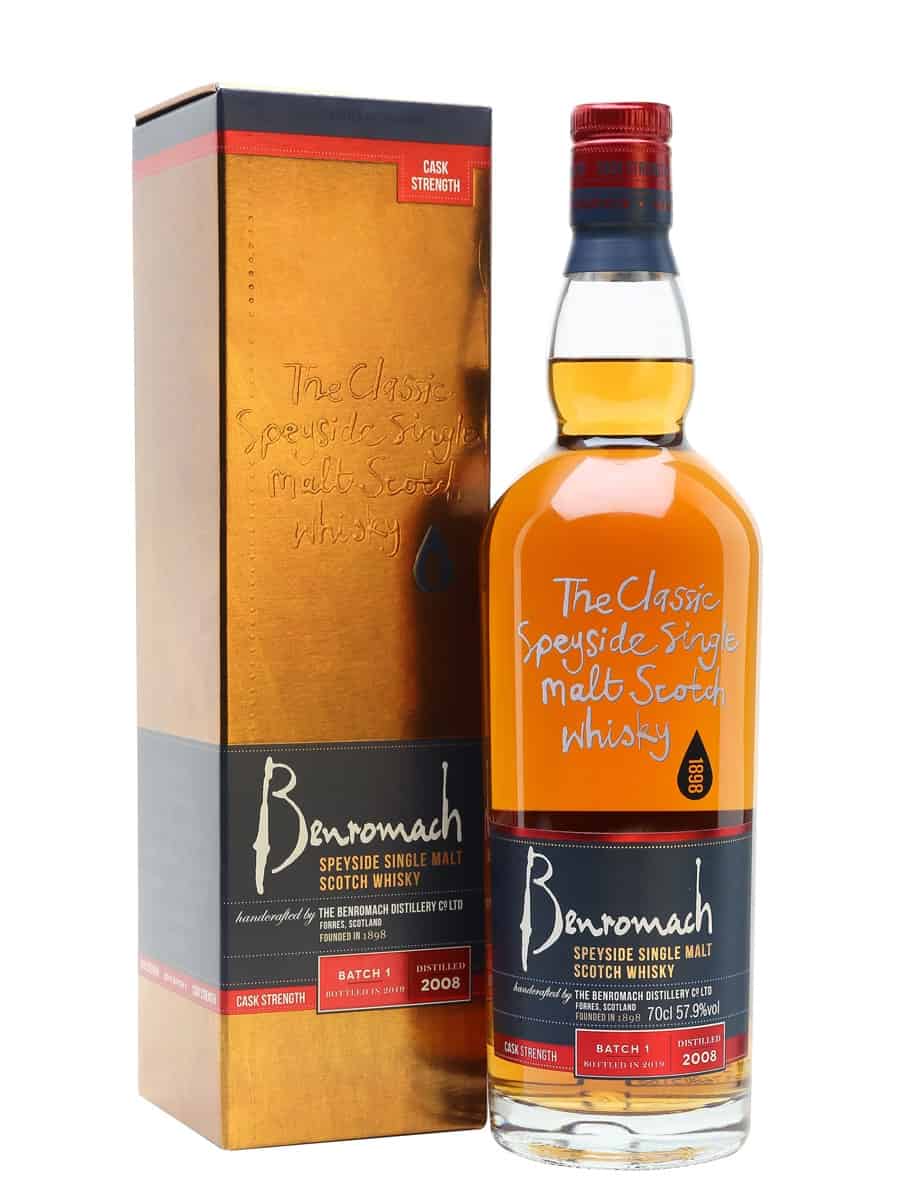 Tasting notes for the Benromach Cask Strength Batch 1 Vintage 2008 Single Malt Scotch Whisky
Bottle cost: £47.46
The nose begins with notes of chocolate and toasted brown bread. It is rich and elegant, with some Sherried heat in the background
There is a delicate not of turpentine and fresh cut grass that adds a lovely depth to the overall aroma.
The palate is bold and full of summer berries. There is a distinct tang that brings some life to the dram.
Strawberries, cherries, blackcurrents, raspberries; all add a wonderful sweetness that really complements the gentle notes of vanilla and oak wood. The tell tale Benromach smoke is there as well, with more oak wood and thick, creamy caramel.
The finish lingers on smoke and wood, with hints of fruit and a warming note of cinnamon.
This is a brilliant edition to the Benromach family and certainly makes the brand stand out.
If you're curious as to what a smoky Speysider might taste like, then this is the dram you should be exploring with.
What are your thoughts? Leave a comment below and let's have a chat!