The Barley Exploration Series is the latest in the distillery's experimentation with terroir.
Bruichladdich have always been at the forefront of the Whisky game when it comes to experimentation. They have a habit of changing how things are done. It's basically written into their DNA.
With that comes a lot of innovation and exploration, from their Octomore series is intensely peated malts, to playing with different maturation styles. It all comes down to terroir.
Terroir is a term that is commonly used by the French when discussing wine, but Bruichalddich have started using it to talk about how they make Whisky. It deals with the minutiae of how Whisky is made, taking into account everything from soil quality to what strain of barley is being used.
The Barley Exploration Series
With this in mind they have most recently come up with the Barley Exploration Series. This is a trip through everything barley related, in an attempt to better understand the effect that terroir has on flavour.
It seeks to address three questions: the What, Where and How of Bruichladdich's barley growing process. Let's take a closer look at the malts involved.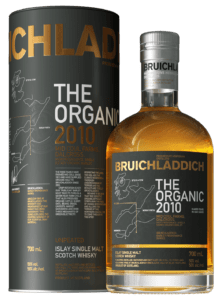 Bottle cost: £75
The Organic looks at how Bruichladdichgros their barley, and the answer is organically. It has been grown on Mid Coul Farms in Inverness without pesticides and surrounded by the best in farming technology.
The finished product has been matured in ex-bourbon barrels for 8 years.
The nose begins with lots of sweet notes of vanilla and hoey. It s packed with floral aromas and earthy herbs. Heather, thyme and basil appear with intense notes of cut grass and fresh fruits. Pears and lychees lead the way.
The palate is full of toasted white sugar, malted grains oak wood and cream. There is a dessert like quality ot the overall flavour, packed with sweetness and caramel. the oak wood is rich and in depth, building on the vanilla. Honey comes through again, with more floral notes to add a lovely subtlety to the backdrop.
It finishes with a flourish of honey and vanilla, bringing in lots of thick oak notes and a final dash of citrus fruit.
Bottle cost: £70
Picking up with Bere Barley 2010, we have the answer to the questions of what type of barley Bruichladdich uses and the flavours it creates.
This is not a commonly used grain as Bere barley is notoriously hard to grow. It is however, a very common Scottish grain that has been grown there for hundreds of years. As such, Bruichladdich have adopted it as their grain of choice.
This malt has been made using Bere barley from Orkney that was grown in 2009 and distilled in 2010. It was matured in ex-Bourbon barrels for a minimum of 8 years.
The nose begins with big notes of malted grains and tinned fruits, soaked in syrup. It is wonderfully sweet but with the delicate backdrop of grain. Honey, peaches, apricots and melons all come together to create a really harmonious aroma. The grain notes are sweet, with a hint of caramel.
The palate is intense and rich. It is brimming with sweet notes of honey, caramel, maple syrup and more fruit. Citrus notes add a nice bite. Oak wood adds depth to the sweetness, really drawing it out into something wonderful. Vanilla and caramel with the sharpness of pineapple and lemon make an incredible malt.
The finish is bold, with more fruits and a dash of vanilla.
Islay Barley 2011 - Where?
Bottle cost: £49.75
This is perhaps one of the biggest questions that Bruichladdich are seeking to answer. Where is the barley made – and does it matter? The distillery finds its home on the isle of Islay, alongside 7 other distilleries (with more on the way).
They began working with local farmers to grow barley made to be malted. It was initially to explore more about Islay and terroir of the island but from there, they have created Islay Barley 2011.
This is the youngest of the series, at 6 years old and has been matured in ex-bourbon and ex-wine casks.
The nose begins with lots of exotic fruits and a whole lot of citrus. Lemons, magoes, peaches and apricots make for a sweet and tart beginning. This is soon placated with floral notes of cherry blossom and heather. The floral notes are rich and exciting, giving a wonderfully earthy tone to the overall flavour.
The palate has a definite seaside tone to it, with a slightly salted, oily edge. There is also a lot of deep mahogany and tobacco flavours. The richness of the flavour is incredible. More fruit appears. Apples and pears add a nice orchard note. It is all wrapped up with vanilla and oaky caramel.
The finish lingers for a while, bringing in more citrus and a hint of oak wood.
The Barley Exploration Series is amazing. It is the definition of innovation in the Whisky world, but that should not be surprising coming from Bruichladdich.
The bottles are all affordably priced and well worth seeking out. We recommend them for the tasting experience if nothing else.
Are you a fan of terroir or whisky experimentation? Let us know in the comments!