I'm sure you're aware already, but its that time of year again GreatDrammers where we all open our wallets and decide what we should treat our loved ones to for Christmas, and as is now traditional I am again writing a multi-part GreatDrams Christmas Whisky Gift Guide, welcome to Part One; the bottles.
Buying a bottle for anyone at any time is hard; you need to know what flavours they like, need to set a budget that not only does not break the bank, but shows the person you're giving the bottle to how much they mean to you. Yes, these are all factors. Here are the top ten bottles I'm recommending in the GreatDrams Christmas Whisky Gift Guide 2018:
1. For the sherry matured whisky lovers: GreatDrams Exclusive Craigellachie 11 Year Old Single Cask Single Malt
Bottle cost: £65
Our favourite in the Christmas Whisky Gift Guide. This is a special single cask from GreatDrams; the whisky itself spent ten and a half years in a first fill bourbon cask before being transferred to a purpose built first fill Oloroso Sherry cask for a six month finishing period. If you're not aware, Craigellachie is a really lovely distillery at the heart of Speyside, known for its meaty and viscous malts. It is currently owned by Bacardi but has been about since 1891, when it was designed by the legendary architect Charles Doig. This whisky is a unique Christmas gift, being a quality malt and limited to just 220 bottles, the Whisky lover in your life will be intrigued by the pick. When you order, please include a note telling us which bottle numbers you would prefer and we will do our best to fulfil your wishes if that number / those numbers are available.
Limited to 220 bottles.
2. For the smoother, buttery whisky lovers: GreatDrams Exclusive Invergordon 11 Year Old Single Cask Single Malt
Bottle cost: £55
Aged for eleven years in a fresh ex-bourbon barrel, drinking this whisky can only be described as being like drinking boozy butter; so creamy, smooth, sweet with honey and buttercream notes in abundance. One for whisky purists and novices alike. Similar to Craigellachie, Invergordon is not very well known, so a gift from here will certainly be a surprise. The distillery was built in 1959, making it very young in comparison to many distilleries in Scotland. It is also one the few grain distilleries in Scotland, so offers something a little different from the typical Single Malt Scotches. Definitely one for any real Whisky enthusiasts to have in the Whisky collection.
3. For a very unique American whiskey: Virginia Distillery Co Brewer's Batch 1
With casks sourced from local breweries, this malt is perfect for both Beer and Whisky lovers. This is the first batch in the range and certainly offers a positive glimpse at future releases. As well as being matured in Beer barrels, the malt itself is made from Scottish barley. The palate is full of coffee, chocolate and caramel, making it a brilliant blend of bitter and sweet notes. It is rich and complex, with a range of flavours that really bring it to life. This is a great addition to our Christmas Whisky Gift Guide.
4. For the premium blended whisky lovers: Dewar's 25 Year Old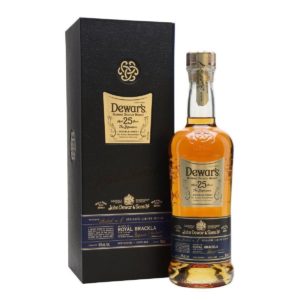 Bottle cost: £148.29
This blend replaced Dewar's Signature at the top end of the Dewar's range and will transport you out of your living room and into a flower-strewn orchard. Honey and floral notes are intense, with lots of fruity flavours. The nose begins with apples and pears, giving a crisp, clean note. Honey and caramel lend a lovely smooth mouth feel that sets the other flavours off perfectly. There is also a light smoky flavour that really bolsters everything. A brilliant blended Scotch whisky that has been rested in Royal Brackla casks to give it an all-round smoother mouthfeel and flavour, making it a perfect gift for Whisky enthusiasts.
5. For the Game of Thrones fans amongst you: Johnnie Walker White Walker Limited Edition
Bottle cost: £35.95
Released a few weeks ago, this is a special release from the behemoth that is Johnnie Walker and, get this, it is to be served from the freezer both for flavour and to reveal a special, cryptic message on the bottle once pulled from the freezer. Released in collaboration with HBO® and Game of Thrones, Johnnie Walker White Walker has notes of caramelised sugar and vanilla, fresh red berries with a touch of orchard fruit and features Single Malts from Cardhu and Clynelish – one of Scotland's most Northern distilleries. Something special for the Christmas Whisky Gift Guide.
6. For the international whisky lovers: Paul John Christmas 2018 Limited Edition
Bottle cost: £41.66
Hailing from one of the most popular distilleries in India, Paul John is an excellent Whisky with a really adventurous flavour profile. This is their first Christmas release. It is lightly peated and perfect for a cosy night in front of the fire. It takes the Indian heat and brings it straight to your living room, which is exactly what us Vitamin D deprived Brits need (Disclaimer: Whisky should not be enjoyed as a vitamin D supplement. No matter how much you want it). The Whisky itself is brimming with Christmas flavours. The nose begins with fruitcake and sweet nuts. This develops into a fruit packed body, with citrus, cinnamon spices, sweet nuts and lots of sherry.
7. For the Irish whiskey lovers: Method & Madness Limited Edition Single Pot Still Hungarian Oak Finish
Bottle cost: £89.95
Hailing from the Irish brand Method and Madness, this malt has been matured in ex-Bourbon barrels and finished in Hungarian oak. Method and Madness are known for their innovative whiskeys, and this is just one example of how well they do it. The palate is earthy and rich, with oak, treacle, honey and dew covered grass. It is fresh and crisp. Hungarian oak has never been used to finish a whiskey before, so this is a really rare expression.
8. For innovative whisky lovers: Chivas 18 Year Old Mizunara Cask
Bottle cost: £110
Are you looking for something a little different to the typical sherry/bourbon/oak cask matured malt? Then you have found a winner with the Chivas 18 Year Old Mizunara cask. This dram is one of the few malts to be finished in first fill Japanese oak casks outside of Japan. It is floral and sweet, with apple blossom, caramel and hints of nutmeg coming through. A really exciting blended Scotch whisky that will excite anyone who appreciates a good Whisky with a bit of innovation. The packaging is stunning too, gorgeous both in taste and aesthetic.
You can buy this superb dram in selected travel retail locations globally
9. For those looking for a single barrel bourbon: Wilderness Trail Single Barrel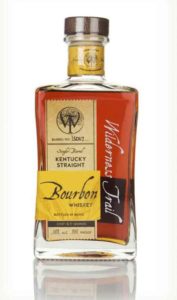 Launched earlier this year, the Wilderness Trail's first Bourbon is a triumph. This is the first release from the distillery, who hope to continue maturing their spirit to release an older version in 2020. This release is wonderful. It is sweet and crisp, with orchard fruits, caramel and toffee appearing on the nose this becomes a richer oak flavour, with tart winter berries and peppery spice. this would make a very fine gift for any Bourbon lovers looking to try a
really incredible Bourbon from a little known distillery.
You'll have to head to their distillery to buy… but its worth it!
10. For the people looking to push the budget right out: Talisker Bodega
Bottle cost: £2,750
Sure you want to push the boat out? Well you've come to the right place… This is one of the oldest official Talisker bottlings to date, bottled at 50% ABV and is a 40 year old Sherry cask finished single malt limited to just 2,000 bottles globally. When I tried this I was blown away; really dry, good salinity, a wonderful spice note you'd want from an ancient spirit that has spent time in Sherry casks, and of course that spice note is married with a gentle smokiness that has long been the smoky power it likely was of yesteryear as it matures in the oak and the wood character balances out the flavour profile.
So there you have it GreatDrammers, my top ten bottle recommendations for you this Christmas. What else would be in your Whisky Christmas Gift Guide?