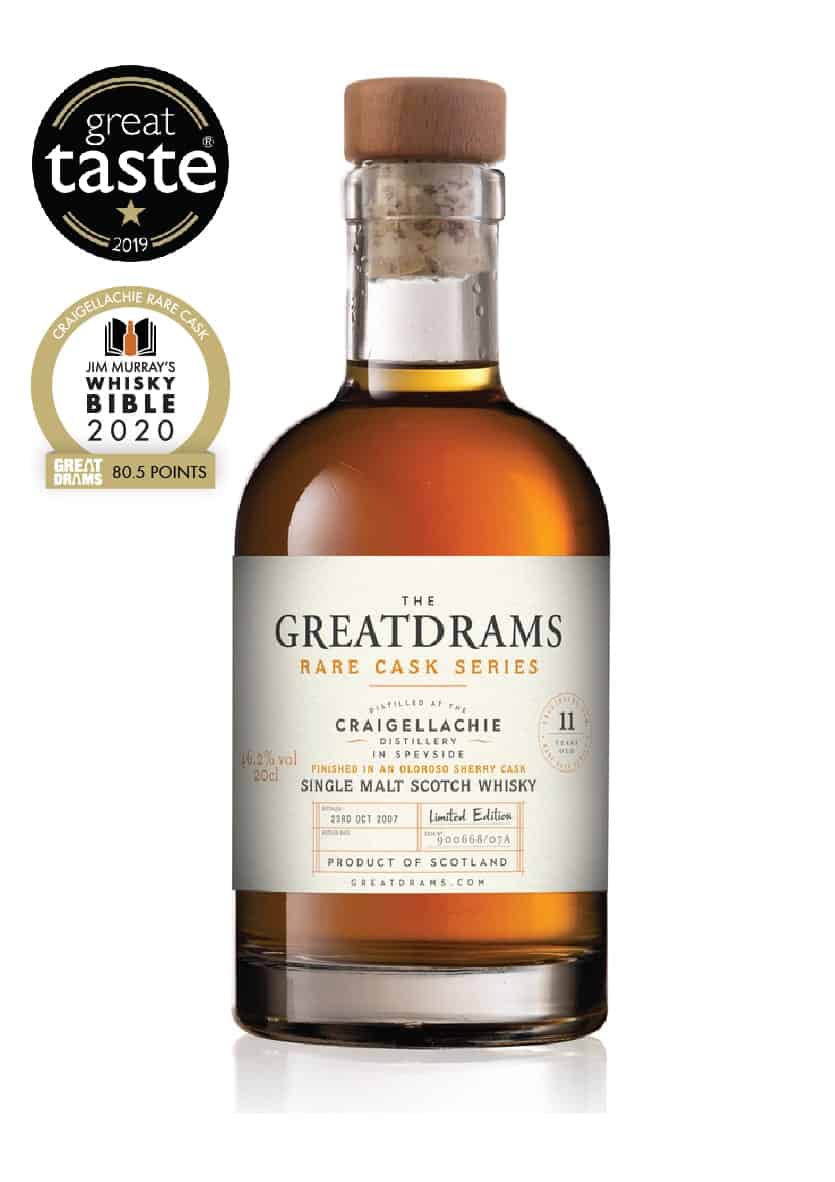 Craigellachie Single Malt Rare Cask Series – 20cl
Introducing the first release in the GreatDrams Rare Cask Series, bottled exclusively for GreatDrams, this limited edition Craigellachie 11 Year Old Rare Cask Single Malt Whisky bottling is a release of just 220 bottles globally. ONLY 20cl BOTTLES AVAILABLE
Limited to: 220 bottles globally
"Hands down the best sherry finished whisky I have ever tried" – James, Marlow
"The Craigellachie is a dirty, meaty, intense beast… basically everything I love about Craigellachie. The six months spent being finished in an oloroso sherry cask have served it well and provide a lovely smoked meatiness and richly fruity side to the whisky"
– Tiger White of the peerless EdinburghWhiskyBlog 
Craigellachie has a special place in my heart as its old school production techniques, including using worm tubs as a cooling system, perfectly produces a thick, flavoursome whisky. This Single Malt Scotch Whisky was distilled at the Craigellachie distillery up in gorgeous Speyside & filled into ex-Bourbon cask #900668/07A in 2007 before being finished in an ex-Oloroso Sherry Cask for six months to amplify the fruity, spicy flavour notes for this release.
Distillery: Craigellachie
Region: Speyside
Age: 11 Years Old
Distilled: 23rd Oct 2007
Bottled: 30th Oct 2018
Cask type: 10 years in a first fill bourbon cask, finished for six months in an Oloroso Sherry Cask
ABV: 46.2%
Limited: 220 bottles globally
Non-chill filtered
Natural colour
The whiskies we release in The GreatDrams Rare Cask Series are amongst the rarest releases in the whisky industry as they cannot be repeated, they are not blended and are the truest representation of a distillery's character you can get. I genuinely hope you enjoy this whisky, the first release in the GreatDrams Rare Cask Series, as much as I do.
You may also like…
Limited to: 203 bottles globally