Most Whiskies are pretty reasonably priced, considering the many years of love and dedication poured into them. But there are a few exceptions that unless you own a bank, will push you into the red no doubt. That being said, these are some spectacular whiskies and if you can afford them, sure, why the hell not?! The top ten, starting with the most expensive whisky, are...
The most expensive whisky on the market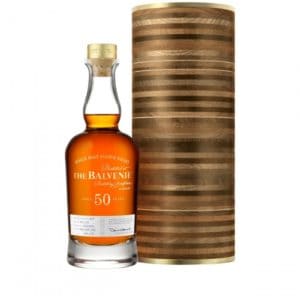 1. The Balvenie 50 Year Old Cask 4567 2014 Release
Bottle cost: £26,500
The award for the most expensive whisky you can buy (at the time of writing) goes to Balvenie… and the age statement on this alone qualifies it for a pretty high price tag! This dram was barrelled all the way back in 1963, when flower power and free love were taking over the world.  Back then, David Stewart, master distiller at Balvenie, took two oak hogsheads and filled them with some of the distillery's best liquid.  Fast-forward 50 years and the result comes to us exquisitely packaged and with a price tag to match.  It was released to celebrate Stewart's 50th year with William Grant's.  The bottle is presented in a cylindrical box made from varying shades of oak with one brass ring in the middle, bearing a description.
The one made for the millennium
2. The Balvenie 50 Year Old Cask 4567 2014 Release
Bottle cost: £22,500
The Macallan takes the gong for the second most expensive whisky with this 50 year old. The Macallan is not known for its affordable Whisky, but with a liquid so good, that is not surprising.  This particular expression was barrelled in 1949 and 50 years later was bottled, just in time for the incoming millennium.  It is packed with oak, which isn't really that shocking considering its age.  It also has some wonderfully sweet undertones that are emphasised by the smoky background.  Like the Balvenie it is beautifully packaged, in its own decanter and presentation box.
The one with whose glass is as rare as the expression
3. Glenfiddich 50 Year Old Rare Collection
Bottle cost: £22,000
Glenfiddich's most expensive whisky is also a 50 year old. Glenfiddich are world renowned for their drams and this expression only adds to that reputation. The most expensive whisky the distillery sell is, unsurprisingly, also a 50 year old. There were only ever 500 bottles produced from the two barrels, filled in 1955 and 1957, that were used to make this, with 50 being released each year since 2009.  It is not only the whisky that is rare.  The bottles themselves are hand blown by Scottish glassblowers Glasstorm and then adorned with silver plaques made by sixth generation silversmith Thomas Fattorini.  The presentation boxes are also one of a kind, having been hand stitched from leather and lined with woven silk, taking inspiration from William Grant's personal ledgers.
The most expensive whisky from the Highlands
4. The Dalmore Constellation Collection 1966 46 Year Old Cask 7
Bottle cost: £21,275
The Constellation Collection is a range of expressions that were barrelled between 1964 and 1992.  This particular release was barrelled in 1966 and is the second oldest in the collection.  It was first matured ina ex-Bourbon American white oak cask for 37, when it was then placed in an ex-Matusalem oloroso sherry butt for six years.  It was then moved again, this time intoanother ex-Bourbon barrel, to be finished for two years.  That's quite a journey, so you can appreciate the hefty price tag!  The result is brilliant as well.  From a sweet, citrusy blood orange tang on the nose to a spicy, fruit filled palate, this is a remarkable dram.
The one distilled pre-WW2
5. The Macallan Fine & Rare 1937 32 Year Old
Bottle cost: £19,500
Predictably, the Macallan actually appear three times in the round up. Their second offering is this 32 year old, distilled in 1939 and barrelled in 1969.  And what great things have come from those 32 years!  The Fine and Rare Collection is one of the whisky world's finest ranges and Macallan are very proud of their product.  This dram represents some of the best from that range and of course has a price tag to match the dedication that has gone into making it.
The most expensive whisky Glenlivet offer

6. The Glenlivet 1964 50 Year Old Winchester Collection
Bottle cost: £18,000
Named after master distiller Alan Winchester, this is the first release in a new line of 50-Year-Old releases from the legendary Glenlivet Distillery.  As the first part of The Winchester Collection, this release is limited to 100 bottles and is beautifully presented in a wooden case, with a miniature bottle included. The dram was originally barrelled by then master distiller Captain Bill Smith-Grant, the last descendant of the Glenlivet's founder George Smith.  It was matured in ex-Bourbon American oak casks and has been bottled in bottles blown by Glasstorm.
The one with a seriously appealing bottle
7. Glenfarclas 60 Year Old Cask 1672
Bottle cost: £14,750
This is one of the best looking bottles on the list, presented in a crystal decanter and a hexagonal box.  Each side of the hexagon represents a generation of the Grant family.  This dram was matured in a first fill sherry cask, giving it a characteristic fruity sweetness and cinnamon spice.  The 60 years spent in maturation have made this dram smooth and velvety, really emphasising the Demerara sugar and oaky notes.  George Grant, the sixth generation grant to own the distillery, claims that the finish is so long it can still be tasted 20 minutes after the dram is gone.  Truly exceptional!
8. The Macallan 40 Year Old 1961
Bottle cost: £12,500
Yet another Macallan on the list, but one that definitely deserves to be there!  With only 379 bottles ever released, this dram was first distilled in March 1961, with only two sherry hogsheads being filled.  And from those hogsheads came a liquid that is truly outstanding!  It is packed full of smoke and sweet fruit that entices and will have you wishing you had another £12,500 to spend on it.  This is the epitome of the Macallan's flavour profile and is a testament to just how good their Whisky is.
The most expensive whisky you can get for ten grand
9. Black Bowmore 26 Year Old1stEdition
Bottle cost: £8,999
This expression came as the first release of a collection of three different Oloroso casks.  Initially, 2,000 bottles were produced, a number quite high considering some of the others featured on this list.  They were first released in the early 90s and have gone on to make quite a name for themselves in the Whisky world.  There is of the characteristic Sherried sweetness that comes from the Oloroso cask.  There is also the slightest whiff of peat that makes for a well rounded and delectably complex dram.  Originally sold for around £80, this was definitely a great investment is you were wise enough to pick one up!
The whisky that comes with 18-carat gold
Bottle cost: £8,850
This was originally filled in 1963 by Dennis Malcolm and was later bottled in 2013 by the same man, only this time he was doing it as Glen Grant's master distiller.  Matured in sherry casks, this dram is filled with caramel and dried fruits, enticing the palate as soon as the nose is sampled.  It also comes in an interesting decanter, made to look like the Glen Grant stills, emblazoned with 18-carat gold and presented in a box of Scottish oak.  The whole look of it captures something special about the history of Glen Grant and the stills where it was first made, all those years ago!