It is a very good day when you get an invite to visit and be hosted at The Macallan distillery on Speyside, especially when the distillery itself turns out to be so immersive, interactive and inspiring.
As one of the first distilleries in the Speyside region to legally produse spirit for ageing into whisky, this is a very special place.
Most distillery sites are specifically designed for distilling, sounds obvious doesn't it but The Macallan distillery is so much more. On the estate they own 1.5 miles of the River Spey complete with fishing,
I'm sure a lot of you will agree with me that visiting The Macallan distillery is a pilgrimage for any whisky enthusiast.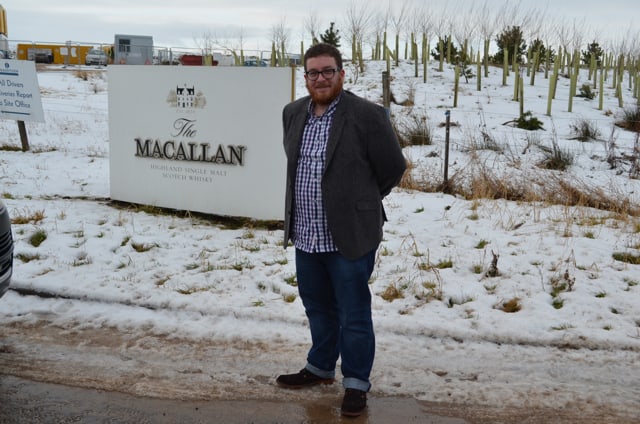 Humble beginnings: in 1824 Alexander Reid, a local farmer, leased eight acres from the Earl of Seafield to establish The Macallan distillery.
From there a legend blossomed, and now (pre-building work) makes up the 22 warehouse strong global icon we know and love.
Granted, as a guest of the Edrington Group, I was on my own personal all encompassing tour but it was evident that this is a respectful place to be respected. Tours are intimate, all questions welcomed and encouraged – and I asked a fair few of my superb guide Ian during the couple of hours we spent walking around.
The biggest outtake from my visit was how incredibly interactive the place is; it is not like the other brands I would consider alongside it in the luxury stakes like Rolex, Louis Vuitton and Prada. It a lot more down to earth and conversational like Omega, Oakley and Audi.
There is a clear set of statements as you go around that they want you to leave understanding every little detail and having left no stone unturned by the time you leave. 
From gorgeous brass and copper props with supporting screens to expensive installations of casks at each stage of their creation, seasoning and maturation stage to a wall of essential oils to get your nose thinking about the different possible tasting notes you will be getting from future drams from The Macallan.
A few comments on the level of quality control that goes into the cask side of The Macallan's production.
The average age of the trees they are felling in Spain are 110 years old, each one having enough good wood for four 500 litre casks, but the Edrington Group is planting trees quicker than they are cutting them down so netting out positive for the environment.
The European Oak used for their casks is first filled with sherry by the Gonzalez Byass Bodega in Jerez, Spain. Quite rare for the whisky industry as these casks cost typically five to ten times as the Bourbon ones used by the majority of of their competitors.
Once cut, the oak is left air drying for two years then toasted and seasoned for two years with sherry before being shipped whole to Scotland for filling and maturing.
In context, that means to create a 12 year old The Macallan whisky takes at least eighteen years when you factor in the maturation period. 
Good job they are building the new distillery, codenamed Project King, as demand is so high that they are full to the rafters near enough with 220,000 casks occupying warehouses with a total capacity of 250,000.
High end, high finish, highly absorbing.
I have been to quite a few distilleries in my time and can honestly say that there were elements of the process I've been told about many times before that only clicked when I saw the visual representations and miniature installations, like scale models.
The Macallan also happens to be one of the last distilleries to marry their whisky in spent sherry casks. This process takes 9 months for the older vintages and must cost a fortune as the casks take up so much space!
Brand stories as well as whisky stories. 
Each of their brand's Six Pillars are explained at length with great visual cues around the distillery, but I will be writing about that more in a piece about The Macallan brand in the near future.
Spiritual Home; Easter Elchies House, built in 1700, lies at the heart of The Macallan estate.
Curiously Small Stills; contribute to the distinctively rich, fruity 'new make' spirit of The Macallan.
Finest Cut; we take only 16% of the final distillation from the spirit stills to fill into our oak casks. This is the best of the best.
Exceptional Oak Casks; The Macallan spends more on sourcing, building, seasoning and caring for its casks than any other single malt whisky.
Natural Colour; the rich range of colours in The Macallan whiskies is drawn only from the wood of our exceptional oak casks.
The Macallan itself; the peerless spirit – one of the world's greatest whiskies.
This is an educational place, and one a lot of distilleries could learn from.
1,000,000 – Like many distilleries, they need over a million litres of water a day for cooling, production and reduction
250,000 – cask capacity on site
500 tonnes – the amount of barley they get through per year
6 tonnes – the mash tun capacity
50 – people work on site (ish)
40/50 years – the lifespan of a washback at The Macallan
22 x 30,000 litre washbacks on site made of Canadian Douglas Fir
21 – Curiously small stills
Minstrel – the strain of barley used in production
Thanks to The Macallan for the invite and the perfect welcome.