"Would you like to come to the launch of JW Steakhouse's Jim Beam Single Barrel bourbon?" read the email. "Hell yeah" was my instinctive response. And so on September 17th, a gaggle of drinks media and Jim Beam marketing bods gathered for some incredible canapés, cocktails and conversation.
As we all probably know, bourbon sales in London are booming and this project is a testament to how much there is to gain from signature serves and how, in their broadest possible term, hotel bars and restaurants are upping their game and taking on the cocktail bars and their artistic style.
In a nutshell, JW Steakhouse have partnered with Jim Beam to create something special. And that they have, Jim Beam Single Barrel Bourbon is the first single barrel offering from the world's number one bourbon brand.
Upon arriving at the event, in the lavish Grosvenor Hotel opposite Hyde Park, London, I was greeted by the lovely organisers who not only handed me a surprisingly refreshing beetroot and bourbon-based cocktail but showed me the JW Steakhouse's new pride and joy, The Barrel.
A shiny ceremonial plaque adorns the top, and with it stood three bottles of their signature serve.
After mingling for a while and enjoying the brilliant canapés, especially the pork lollipops, it was down to business.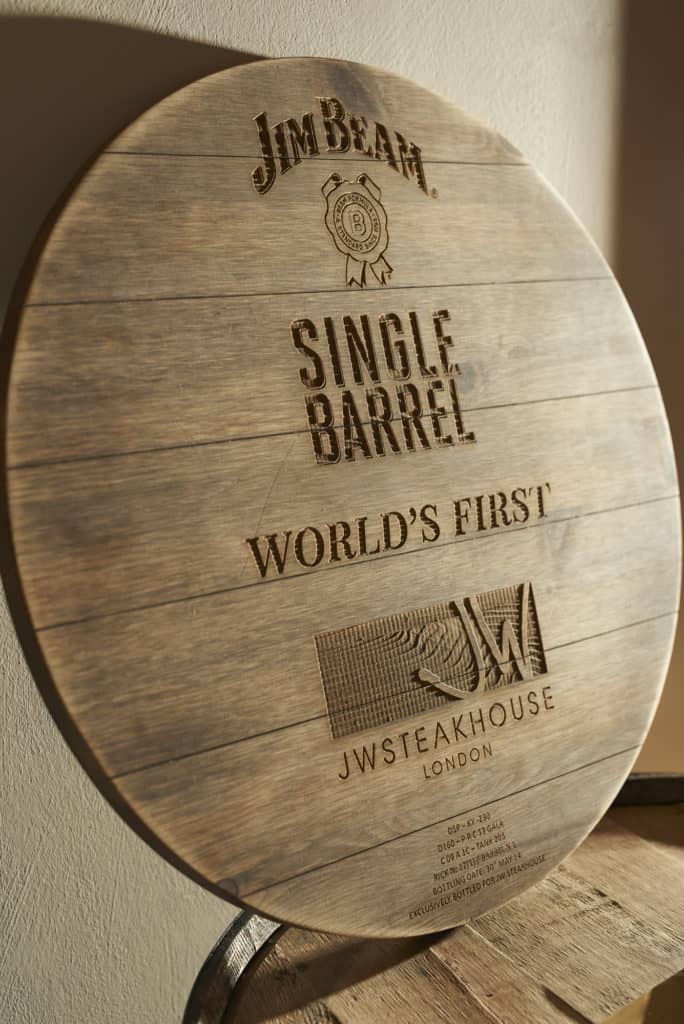 Karina Elias, Beverage Manager for JW Steakhouse, addressed the group explaining that they wanted something unique, not found anywhere else to add to their 100+ bourbon stock.
She went on to say:
"Making history with Maxxium UK and Jim Beam to bring this one-of-a-kind bourbon to our bar has been a very special experience. I chose this barrel because of its bold flavours and rich colour that I know our customers will love. It is full-bodied and smooth with attributes of oak, vanilla and caramel.

I am really looking forward to sharing our unique story and this distinctive quality Jim Beam Single Barrel with our customers over the coming weeks."
It transpired that it was Karina's idea, along with the Beam marketing chiefs, who flew to Kentucky, chose a barrel front he top of the warehouse as it displayed added spice and heat and put the wheels in motion to take it to market.
We were told to hold the Jim Beam Single Barrel at around chest level to enjoy the rich aromas ahead of enacting the Kentucky Chew, there you swirl the bourbon around your mouth as if chewing corn. Yeah, I had no idea what chewing corn was like either.
Nose: peppery, orange, vanilla, caramel, corn
Palate: smooth, more corn, dry oak and vanilla
Finish: the spice comes back, bizarrely no burn for a 47.5% bourbon
Overall a really lovely dram and it worked really well in cocktails too, especially the Old Fashioned and later a glass of champagne with a large Jim Beam Single Barrel at the bottom.
Thanks to Jim Beam for the invite and to JW Steakhouse for their great hospitality, mixology and canapés.