STOP THE PRESS! There's a revamped Mortlach single malt range on the market. Ah man! I've been wanting to tell you about these whiskies for weeks, but alas the information has been under embargo...
So why was it embargoed? Simply put, Diageo have been coordinating launch events with journalists and industry insiders globally for a couple of months so we all have to wait until they have been completed, which is fair enough.
Mortlach, from a blending perspective, is a big part of the Johnnie Walker story, especially from the early 19th Century perspective, with what are often described as beautiful worm tubs – Nick Morgan says they "are the most beautiful in the industry".
Dr. Nick Morgan was the voice of the launch in 2014, noting that it was "a poetic circle of sorts as when we launched in 2014 we were ballsy about the ambitions and super-luxury category. But we were taken aback by the degree of negativity around that time, and the bitterness around the 16 Year Old being withdrawn, not to mention the upset at the smaller bottle prices with premium prices attached. So we listened, were upset by that, and have now put together a new range in the 12, 16 and 20 Year Old liquids".
He added that he still stands "by the quality of the original three, and we are very proud of the liquids then but people may have not been as big fans due to the price and sizes".
The Mortlach single malt distillery
Known as the Beast of Dufftown, big, bold and uncompromising whisky. Mortlach single malt is one of the best kept secrets in Scotch, one of the Crown Jewels of Scotch whisky.
Oldest Distillery in Dufftown, has been around for a very long time and predates anything in Dufftown by 60 year's and was built by a man called James Finlander, but only grew when John Gordon took over and installed George Cowie who engineered what this brand became. He was an engineer, moved to the area to carve out the country to put in the rail networks, discovered this amber nectar and formed a partnership with Gordon and when Gordon passed away Cowie took the Distillery to another level through his life.
His son, Alexander, was a doctor who became a distiller was in Hong Kong when he heard of his Father's passing and immediately came back to take over the family business and started to optimise, ask questions of the process to make things work better.
Mortlach 2.81 x distilled
Alexander deliberately chose to have a still house that "looks like the car boot sale of a still house" as it houses an array of different still shapes and sizes to play with flavour, styles and spirit to satisfy his curiosity.
Mortlach is essentially three distilleries in one:
One doing a triple distillation
One doing a double distillation and
One doing a quadruple distillation
Which all averages out as the spirit being 2.81 x distilled to give a spirit that is balanced and harmonious, yet robust.
The Mortlach distillery is the only distillery that splits low wines into heads and tails to distill in separate ways, then it gets to the 'wee witchy' at the end that is so small that it needs these dud runs to allow it to distill these higher ABV inputs into the viscous, malty, meaty, marvellous whisky that goes in to Mortlach single malt whisky.
Mortlach 12 Year Old - Wee Witchie - 43.4% ABV
Bottle cost: £49.95
Named after the iconic part of the still house, the thing that doesn't really make sense as to why it's there but it just works and adds character in the end result to the spirit that you could not replicate anywhere else.
This Mortlach single malt whisky has been matured in a combination of American and European oak and is all about the distillery character.
Nose: Bitter, chunky orange marmalade, thick, sweet, BBQ ribs and subtle cloves and lemon citrus. Really draws you in,
Palate: Thick, meaty, bold, so much depth that culminates I'm a spicy finish wrapping the marmalade and bitter chocolate character I always think of Mortlach being about.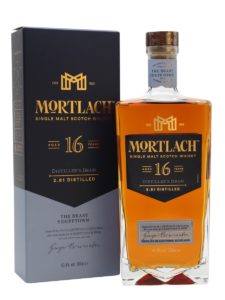 Mortlach 16 Year Old - Distiller's Dram - 43.4% ABV
Bottle cost: £74.95
Matured in all European Sherry casks; mix of refill and first fill, this Mortlach single malt whisky is all about the wood influence.
Nose: Initially soft, orange zest, dark chocolate, lemon and lime citrus, soft spices and it really is a joy to nose. Those sherry notes of cherries and raisins are fantastic.
Palate: Wow; so soft, so dry, evolves into something juicy through salivation looking for more of the stuff. Those zesty orange, lemon and lime citrus character is amazing and so thick. It was also mentioned in the room that this had a note akin to a creme brûlée.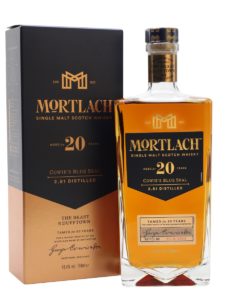 Mortlach 20 Year Old - Cowie's Blue Seal - 43.4% ABV
Bottle cost: £199
This Mortlach single malt whisky is so named as it harks back to one of the original bottlings dating back to 1909 when the Cowie's bottled Mortlach as Cowie's Blue Seal. A case of this Mortlach single malt was found by the daughter of Alexander Cowie leading to various discoveries and details that have been enshrined in the bottle and spirit's design within the new range, notably the unique ABV, as well as the Mortlach monogram.
The ABV of all products in the range is at 43.4% as that was the original bottling strength of the spirit, as detailed in the US in the eary 1800s. And when the team tried it at that strength it felt right for the Distillery, for current expressions as well as a nod to the old time ways of doing things.
This Mortlach single malt whisky has been matured in mostly refill European sherry oak casks.
Nose: Much softer, much more elegant on the nose – a properly mature whisky. But it does have that broad and thick flavour note coming through from the worm tubs, lots more spices including cinnamon and ginger, a touch of menthol too.
Palate: Soft yet powerful, elegant yet thick and bordering on brute-ish, a touch of caramel, a meaty character and a bacon-esque note that is very enjoyable indeed.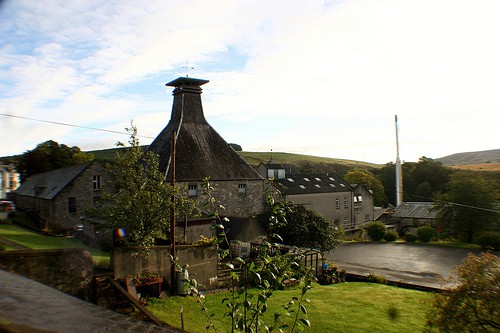 Interestingly, going back to the Mortlach 12 Year Old after trying the range brought out more sweetness, chocolate notes and a silky texture. The sixteen year old became fresher with time in glass and when opened up to oxygen, malty, sweet, Demerara sugar notes come forward too – and a peachy note too. Nice. With time the 20 Year Old now gives off some tobacco notes, peachy, tonnes fruit salad notes and overripe bananas. So understated, so nice and so appropriate for a luxury product. No pretence and no trying to be something it isn't.
This whisky will be launched in Taiwan initially with Europe and the US being the next areas to get the product as part of the roll out and an exclusive Mortlach 14 Year Old in travel retail called Alexander's Way.
Each of the releases in this revamped Mortlach single malt range are bottled in the same bottle structure, akin to the Rare Old of old, which is nice to see but does beg the question as to whether they ordered a boatload of the Rare Old bottles and needed them used!
The Mortlach M on the bottle represents the six stills at the Distillery, the label reminds me slightly of the Royal Lochnagar shield device on their packaging but the range makes a lot more sense than it did as well as moving back to single malt cues and away from the cognac cues the last range had.
It is good to see a degree of sense being out into a brand's range that was a bit out there last time, and that Diageo has created a set of products that are respectful to their price point and status without overegging the premiumness they are imbuing the brand with.
It feels like this new iteration of the Mortlach single malt range is still going after the luxury consumer segment but it is more for those who are discerning and curious. They are established lovers of single malts, those who aspire to bigger, bolder whiskies but with a re-evaluation of price point, a bit more fairness and an appreciation of where consumers are willing to go with luxury ranges instead of claiming all the revenue that can be claimed from a luxury whisky sale.
What are your thoughts? Leave a comment below and let's have a chat!