An American steakhouse in the heart of London, the JW Steakhouse on Park Lane promises a lot, but does it deliver on its American Dream?
Located in the Grosvenor House Hotel in Mayfair, they describe their steak proudly:
Our USDA (United States Department Agriculture) beef is from Creekstone in the USA. USDA carefully measures and certifies the quality and consistency of cattle throughout North America. Kansas Black Angus is the gold standard for USDA beef and is consistently tender and absolutely delicious.

Our Butcher's British Cuts are from local family suppliers, Macken Brothers of Chiswick. They provide superior, quality grass fed Aberdeen Angus Beef for a beefy flavour and delicate texture. Grass fed beef typically has less marbling than USDA beef and has a distinctive flavour that truly reflects the pasture on which the cattle is grazed. Mackens supply a number of cuts at JW Steakhouse, including our signature Tomahawk Rib Eye.

Each steak is carefully hand-picked and cut in house before being expertly seared on our 650̊̊c broiler.
On the wintry first Saturday evening of 2015, my wife Kirsty and I turned up to the JW Steakhouse, walked through the doors of the Grosvenor House Hotel and was greeted by lovely hosting staff who showed us to our table.
Something we both noticed immediately was the size of the table for two people; it felt American, it gave us space and encouraged to dwell, to relax and to feel at home. Our welcome was only made more fun by the arrival of a bottle of champagne to say hello.
Our server, Ben, was one of the most attentive, excited servers I've experienced, his enthusiasm infectious and his recommendations spot on.
As I read through the menu lovingly, trying to decide between tuna tartare, steak tartare or fresh calamari to start, Ben was quite plain with his assessment: "The calamari is the best I've ever tried" and he could have been more correct.
Fresh, powdery, melt in the mouth and anything but chewy this could not have been a better start to our meal.
When it came to the main course, I again decided to take Ben's recommendation as I wanted to try the JW Steakhouse signature dishes.
I was told, rather categorically, to order the 1000g Tomahawk, their signature steak, and the lobster mac 'n' cheese, with a glass of Malbec to accompany this monstrous meat.
Opting for a medium rare instead of my usual rare order, I had no idea I was about to be served a steak two inches thick, still on the bone, with the entire rib present. It literally evoked images of Native American axes.
In a word: WOW.
The meat was exquisite, really was, it fell apart as I cut through it and the wine pairing made perfect sense. I was also quite impressed by the volume of lobster in the mac 'n' cheese, I was expecting it to be more of a token but this was definitely not the case.
So much flavour, so much meat and so much fun!
After quite a while, seriously this is a massive steak costing around £52-£60, I had conquered the behemoth in front of me and was in no mood to be entertained by the dessert menu.
We declined the allure of their famous cheesecake, but we will definitely be back to try it.
Following the meal we headed to the bourbon bar to talk to the passionate bourbon maestro and bar manager Ubhay Ubaydullayev, who had sent over a superb Old Fashioned during dinner by way of saying introducing himself.
Ubhay is a lovely guy, his bourbon knowledge and intrigue is as impressive as his choice of pours.
He started me on a large Pappy Van Winkle's Family Reserve 15 Year Old (107% Proof) which was unexpectedly smooth having been used to the 10 Year Old Cask Strength edition and the 23 Year Old.
Official tasting notes:
An elegant and sweet aroma with caramel corn and vanilla. Features big flavor of leather, oak and complex fruitiness. Finishes smooth with notes of spice and oak tannins.
Ubhay talked us through some interesting facts about prohibition and showed us a prescription from the time actually prescribing whisky – how I wished my doctor did this when I'm not well!
Following Pappy, we sampled Stagg Junior at 67.2% and a 'mulled' bourbon that threatens to change my future Christmases forever.
After our bourbon sampling and watching the talented Riccardo Aletta, mixologist and perfectionist, crafting some superb-looking and theatrical cocktails we bid the team farewell and departed.
Overall, the JW Steakhouse is a fantastic restaurant, at times it feels a bit too roomy and could be perceived as 'just an upscale hotel restaurant' but those who have eaten there know different. This is true, authentic and incredible American dining in the heart of London, and we cannot wait to go back.
Having attended many enjoyable evenings at the Grosvenor I didn't know what to expect when invited to the JW Steakhouse nestled within the famous Park Lane address.
I've attended industry events in The Ballroom and had expected the formal function atmosphere to have spilled over in to the restaurant, I was wrong. On entering I felt like I was in Manhattan, intrigued by elegance and luxurious interiors I couldn't wait to be seated and view the menu.
I didn't need to wait long – as Greg mentioned we were looked after by the most attentive waiter ever, Ben. Having been invited by the restaurant I assumed we were being treated as 'special guests'. Another thing I was wrong about, looking around the restaurant there was ample staff all busy and attentive willing to help all diners.
Although meat is very much the hero of the concept I wanted to try something a bit lighter so I opted for the crab cake – looking around at the other plates I knew room had to be left for my main course! It wasn't light but it was delicious, full of crab meat served with a homemade tangy tartar sauce. Perfect.
For main course, I opted for the fillet – a relatively boring choice compared to the adventurous sounding 'Tomahawk' which Greg chose. But when it comes to steak – I know what I like. A juicy, melt in the mouth fillet should be standard for a restaurant claiming so much. As expected the fillet was seared to perfection and I truly enjoyed every mouthful.
Despite viewing the cheesecake and hearing how highly recommended it was, desert was not an even an option. We moved over to the bar to be further wowed. I love my interiors and the copper accessories kept me entertained whilst Greg cooed over the Bourbon filled shelves.
I've never really given Bourbon a chance but my experience of being guided through the range but the talented Ubhay took me on a journey.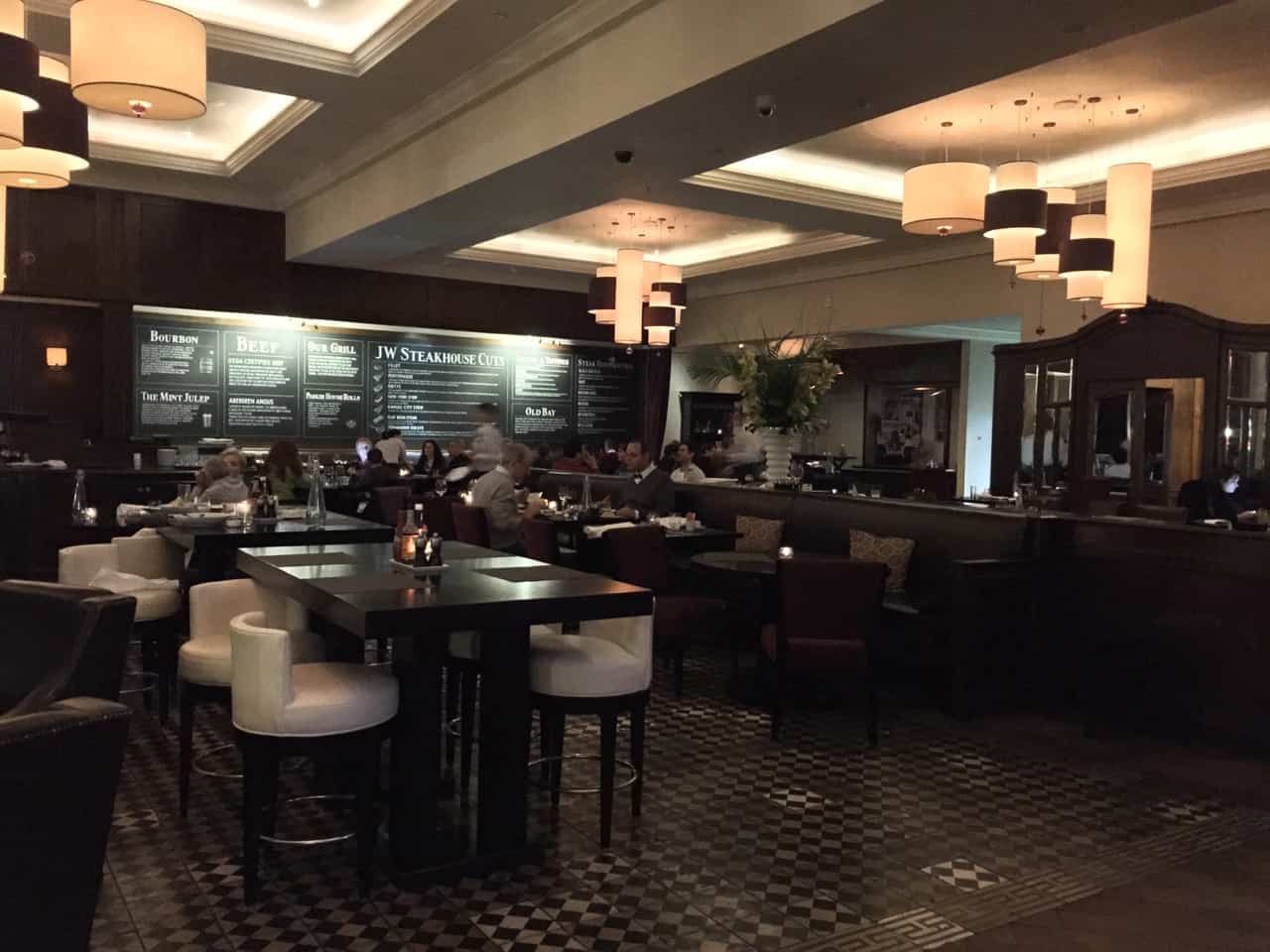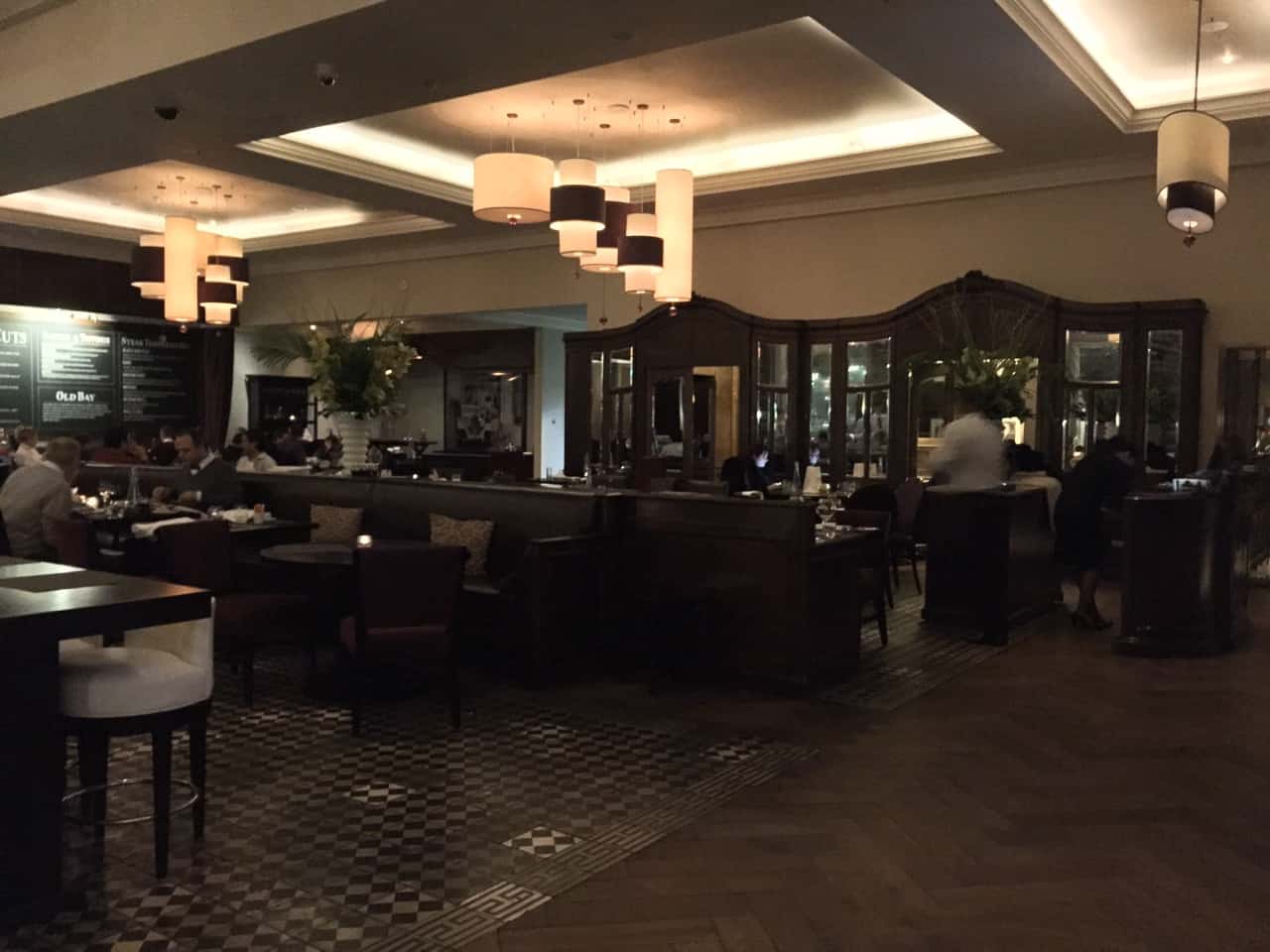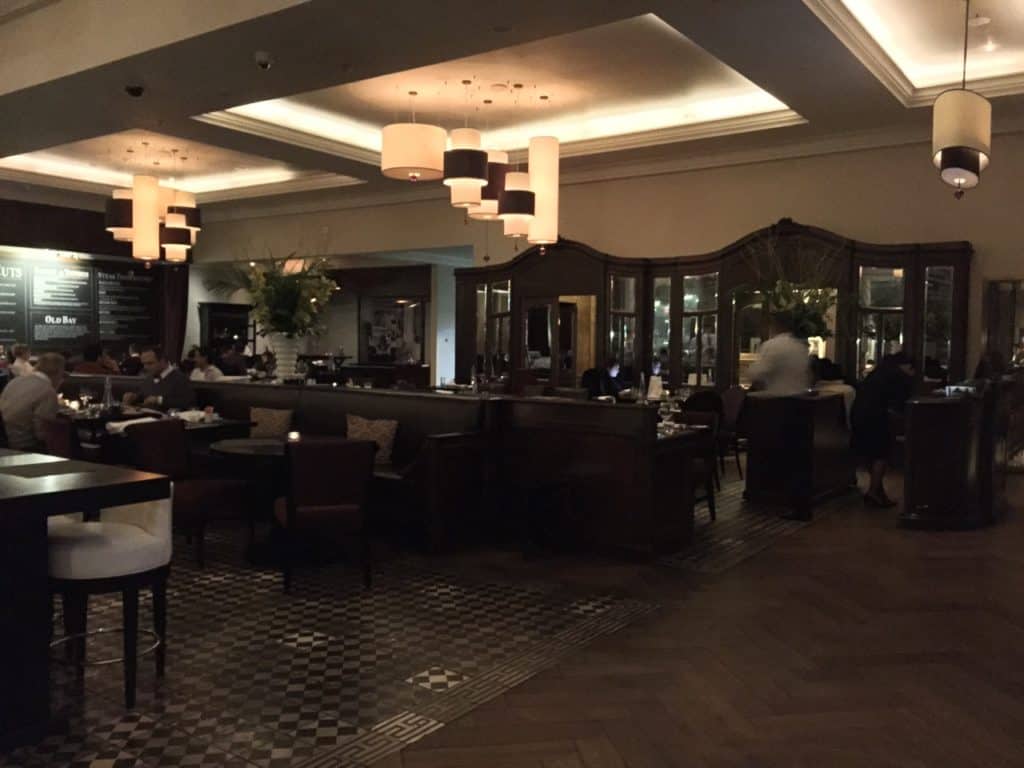 I eased myself in with an after dinner Bourbon coffee which I loved. The cream towered above the dark velvet coffee laced with a deep warm bourbon. Ubhay noticed my enjoyment of the warmed drink and offered mulled bourbon which will be a feature on the Dillon Christmas menu in 2015 – actually it was so good I don't think we'll be waiting until next Christmas!
I enjoyed the food, the interiors and the attentive and educated staff both at the table and at the bar. Thoroughly recommend and can't wait to go back and try the famous cheesecake.
Address: 86 Park Lane, Grosvenor House Hotel, London W1K 7TN
Nearest stations: St James's Park / Piccadilly Circus / Green Park / Marble Arch
Hours:
Sun 7:00 – 22:30
Mon – Thu 6:30 – 22:30
Fri 6:30 – 23:00
Sat 7:00 – 23:00
Expected cost of a three course meal for two with wine: £200
Disclaimer: The meal and drinks were provided to us for purposes of review, however my opinions are my own and unbiased, as always.