Election Libation - Top Whisky Tipples for General Election Night, Whatever the Party
Those close to me will know that I have been caught up in 'Election Fever' in the run up to the UK's General Election, so what better way to express my opinions than through whisky. 
With a hung, minority or multicoloured (in political terms) government being on the cards once again, and the prospect of five more years without a government system that the people have actually voted for we could be worried about the future. But I think let's have some fun and discuss 'If the political party was a whisky who would they be'…
Conservatives - Cameron Brig, Single Grain Whisky 40%, ~£22
Whilst inexpensive, there is a ruthless consistency to any single grain having been produced using continuous distillation methods for the utmost purity and predictability.
Single grains are the back bone of many-a-blended Scotch, like the Tories are to a multicultural and needs-diverse society. Ultimately they both get dressed into something glossier than they are, isn't that right, Haig Club?
No big personalities here, just a smooth exterior that typically has a medium finish (although I'm guessing that Cameron would be wanting a long finish post May 7th… ba-dum-pshhhhh).
(As an aside I do know that David Cameron's favourite whisky was Bruichladdich Organic Single Malt)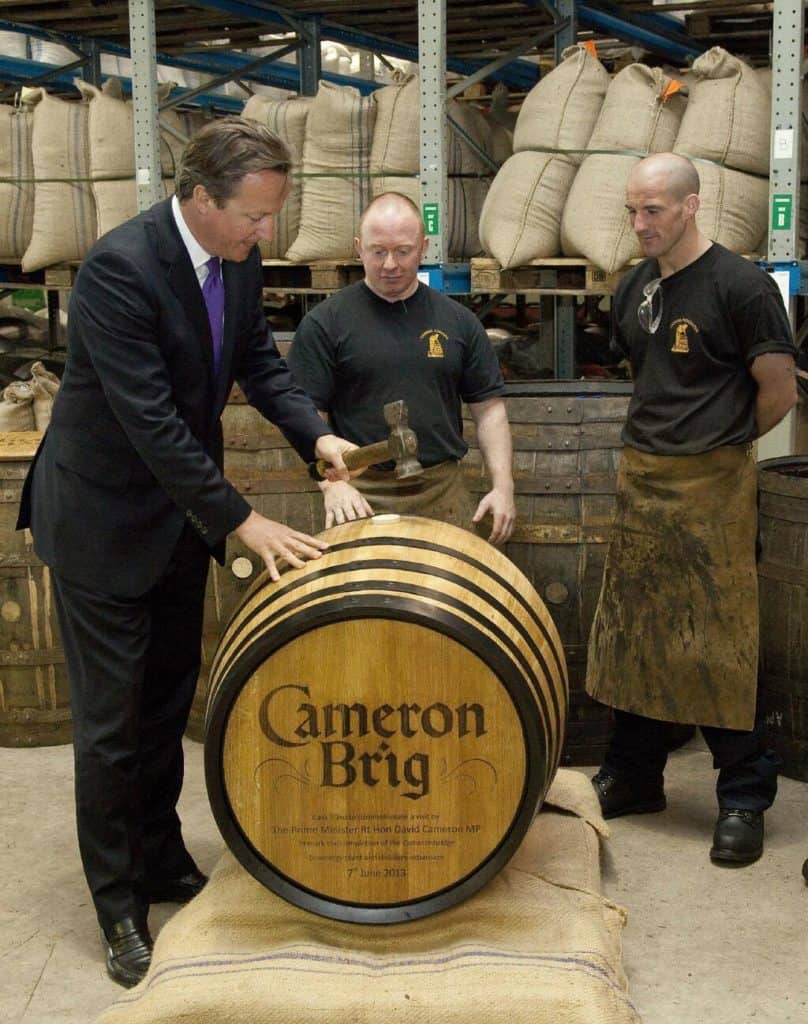 Labour - House of Commons 12 YO, 40%, Up to £100 at auction
Suitably it is a blended 12 Year Old, a nod to the unholy coalition of the willing Milibland will need in order to occupy the hot seat at Number 10.
Why the House of Commons 12 Year Old? Well, as Milibland is often seen as the Great Pretender to the throne, I see this as Ed sat in his chair at home (or at some contrived political rally with red plastered everywhere) imagining his time in office. The fact that the aforementioned whisky is only available at auction mirrors the unholy coalition of the willing that will need to be formed by auctioning off favours and roles, at great cost to the manifesto he stands for.
That and the other, separate fact that most bottles at auction are signed by Tony Blair kind of makes this one ring true.
Liberal Democrats - The Black Grouse Alpha, 40%, ~£43
Odd choice? Not so much. This is one of my favourite blended Scotch whiskies but what has it got to do with the Liberal Democrats or Nick Clegg?
This one is a tad tenuous but I was trying to make a point of it being blended with a powerful underlying flavour profile yet smooth around the edges that is often unfairly overlooked and, most importantly and sadly for The Black Grouse itself… it is endangered.
The Black Grouse needs the help of others to keep its very existence on this planet and recognised, that is unfortunately true of Nick Clegg and the Liberals after five years of doing great work but getting very little of the credit they deserve.
SNP - Spirit of Freedom Whisky, 45%, £30
FREEEEDOMMMMMM! Come the screams yet a not-so-resounding 55.6% of the Scottish population voted No and thus they remain stronger in a United Kingdom.
Nicola Sturgeon happens to be one of my most admired politicians for her strength, power and conviction, not to mention how she has made Scottish issues into national issues which is an incredible feat and one not to be sniffed at.
Sadly the SNP policies do verge on the self-aggrandising, often to the detriment of the safety, security and economic prosperity of the nation as a whole so lets hope their policies are delivered in as lacklustre way as the Spirit of Freedom design concept.
Alex Salmond (below) knows a thing or two about whisky too, incase Nicola needs a drinking partner.
UKIP - English Whisky Chapter 13, St. George's Day 2015, 40%, £49.99
Was there any other option?!
Their home territory's whisky has come of age and has turned opinions around from being an also ran upstart to genuinely becoming a contender nowadays, winning support from unexpected places.
Much like UKIP now I think of it.
Oh no… he's already finished it. Isle drink to that (see what I did there? Yeah?).
Green Party - Highgrove Organic Single Malt Whisky, 46%, ~£45
Now I also really like this whisky but sadly I have not a lot of positivity when it comes to the Green Party – full of brash statements that don't add up and never will add up as they will never be in a position to be making a damned bit of difference any way.
Highgrove, whilst owned by Prince Charles so politically agnostic highlights the impotence of the Green Party in the General Election as whilst they, like Highgrove and our Heir, have a high profile, they have little actual effect in the real world.
They probably grow nice plants though.
So there it is, do you agree? Who do you think will be toasting a dram or few come May 8th? 
Just remember: "Governments change, but the lies stay the same" – M
Whatever the result, these two are big fans of Glenturret, in case you were wondering…