Released earlier this year, this 16-Year-Old Bushmills Whiskey is crafted from ex-bourbon and oloroso sherry casks, making it an exploration of sweet and spicy notes.
Bushmills, based on the north coast of Ireland, is a picturesque distillery that claims to be the oldest licensed distillery in the world, having been set up in 1608.
Today, they are owned by Jose Cuervo and have recently released a 16 and 21 year old to meet growing demand for Irish Whiskey across the world. The sector has seen a 25% rise in interest and most Irish brands are capitalising on the attention, with craft distillers popping up all over the country.
Bushmills have also seen an increase in interest and have responded by bringing out new expressions. This includes their Red Bush, which was brought out last year.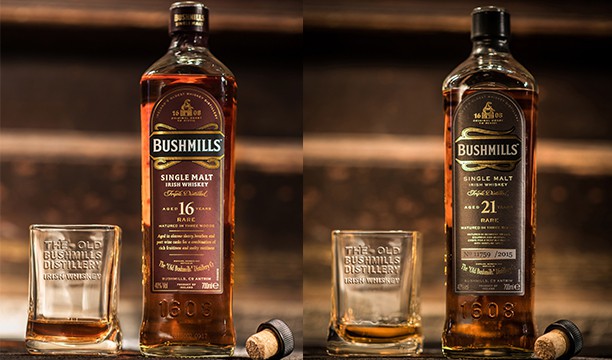 Tasting notes for the Bushmills 16 Year Old Single Malt Irish Whiskey
Bottle cost: £128
This 16 Year Old is not the first 16 Year Old that the distillery have released, with its first iteration coming out as a small batch release in 2016. It has been matured both ex-Bourbon and Oloroso Sherry casks, with a period of nine months in Port pipes, where the liquid was married together.
The nose opens with rich caramel and honey notes, and a little hint of salty sea air. There is a delicate fruity note, with raisins and dried apricots especially coming through. The caramel is thick and warming, with a hint of cloves to it. citrus fruits and sweet nuts also appear.
The palate is full of exotic fruits and lots more honey. It has a smooth mouth feel that goes well with the caramel of the nose. Oak wood and tart summer berries also appear. These are slightly chewy and give the palate a little bit of a bite.
The oak has a hint of smokiness to it, and the caramel becomes very sweet and sugary. It wraps all the denser flavours together.
This finish is bold, with more dried fruits and caramel.
An exceptional dram from an exceptional distillery, Bushmills have created a Whiskey that will continue to grow the emerging interest in Irish malts.
What are your thoughts? Leave a comment below and let's have a chat!