Jura have brought out two new 21 Year Old malts this year as travel retail exclusives.
 The Jura Distillery
 has been active on the isle of Jura since 1810 so it makes sense that they might give the brand a bit of change up from time to time. That just so happened to take place last year, when the brand brought in a whole new core range and a new look.
With that in mind, the brand have just released two new additions this year, one to the core range, Tide, and one to the travel exclusive range, Time.
The Director of Global Travel Retail at Whyte & Mackay, who own the distillery, Richard Trimby said, "The worldwide relaunch of Jura in global travel retail has driven significant commercial success with momentum building in all key regions globally.
"The addition of the new Jura 21 Year Old Time reinforces our commitment to offering our customers prestige and limited whiskies of outstanding quality to drive penetration and spend in travel retail stores."
Tasting notes for Jura 21 Year Old Tide Single Malt Scotch Whisky
Bottle cost: £142
Matured in American oak, ex- Bourbon barrels and first fill American oak barrels, this malt is full of sweet flavours, with hints of smoke throughout.
The nose starts off with butterscotch and cream. It is rich and gentle. The sweetness brings in caramel, vanilla and light notes of cinnamon. Ginger and pecan pie add a lovely texture to the aroma.
The palate is very sweet and dessert like. Caramel, almonds, sweet nuts and ginger make for an excellent first impression. Oak wood comes through as well. It is chewy and full of vanilla. Cinnamon and ginger add a ice bit of warmth to the overall flavour. Smoke wafts throughout, wrapping everything up together
The finish is bold. It is packed with smoke and caramel.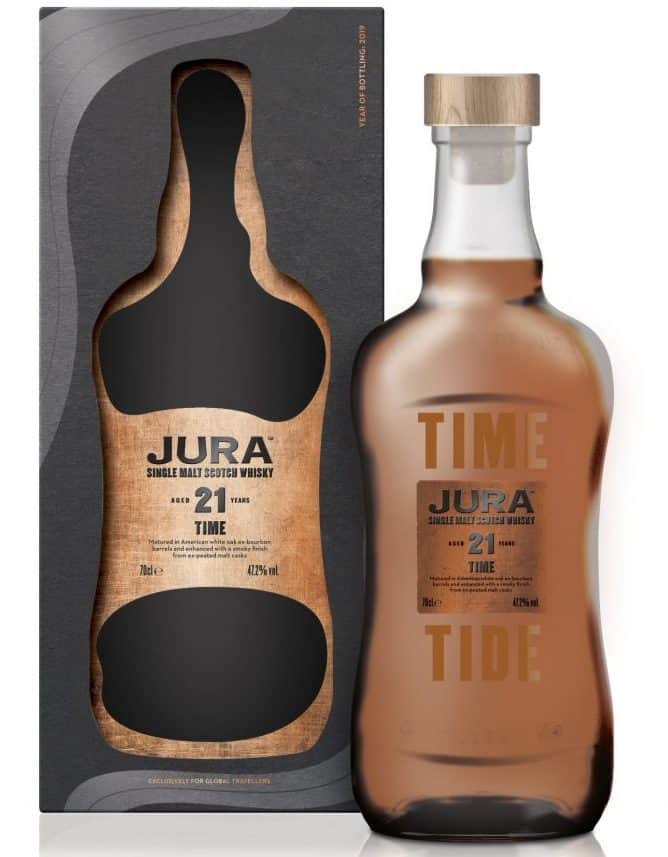 Tasting notes for Jura 21 Year Time Single Malt Scotch Whisky
Time is quite different from Tide and has been matured in ex-Bourbon and ex-peated malt casks.
The peat is immediately detectable on the nose, but not overwhelmingly so. It is gentle and very natural. There is a wonderful sweetness that comes after t, packed with caramel, toasted white sugar and honey. Sea salt also plays a big part and adds a nice bite against the sweetness.
The flavour is excellent. It brims with chocolate, honey, coffee, tobacco and black treacle. The mouth feel is ultra smooth and thick. The honey ties in especially well with the peat smoke, giving it a nice richness.
The finish lingers on peat and caramel.
These are two brilliant malts from Jura, adding to their already substantial core range and travel retail exclusives. The peated one is especially good if you like Islay malts but want something a bit mellower.
We can only suggest Jura continue to add malts to their collection is this is the result.
What do you think of Jura's newest additions? Tell us in the comments!