A very Scottish Scotch indeed; Big Mouth have captured a playful side to malt and released it with the Big Mouth Blend.
More Single Malt for your money
The big pull of big Mouth is that they promise to give you more Singe Malt than any other blend. If you're unsure where they're going with this essentially, all blends are a combination of Single Malts and Grain Whisky.
Grain Whisky is used mostly because it is cheaper (not necessarily lower quality though) and adds a bit of complexity to the overall flavour.
But apparently Big Mouth think you should have more Single Malt in your blends and with that in mind they have created the Big Mouth Blend. It has been created using 50% Single Malt and 50% Grain Whisky, which they claim is more than 3 times what you get in most blends.
They are sort of railing against the standard "mass produced" blends and promoting themselves as somehow manlier than those because of their malt to grain ratio. The argument they make for this is that is gives a better taste and a thicker spirit.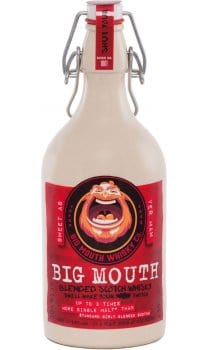 Tasting notes for Big Mouth Blended Scotch Whisky
Bottle cost: £28.83
So with that, they should really put their money where their big mouth is.
The nose begins with honey and smooth vanilla notes. It is slightly spicy and warming, with hints of toasted oats and a waft of peat smoke underneath.
Malted grains also appear, and add a little bit of a background for the sweeter notes to bounce off.
The palate has more smoke and more warming qualities, with heat and spice added in. Cinnamon and vanilla come together well. There is an earthy note as well, with more barley and peat smoke.
The smoke combines with caramel and dashes of citrus fruits here and there. More honey appears bringing in a sweeter depth and a nice add-on to the caramel.
The finish is warming, with cinnamon and gentle notes of oak.
The flavour profile is overall bold, with lots of sweetness and smoke. We can't say that the Grain Whisky was missed.
Let us know what your thoughts are on blends. Do you think brands should include more Single Malt or are you happy the way they are?