Wine, like whisky, has a long and intricate history. It is tasted and appreciated in the same way and loved by many people. Here at Great Drams we already have our pick of the Top 5 Whisky Bars in London, and so we thought why not expand our reach and embrace the 10 Best Wine Bars in London. And so, in no particular order here they are. Enjoy!
Gordon's – London's oldest wine bar
The oldest whine bar in London is bound to have some amount of character, and that is definitely true of Gordon's. Founded in 1890, Gordon's holds onto traditions. It serves only the finest wines, no beers or spirits, and does not have any music. This makes for an atmosphere rarely experienced, with no background noise, apart from the natural hum of other people. The vaulted surroundings also add to the atmosphere at Gordon's, creating an environment that is welcoming, with an added air of Victorian mystique and sublime antiquity.
Located in the very heart of London's West End, Terroirs is a quaint French Restaurant that invests in quality wines. They seek to find the best wines that express the personality of where they were made, as well as of the winemakers who created them. They also make fresh, authentic food, with a hand written menu that changes daily. Terroirs is a must for those seeking a restaurant that brings them closer to the people and culture from which their food and wine originate, making for a beautifully genuine dining experience.
photo credit: London Chow via photopin cc
Opened in 1869, the Quality Chop House maintains much of its Victorian character, not only through its décor, but also from the quality food and wine it serves. Attached to their own butchers and food shop, the Quality Chop House offers a wide range of dining experiences, with fresh cuts of meat at the forefront of their menu (don't worry though, they do offer an exquisite vegetarian option!). The Quality Chop House also offers you the chance to learn more about the art of butchery in one of their classes. Here you will learn more the intricacies and skills involved in butchery from master butcher Oliver Seabright. This is an opportunity that should not be passed up!
Sager and Wilde
Having only opened in the summer of 2013, Sager and Wilde has quickly risen up the ranks of the top wine bars in London. It is urban and unassuming, with a demure décor that screams modern city chic. It offers not only a great selection of wine but also a fantastic and varied choice of finger foods, including a wide selection of cheeses. Sager and Wilde provides an environment full of urban character in which to enjoy a tipple of the best, and a visit is definitely recommended.
http://www.2850.co.uk/gallery
Another wine bar/restaurant inspired by the French, 28º-50º offers great food and great wine. With a beautifully elegant décor, 28º-50º has an atmosphere of class that stands out and makes for a welcoming place to enjoy the wide variety of wine on offer. As well as a sophisticated dining experience on offer, 28º-50º also offers exclusive wine tastings for up to 20 people. This is an opportunity you will not regret taking as it gives you the chance to learn more about exquisite wine from professionals. 28º-50º is recommended for those seeking a night of class and fun, topped off with a gorgeous sip of their finest.
photo credit: Ewan-M via photopin cc
The Kensington Wine Rooms prides itself on its selection of fine wines that reflect the character of their origins as well as of their makers. Here, customers have the opportunity to sit back, relax and enjoy a good drink in the company of friends. They have a tapas style bar that makes for a friendly atmosphere, allowing groups to spend time together over a wine that has been selected not only for its quality, but also for its depth of personality.
Toasted is a quaint little restaurant and wine bar situated in Dulwich. It is full of personality and has its own distinct character. Toasted boasts an impressive food menu that changes daily and focuses on "small plates", giving you and your friends the opportunity to not only share one of the fantastic bottles of wine on offer, but also to share the great bites available. Toasted is the place to go if you're in search of authentic food, great wine, and an overall good time.
With four different locations, each boasting its own unique food menu, whichever Vinoteca you choose to visit guarantees a good time. With dark and sumptuous surroundings, each Vinoteca has a feel for luxury and grandeur that can't help but be expressed in the food and wine selections. Like other wine bars, the food menus change daily and are seasonal. Vinoteca is a great destination for those seeking exciting food and gorgeous wines in an atmospheric setting.
Bar Pepito is a tapas bar that specialises in Sherry, creating an authentic Spanish evening out for its customers. The great thing about tapas is how brings people together as they share meals, and gives them the chance to talk, rather than focussing on food. Bar Pepito takes the experience further through the great selection of Sherries and wines available, giving customers a chance to further share and spend time together.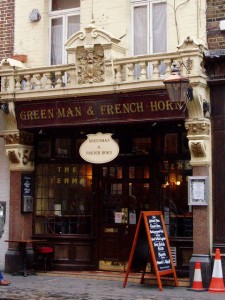 Yet another wine bar that boasts of French cuisine, Green Man and French Horn focuses on specialities from the Loire River, beginning with the hills of Ardèche to the coast of Saint Nazaire. Again, the menu is written daily and offers a wide variety of choices. Green Man and French Horn presents an authentic experience of the food, and more importantly the fantastic wines of France, all jeld together with a charming and friendly atmosphere that will have you begging to come back time and time again!