Caol Ila is nestled right on the coast of Scotland's most famous Whisky producing isle, Islay.
Before introducing the Caol Ila 12 tasting notes, a few words on Caol Ila distillery.
Coal Ila bears the harsh seaside winds with pride and produces a malt that represents both its fantastically rugged surroundings and the distinctly smoky character of the region.
Islay is well known for its smoky drams and Caol Ila produces drams that are no exception.  Every mouthful of every expression is a testament to the quality scotch whiskies that can be crafted with a bit of peat smoke behind them.
It is currently owned by Diageo and features as one of their Top 5 Classics, representing just how significant this distillery and its produce are.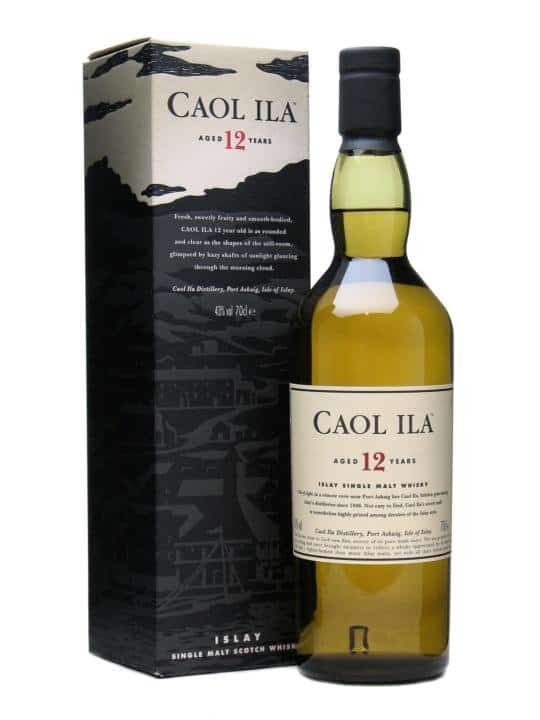 CAOL ILA 12 YEAR OLD TASTING NOTES
Bottle cost: £39.95
Caol Ila 12 Year Old is the embodiment of both the island itself and Caol Ila's efforts to creating the perfect seaside malt.
From the very first whiff of the nose we are greeted with the medicinal qualities that are key to a good Islay malt.
The smoke subtly wafts through filters of mouthwash and sea brine, never fully appearing but always there
The flavours that swirl around it include fresh herbs and dewy grass.  There a seaside dampness too, with wet oak being hinted at.
The palate really takes you to the seaside, with tar and oily rope making a splash in salty seawater.
The smoke begins at the edges but swiftly moves inwards, so you can fully appreciate the peated qualities against the salty sea characteristics.
There is a delicate sweetness of thick syrup that is perhaps best represented by the smooth mouth feel of the dram.
The finish is where the smoke is fully realised, with a nice long linger accompanied by the slightest hint of boiled sweets.