Australia has always been a special place for me, I have a vast amount fo family over there and spent a year when I was younger living in Melbourne spending my weekends in wineries and on the beach - trying not to think about that too much as I sit writing this on a very dark and damp January day.
In my younger years I had no appreciation of whisky but now I'm excited to know more about what these new Australian single malts have to offer.
To introduce Morris Whisky for those of you who haven't been introduced:- Produced in the Morris of Rutherglen Distillery in Rutherglen, Victoria- The distillers have revived the original hybrid copper pot still, dating back to the 1930s- Crafted using 100% locally sourced ingredients- Winners of Gold Medals at the 2021 San Francisco
Now you've met, it's also important to know the team:- led by John McDougall, a Master Distiller and one of the world's most renowned whisky makers (Balvenie, Laphroaig and Springbank), –  The late Dr Jim Swan, described as the 'Einstein of whisky' for his technical expertise.-  Head Distiller, Darren Peck, has worked under the tutelage of McDougall for the last five years. – David Morris has also been involved in identifying and hand selecting the best Morris fortified wine barrels to perfectly finish the whisky.   Onto the whisky itself, the Australian Single Malt Signature Whisky and Australian Single Malt Muscat Barrel Whisky are available now.
Fruity, crisp and rich. Dark chocolate and biscuity, nod towards Black Forest gateaux with the cherry finish
70cl, ABV40%, RRP £54.99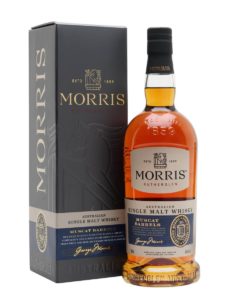 Muscat Barrel Finish Whisky
Muscat Barrel: Brown sugar, figs, vanilla. Sweet and rich.
70cl / ABV 46% RRP £79.99