We made a surprise visit to Campbeltown. Surprise because this was not part of our original itinerary. We realised we had forgotten to book a place to rest that night. That mistake turned into a dream. I've always wanted to visit Campbeltown but it had always seemed too far a drive from everything else. We realised that it was close to Kennacraig port (after our visit to Islay) – AND WE WERE OFF!
I had been introduced to Springbank and Longrow a year earlier when we found the Cadenhead shop in Edinburgh. We soon became friends with the store manager after a tasting session when the Longrow 18 Year Limited Edition became one of my favourite whiskies.   I'll write more about Cadenhead in another post…
Driving from Kennacraig to Campbeltown is one of the most scenic coastal drives for me in Scotland. And this only added to the excitement of going to Springbank. The quaint little town of Campbeltown is charming – making me think of Malaysia's Malacca of Scotland.
We arrived early in the morning at Springbank Distillery for both the Springbank and Kilkerran tours. Springbank is one of the last few family owned distilleries – J & A Mitchell & Company. It was a beautiful summer blue morning, the compound of Springbank is cosy and we took a signature photo of the Springbank barrels.
During the tour at Springbank, we noticed the chalk boards… Our guide shared that everything at Sprinbank is done by hand and traditionally. The process has stayed largely the same for as long as the distillery has been around!
Springbank is the only Scottish distillery that still does the whole whisky making process from start to finish, from malting the barley to bottling the spirit – this makes for an interesting visit to learn about every step of the whisky making process. The drawback of the manual production is that production volumes is limited – less of that tasty Springbank Whisky to go around.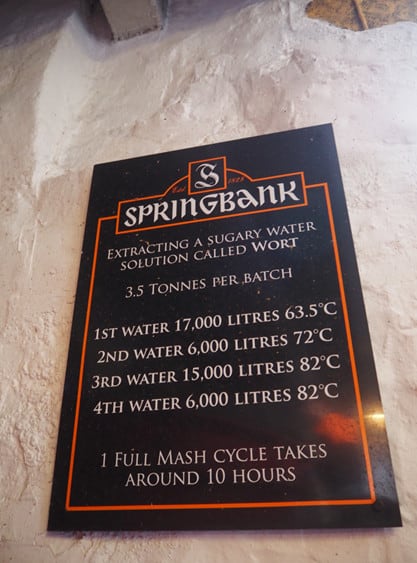 One other unique point about Springbank – they produce three different kinds of Whisky in the same distillery – its non-peaty Hazelburn, lightly peatedSpringbank and heavily peatedLongrow (my favourite). The peat is found in Campbeltown and tastes less of iodine, medicinal notes of that from Islay.
With each style of whisky, they have different distillation methods. The Hazelburn is triple distilled, Springbank 2.5 times and Longrow just twice.
The other thing I like about Springbank is how experimental they are. Their Sales team is often touring the world to promote their Whisky but also to learn about the latest production methods to bring back to Scotland. They have used Mizunara casks from Japan, along with several different wood treatments to yield exciting new Whisky.
After the tour at Springbank, we hopped over next door to Kilkerran distillery. Kilkerran is also owned by the same family and you must be wondering why.
A little bit of history – Springbank belong to the whisky region Campbeltown. At its peak, there were over 30 distilleries in this small area in 1800s, this was also the period where Whisky lost its popularity, many of the distilleries were complacent, with bad distilling practices and eventually closed their doors, leaving the region with just 2 distilleries – Springbank and Glen Scotia. To maintain a whisky region, there has to be a minimum of 3 distilleries, as such, the owners of Springbank opened a new distillery Kilkerran!
Springbank distillery was for me, one of the top tours of my Scotland distillery tour. Do reach out to us if you plan to visit Springbank distillery or tips to visit other distilleries in Asia and we would love to share more, thanks for reading!
The Whisky Wonder team will be attending Springbank Whisky School in mid April. Keep updated with all our whisky adventures at Whisky Wonder!