As the saying goes, time and tide waits for no man, a fact particularly pertinent when considering the remote wilderness and location of the Isle of Jura. Now we have captured this inspiration to create Jura Time and Jura Tide – two single malts, each aged for 21 Years, telling the story of our tiny island home.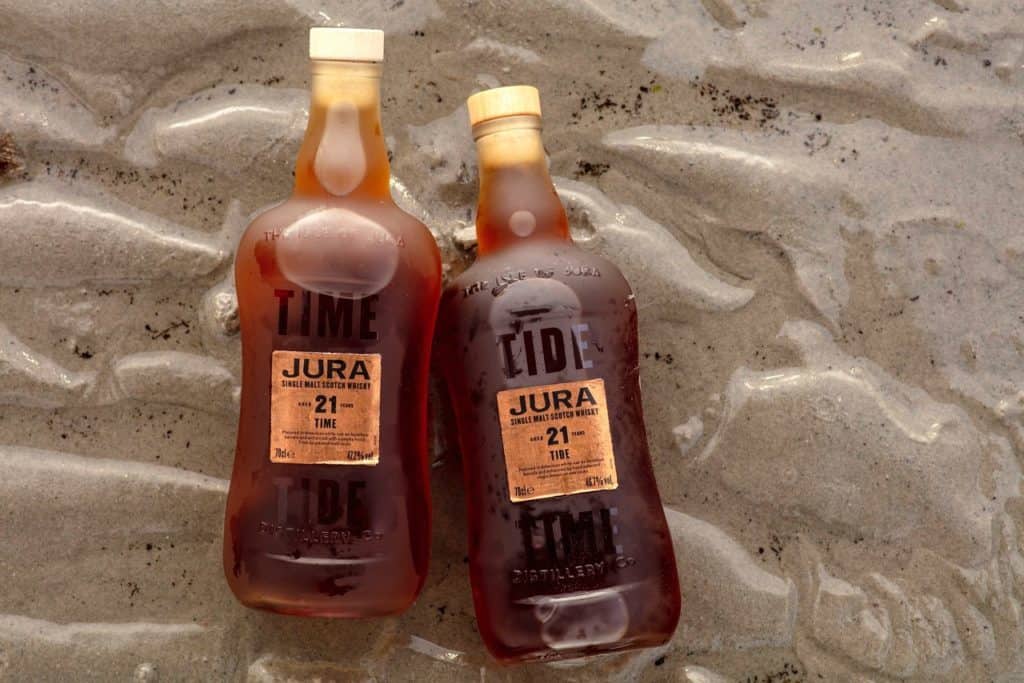 Beginning with a reflection of time, Jura Time 21 Years Old claims its power, from losing track of time in the vast wilderness of the island to the whisky in our casks as they mature over time, this is a whisky embracing time fully.  With a character reminiscent of driftwood embers on the shores of Jura due to time spent in ex-peated malt casks, Jura Time offers an enticing sensory journey.
From aromas of honeyed chocolate, coffee mousse and soft, creamy toffee opening up to hints of lemon curd, lime marmalade and ginger cake with a whisper of salted peat smoke before making way to fig syrup and tropical fruit salad, Jura Time has been created exclusively for global travelers as they venture on their own journey of time.
In a further homage to its island home, Jura Tide 21 Years Old takes its inspiration from the sandy shores that are lapped by the tide of the East Coast. A single malt whisky with character as sweet as the sweeping beaches of Jura, but with a definitively spicy depth.  From the lively fusion of lemon cake, ginger and creamy caramel to flavours of macaroon, all-spice and gingerbread which give way to frangipane, marzipan and white chocolate, this is a warming whisky with many hidden treasures. Jura Tide 21 Years Old has, this month been awarded a Double Gold at the 2019 ISC awards, the most authoritative, respected and influential spirits competition in the world; the accolade is testament to the quality of this aged whisky. 
Released annually in limited quantities, each bottle bears its year of bottling and is encased in a unique sandblasted bottle, mimicking the effect that the sea has on glass, and is held in an eye-catching presentation box, perfect for gifting and collecting alike. 
Jura Tide will be stocked in key domestic retailers at an RSP of £150 whilst Jura Time will only be available via selective global travel retailers with an RSP of £150.
Jura Time 21 Year Old (47.2% ABV)
RSP – £150
Non chill-filtered
A travel exclusive 21 year old single malt, aged in American White Oak ex-bourbon barrels and enhanced by a finish in ex-peated malt casks
Colour – Dark amber Autumn gold
Nose – Honeyed chocolate, coffee mousse, lemon curd, ginger cake, salted peat smoke 
Palate – Turkish delight, fig syrup, roast coffee beans, maple syrup
RSP – £150
Non chill-filtered
Available in domestic markets, this 21 year old single malt is aged in American White Oak ex-bourbon barrels, further finessed in hand-selected virgin American white oak casks.
Colour – Satin wood honey gold
Nose – Lemon cake, creamy caramel, pear, ginger biscuits
Palate – Macaroon, all-spice, gingerbread frangipane, marzipan, white chocolate, smoked coconut
Buy the Limited Edition The Great Drams of Scotland Book by clicking here
What are your thoughts? Leave a comment below and let's have a chat!