For decades the Lowlands had been left with only a handful of distilleries to represent the region. This was largely due to an increase in closures and a distinct lack of opening.
For decades the Lowlands had been left with only a handful of distilleries to represent the region.  This was largely due to an increase in closures and a distinct lack of opening.
But now there is something special happening in the Lowlands, and that is the opening of Ailsa Bay.
Though it may sound like it belongs along the rugged shores of an island, Ailsa Bay is firmly situated on the coast of the Lowlands, and has been since it was established in 2007.
Owned by William Grant & Sons, this is the first peated venture for the company who are seeking to expand their portfolio.
It is found on the Girvan Grain Distillery site and take its name from Ailsa Craig, a large granite rock that sits just off the coast in the Atlantic Ocean.
The malt made here primarily goes to Grants' blends and is therefore created in the style of Speyside Whiskies.  But for a two-week period every year, it produces peated spirit.
The two weeks are split into one week of lightly peated and one week of heavily peated malts.
The newest release from the distillery takes its product from this second week.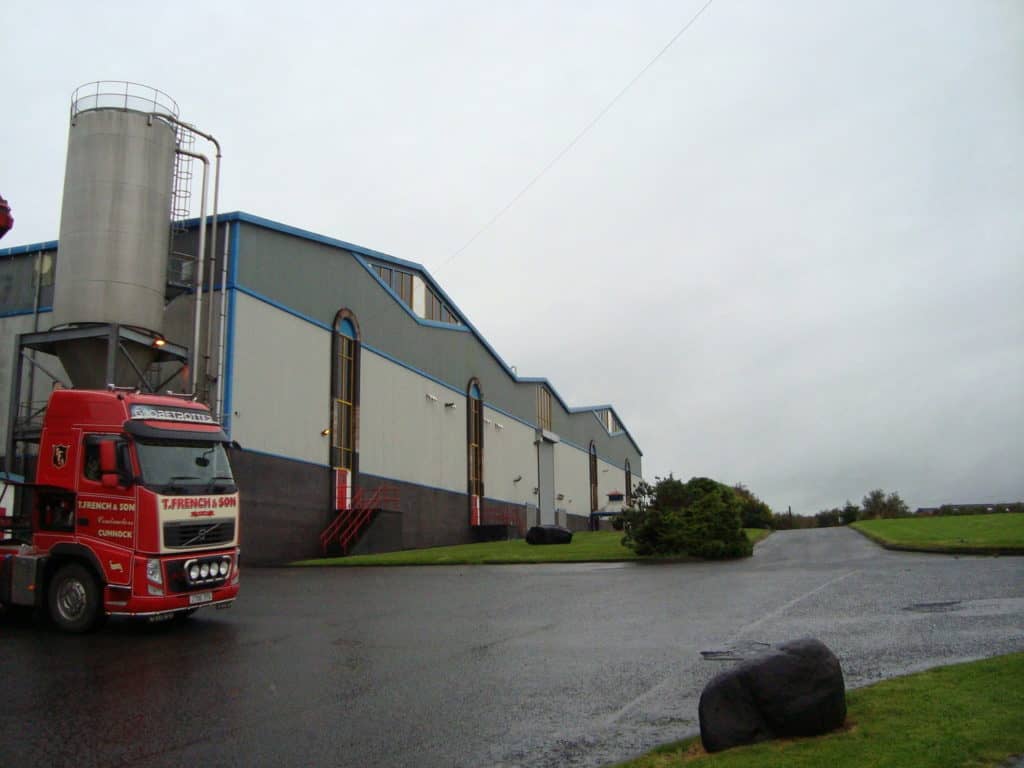 Brian Kinsman has taken a modern twist with this release, with a sleek and smooth bottle that looks more like an antique apothecary's bottle than a Whisky bottle.
It also includes scientific details on the bottle as decorative features, highlighting the complexity the drink.  It has the coordinates for Ailsa Bay on the neck, as well as a map of the area surrounding the Girvan Distillery.
The colours and stopper used are basic, stripping the bottle back to its simplest whilst adding a marble disc for both weight and, as Mark Thompson, Glenfiddich Brand Ambassador, suggested to me… to use in games of bar top curling.
This gives it a decidedly minimalist yet intriguing look, with enough detail to engage consumers, but not too much to overwhelm.
Perhaps the most interesting fact about this bottle it the inclusion of both Parts Per Million, measuring the peated qualities, and Sweet Parts Per Million, measuring the sweetness, on the front. A first for the industry, something devised specifically for this product.
These jump out and look more like a label from a lab analysis than on a Whisky bottle.  Again, these highlight the complexity of the drink and also make this dram stand out as the thinking man's dram.
It creates an image around itself that this is a malt to be appreciated by those who understand what PPM and SPPM actually stand for and can make a judgement based on those facts.
It certainly stands out from recent releases that aim to capture the interest of new Whisky drinkers, such as Haig Club, or even Grant's Signature.
But what about the liquid inside?  Does it capture the interest of those more au fait with Whisky?
The nose begins with a nice dose of pepper spice and a slightly tangy note that is more like vinegar than lemons.
This develops into fruitier notes, with zesty lemons and limes coming through.  These have a dessert like sweetness to them, with vanilla sponge cake and custard also present.
Of course there is that tell tale taste of smoked wood, with a waft of fireworks coming through.
This is not overwhelming on the palate but settles in with more sweetness.  Vanilla takes over and mingles well with the wood smoke and oak comes through as well.
The mouth feel is rich and creamy and complements the smoke perfectly.
The smoke itself is gentle but deep, with lots of easy-going flavour.  It adds a richness to the wooded notes, with a hint of macadamia nuts also appearing.
These are all rounded off well with a sweet, smoky and long lingering finish.
This is definitely a distillery to keep an eye on, and I bloody love this whisky! 
You can watch my YouTube review below: