Something a bit different in the Scotch Whisky world – a distillery less than a hundred years old!
Ailsa Bay Whisky Distillery was opened in 2007, making it one of the youngest distilleries in Scotland.
Although, it was opened by William Grant & Sons, and they've been around for a long time, so the force behind them has a lot of experience in Whisky making.
It shares its site with Girvan, famous for its grain Whiskies, and is a pioneer of new ideas and innovations in the Whisky world.
Master Distiller, Brian Kinsman, describes the distillery; "The Ailsa Bay distillery continues to allow us to develop incredible whisky through its ability to create different styles under the one roof.
"This new expression has allowed us to evolve the flavour notes and push the balance in taste, without compromising on the quality of the liquid."
The distillery promises to be an exciting development in Whisky innovation. Not only do they measure PPM (Phenol Part per Million) but also SPPM (Sweetness Part Per Million).
As well as (yes, more Whisky innovation!) they have also "micro matured" the malt, meaning, it has been decanted into Hudson Baby Bourbon casks, which are only 25-100 litres in size. This is quite small, compared to typical American oak casks, which are around 200 litre big.
Maturation occurs much faster in these casks, and the liquid is then placed in virgin, first fill and refill casks for years.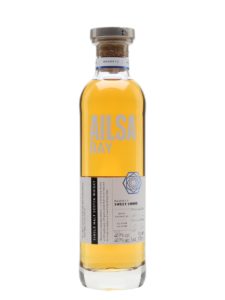 Tasting notes for Ailsa Bay Whisky
Bottle cost: £55.45
So with that in mind, what is Ailsa Bay Whisky actually like?
It is incredible. They have created a really brilliant whisky here.
The nose opens with warming notes of peat smoke and charcoal, some light floral notes and thick caramel. More oak appears, complementing both the sweet and smoky flavours, with a hint of citrus fruit following.
The palate is really rich and is the perfect combination of peat , caramel and oak. The oak and caramel bring out the sweetness of the peat, which in turn complements these with its earthiness.
The overall flavour is delicious, merging the flavours together elegantly. There is also a slightly fruity note, with hints of apples, pears and oranges coming out.
The finish is really rich and packed with oak flavours.
Ailsa Bay is a welcome addition to the Scotch market. The distillery's innovation is exciting and we can only hope that it results in more creations like this.
Have you tried Ailsa Bay Whisky? Let us know what you thought in the comments!
What are your thoughts? Leave a comment below and let's have a chat!