Glen Scotia is one of only three left in Campbeltown. This used to be the epicentre of distilleries in Scotland, but was hit hard during the 19th century economic downturn.
Today only three distilleries stand, Glengyle, Springbank and Glen Scotia.  The first two are owned by J&A Mitchell Co., while Glen Scotia is owned by Loch Lomond Distillers, although Mitchell's did run it for a while in the 90s.
It began life in 1832, when it was opened by Stewart, Galbraith & Co. and was one of the leading distilleries at the time.  it continued to succeed throughout the 19th and into the 20th century, but was hit hard after the US Prohibition Act.
Like the majority of distilleries in Campbeltown it shut down but was passed from owner to owner in the decades that followed.  It operated throughout the Second World War and was refurbished from 1979-1982.
However, it only managed to last another 2 years and sadly shut down again in 1984.  It lay dormant until 2000, when it was bought over by Loch Lomond Distillers, and since then it has been functioning steadily.
One of their expressions, the Glen Scotia Double Cask is a testament to their quality and stands out as an exceptional malt.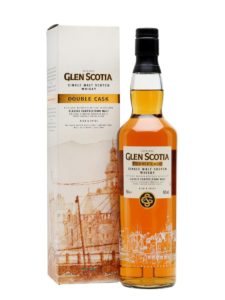 Bottle cost: £29.08
It has been matured in a combination of first fill ex-Bourbon casks and Pedro Ximenez Sherry casks.
The nose is filled with a combination of sweet fruits and spicy oak.  Apples and pears burst out, with a crisp bite.  This contrasts against the thick, smooth vanilla and caramel tones that come from the toasted oak.
The oak is sweet and spicy at the same time, with long whiffs of warming cinnamon and nutmeg combined with vanilla and toasted brown sugar.
On the palate, the sugar and fruit notes become slightly more subtle, with the oak really leading the charge.
It is thick and heavily wooded, with a good strong bite to it and some vanilla fudge flavours you can really feel.
The mouth feel is smooth and chewy, giving you something to wrap around your teeth.  The fruit adds to this effect, with dried raisin and apricots coming through.
The spices give off warming notes, with a rich cinnamon taste.  This becomes a cinnamon dusted apple pie, with rich crust and a gentle covering of granulated sugar.
On the finish, the oak notes really makes themselves known but also allow some rich Sherried spices to come through.  The finish is medium in length and can be best appreciated with the addition of a few drops of water.
What are your thoughts? Leave a comment below and let's have a chat!